Those who frequent the road with regular in-ear earphones know the frustration of getting tangled in wires. Thank heavens then for Bluetooth technology and the Sport Wireless+ headset.
Dressed in yellow and black, the headset impresses because it works exactly as it should. Easy Bluetooth connection? Check. Easy control? Check. Great sound quality? Check again.
Feeling fit
Whilst the Wireless+ headset looks quite large, it is surprisingly comfortable to wear, with the over the ear fit allowing very little movement while running – as it should. Jabra supplies seven different types of gels to help with the best feel, and while it might be a bit tricky to get the gels on and off, it's no more so than on other earphones. What we enjoy about the headset is the control you have not only of your volume, but also your track selection, since you can pause and skip forward or backwards on the right earpiece.
There are two more tricks up the Jabra's sleeve. It contains an FM radio, which much to our surprise actually works quite well. We would, however, recommend searching for your preferred station before having to do so on the road. Since the Wireless+ connects to your phone via Bluetooth you can also answer calls, while calls made on your phone are transferred automatically to the headset. Sound quality during calls is good, while the same holds true for the person on the other side.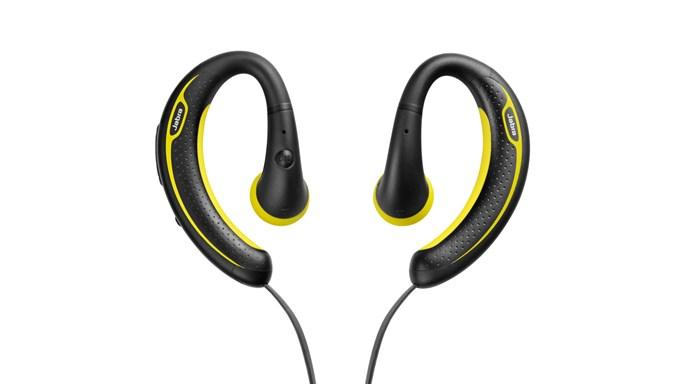 The Sport Wireless+ is actually lighter than expected.
But the legs?
Much like a runner attempting his/her first marathon, the Jabra might run out of steam too soon, seeing that battery life is clocked at about four hours for music playback. This means that if you don't recharge it often, it will die on you. Luckily it juices up on the same charger that the majority of smartphones use (iPhones excluded).
Rounding off the Jabra is solid sound quality, something that not many sport headphones can brag about. In total, the Jabra Sport Wireless+ is a highly functional wireless headset that cannot be faulted, except maybe on battery life. It retails for R1 600, which is a fair amount dearer than wired earphones, but well worth it if wires are your pet peeve.
Disclaimer: The Jabra Sport Wireless+ headset was received as a seeding unit.
Article first appeared in TechSmart 131, August 2014.

Wireless, Easy set-up, Volume and playback control on the unit

Battery-life