For some reason or another it has become very fashionable these days to walk around with big, bulky pilot-styled headphones. Philips is throwing their weight behind this trend with the Philips SHL8805 headphones, offering good sound and the chance to customise them as you wish.
Design Yourself
It's not often that you can have input on how headphones look, but the Philips SHL8805 headband has an interesting feature which allows the user to change the speaker cover. This is done by just clipping off a plastic cover and inserting a disc. There are four of these interchangeable discs included, each sporting its own unique pattern, but you can cut your own discs to allow for an even more personal design.
Comfort
The ear cushions are made from very comfortable material. It fits easily round the ear and does not really trap heat. The adjustable headband will also extend to fit even the most irregular sized head. However, after extended use the fit does seem a touch tight and like most headphones of similar design start to irritate the ear. That said the SHL8805 was some of the more comfortable headphones we've recently tested.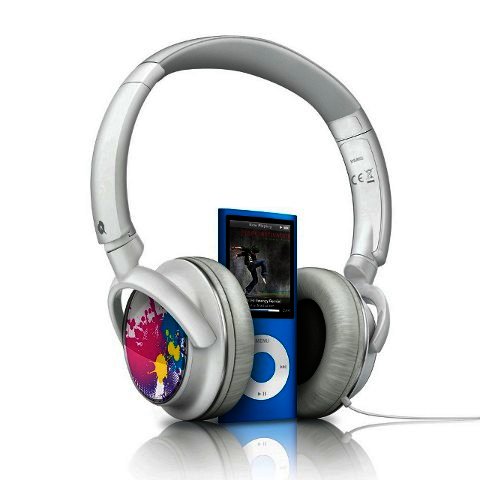 Sound
Powered by 40 mm speakers and neodymium magnets, the SHL8805 provides some seriously loud sounds, while the padded ear cushions are also designed to increase bass response. The design is supposed to prevent audio leakage but with the loudness the SHL8805 is capable of it is not possible to ensure this completely. If you like you're music loud make sure the people around you don't mind. We did not find external noise much of a problem and the ear cushions do go a long way in cancelling random office noise for example.
Compared to the sound quality other earphones and headphones we've tested, the SHL8805 rates very well, one-upped only by the extreme sound quality of the
ASUS CineVibe
. Philips products in general have good sound but the great bass, stylish looks and comfort of the SHL8805 should make it every iPod and MP3 junkie's dream.
Anywhere, anytime
The SHL8805 is made for iPod and has volume and skip controls on the 1.2 meter cable to make for easy control of the Apple devices, while also incorporating a built-in recording device for voice memos. Even though the SHL8805 is made for the iPod it can be easily plugged into your PC for watching movies or series. The only problem being that the in-line control does not work for anything else expect the iPod, forcing you to adjust your volume in the music application or in Windows itself.
Conclusion
With loud sounds, funky designs and a comfortable fit, the Philips SHL8805 is not only a good set of headphones but also offers much as a personalised fashion statement. That said we still feel that the R649 asking price comes across as a bit steep. Available from Dion Wired.
Pros: Stylish, great sound and comfortable.
Cons: In-line controls don't work on PC - only iPod, expensive.

Stylish, great sound and comfortable.

Inline controls don't work on PC only iPod, expensive.