As far as small portable speakers go, the Sound Shooter from Philips is certainly one of the more uniquely styled ones that we've across. This is down to its barrel-shaped design, which offers a pleasant change up from the circular tube or pebble shaped offerings like the Shox Mini or Audiomotion Mighty Dwarf.
The other key design feature, is the rubberised shell used to cover and protect the central core and speaker unit of the Sound Shooter. The cover on our review unit was a distinct olive green, and made the Sound Shooter resemble a grenade in many respects. We put the Sound Shooter through its paces to find out if dynamite truly does come in small or packages, or whether Philips' grenade is a bit of a dud.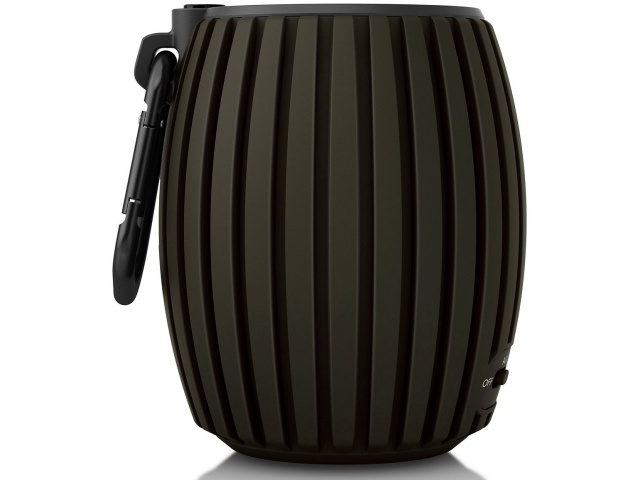 Rough and Tumble
Standing a mere 82 mm high and 67 mm wide, the Sound Shooter is extremely compact, which makes handling quite easy, an essential requisite for any good portable speaker. The Shooter itself nestles very neatly in hand and the rubberised shell offers a great deal of tactileness, thanks to the incorporation of deep ridges to the shell itself. This adds to the Sound Shooter's level of durability and makes it robust enough to daily use on the go. The Shooter also weighs a miniscule 38 grams, another addition to the pros column in its portable speaker status.
One other key aspect of the Sound Shooter's design, draws user's eyes to the top of the speaker, where Philips has fitted a slot for a hardened plastic carabiner (included with purchase). The carabiner itself however is not regulation climbing issue, with Philips labelling it as such. It is intended for users to clip the Sound Shooter to the user's belt loop or bag to ensure its can be taken anywhere with relative ease.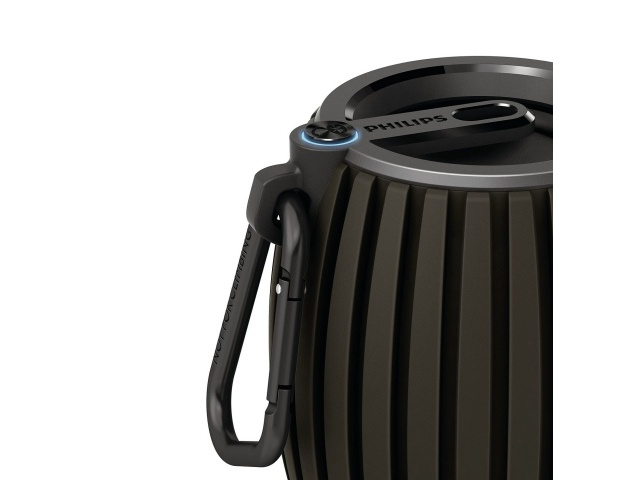 Multi Functional
Now we get to the most important part, the Sound Shooter's different speaker functions, of which they are three. The first two are more traditional and afford users either in-line device setup or Bluetooth connectivity. The in-line playing function is facilitated via a micro USB port on the Sound Shooter and dual-cable with a 3.5 mm headphone jack and USB connection. The latter is also used to charge the portable speaker.
The Bluetooth function is similarly quick and easy to use, with connection maintained from as far as 10 metres away. This allows the Sound Shooter to be paired with a range of Bluetooth 2.1 or higher sporting iOS and Android devices (we were surprised to find that Windows Phone devices could not establish a connection with this portable speaker). The third and most interesting function, turns the Sound Shooter into a hands-free loudspeaker to answer calls, thanks to its built-in mic and illuminated button atop.
The sound quality in all three playing functions is supremely crisp in low to medium range volume levels. When turned to full volume however, the Sound Shooter does struggle a tad, as a slight amount of tinnyness and static becomes noticeable in bass heavy music. With that being said the Sound Shooter does generate a surprisingly large amount of power given its size. This power output is produced by a single neodynium magnet system, which registers at only 2 watts, and as a result impressed us even further.
When on the go, the Sound Shooter boasts a built-in lithium battery that provides up to 8 hours worth of playtime from a single full charge. This makes this portable speaker ideal for use during a full work day or weekends away, and only serves to further enhance the Sound Shooter's status.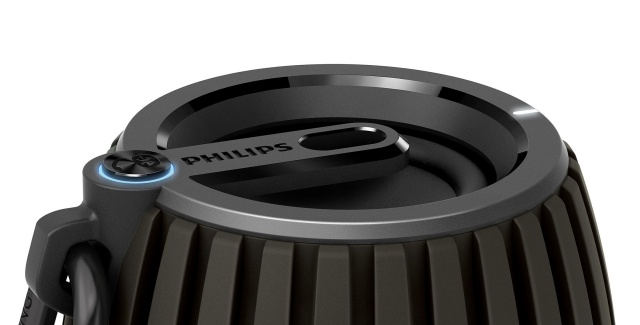 Final Verdict
On the whole, the Philips Sound Shooter is immensely impressive and produces fantastic sound quality relative to its speaker setup and size. Given the fact that it will only set you back R500, the Sound Shooter is an absolute steal for users who enjoy taking their music on the go. Should you be touting a smartphone or notebook with lackluster speakers, the Sound Shooter is a great alternative that's well worth considering.

Extremely light and durable; Solid sound volume given size; Well priced

Bluetooth not compatible with all mobile devices