After splitting ways with Beats by Dr Dre at the end of last year, Monster is now looking to compete head-on with its former audio partner for the wallets of road warriors, courtesy of its Inspiration headset.
Like the Beats Executive headphones (review), the Inspiration over-the-ears headphones features active noise cancelling technology. This comes in especially useful when you want to drown out that annoying drone (and crying kids) on long flights, as well as distracting environmental sounds from within a noisy open office environment.
Monster does not include an airline adapter (two pin jack) that allows users to leave the airplane's paltry earphones unopened, and listen to the in-flight entertainment through your own headset, which the Executive does come with.
We found that the active noise cancellation functionality worked as well as it did on the Beat Executive. This feature is powered by two AAA batteries, which you insert into a battery compartment located on the right earcup. The feature that lifts the Monster in our books is that, unlike the Beats, the headset will still continue to deliver your music even when the batteries run flat. This is a major advantage that the Inspiration has over the Executive.
Audio performance
When it comes to sound, the Inspiration delivered a premium experience worthy of its equally premium pricetag (R4 000). The audio quality remains undistorted even at the highest volumes whether listening to opera, jazz, R&B, hip hop, dance music or rock. Bass response is good, but does not reach the overly boosted levels associated with any kind of Beats earphones.
Monster caters to the auditory needs of users of a variety of different types of mobile devices, by including three audio cables as part of the retail package. There is a regular cable without any inline controls, plus two ControlTalk cables that feature a mic plus inline controls for answering calls, controlling the music playback (play, pause), and turning the volume up or down. One is for iOS-running mobile and the other works with Android-powered smartphones and tablets.
Design
We found the Monster Inspiration over-ear headphones comfortable to use over extended periods thanks to the high degree of cushioning provided by both the ear cups as well as the headband. The headband is easily adjustable to fit people with bigger sized heads and users are able to customise the look of the headset by swapping out headbands.
You get two headbands within the retail package, and sliding one out to exchange it for the other is a quick, effortless process. Like the Beats, the unit folds up on itself for convenient storage within the stylish protective travel case that it comes with.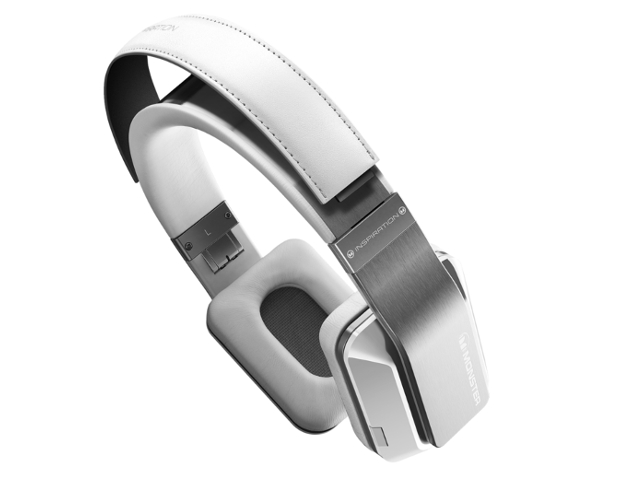 Tired of the look of your Inspiration headphones? No problem, simply clip in a new headband featuring a different design or colour.
To the point
Monster's Inspiration headphones are comfortable to use over long periods and boasts a fantastic sound quality, as one would hope from its expensive price-tag. We like the onboard active noise cancelling technology as it works a treat. More crucially, the fact that you can still listen to your music even when the batteries powering this feature run flat, is a big benefit.
Road warriors who frequently find themselves on business flights and those requiring every bit of bass enhancement available will appreciate the Beats Executive more. However, those who still require excellent audio quality, but prefer a more natural bass response level should opt for the Inspiration.
The Inspiration goes for a recommended retail price of R4 000, which is R400 more than what you would pay for the Beats Executive. For more info contact Phoenix Distribution on 011-592-9200 or the company's Cape Town office at 021-487-4640.

Quality and sturdy build; comfortable over extended periods of use; excellent sound quality and volume levels; decent bass response; noise cancellation technology works well; headset still works even after batteries powering the noise cancellation feature runs flat; quality travel bag; and customisable look of the headphones via exchangeable headbands.

Pricey