ALSO READ:

Not such a long time ago (2012) in a South Korean tech galaxy far, far away the best-selling Android smartphone of all time was released. Now, Samsung takes things full HD with the 5" Galaxy S4.
Look and feel
The Korean company opted not to reinvent the wheel with the design of the Galaxy S4, since the styling changes between the S4 and S3 would make for a good 'spot the difference' puzzle, even though the S4 sports a 5" screen instead of the old 4.8" display.
There is truly not a lot of difference between the old and the new, with the S4 actually being 3 g lighter and 0.7 mm thinner. Its corners are also slightly more squared, with the display taking up extra real estate.
Unfortunately, the princely S4 once again sports a pauper plastic outfit, and although build quality is good, the S4 does not look nor feel as premium as either the HTC One (review) or the iPhone 5 (review), both which feature generous helpings of aluminium. The S3's body did not age very well, so hopefully Samsung will opt for a splash of metal come next year's Galaxy S5.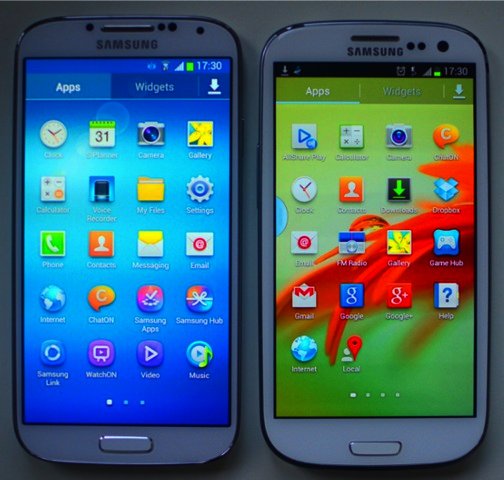 Time to play spot the difference: The Galaxy S4 (left) and Galaxy S3 (right).
5 inches of full HD goodness
As on the Sony Xperia Z (review), picture quality, videos and web pages all look amazing, thanks to the S4's 5" Super AMOLED capacitive touchscreen packing a full HD (1080 x 1920; 441 ppi) resolution.
Using this display outdoors is not a problem since glare is kept at bay for the most part. If you do want the White Frost version of this phone, just be aware that the capacitive buttons (menu and back), located beneath the screen, are virtually invisible in direct sunlight (as on the S3). The screen is protected by Corning Gorilla Glass 3 and boasts the best colour saturation levels in the mobile business, as well as great viewing angles.
Under the South Korean hood
Ensuring that the software runs fluidly and quickly is Samsung's much talked about Exynos 5 Octa 5410 chipset. Although it sports eight cores, the Exynos 5 Octa never operates above a quad-core level, since it calls upon four Cortex-A15 cores (1.6 GHz each) for processing-intensive tasks, and four Cortex-A7 cores (1.2 GHz each) during lighter workloads.
The big news is that Samsung's S4 managed to humble all other mobile CPUs used in rival devices during benchmarking, including the HTC One's Qualcomm Snapdragon 600 quad-core chipset (1.7 GHz) and the Sony Z's Qualcomm quad-core MDM9215M (1.5 GHz).
The S4 managed a combined (Games and Productivity Indexes) tally of 10 686 within Smartbench 2012, with the One only managing 9783, and Xperia Z faring the worst out of this trio by delivering a combined score of 7379.
In AnTuTu v2.3, the S4 notched up a total score of 28 158, with the One churning out a respectable 24 100 and Sony Z also breaking through 20 000 with its tally (20 067). Interestingly, when it came to the Vellamo benchmark, the HTC One delivered the best HTML5 score of 2381, followed by the S4 (2041) and Z (1983). The S4 did however produce the best Metal tally (1060) of the trio.
The One also seemed to fare a bit better during intensive graphical bench tests such as Futuremark's 3DMark for Android as it delivered a score of 11 350 within the Ice Storm segment of the test and 6725 tally during Ice Storm Extreme, compared to the S4's respective totals of 9270 and 5836.
Benchmarking results though are definitely not the be all and end all of smartphones, being more something for geeks, like us, to get excited about. In general use there will be little to differentiate the One and the Galaxy S4 - both will perform exceedingly well. Where you will see a vast difference, is in the speed of the old S3 and the new S4. The S3's that we used in the office became slower as time progressed (for example, the amount of time it took to open the phone or one's contacts). If this frustrates you, a move to the S4 will provide a sigh of relief.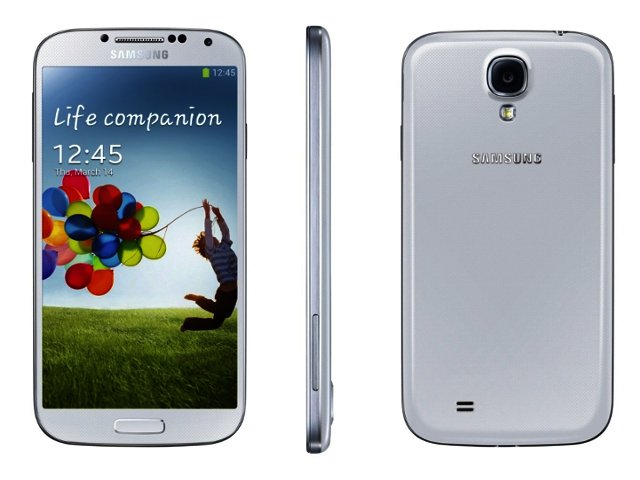 The sleek S4 sports some powerful CPU horsepower and still manages pretty impressive battery life.
Camera and video
Samsung upgraded the rear-facing camera from 8 MP to 13 megapixels, matching the MP tally available on the rear-shooter of the Xperia Z. Image quality with the autofocus camera with LED flash and BSI (backside illumination) was great, while there was also no noticeable shutter lag when capturing photos. This main snapper is backed up by a 2 MP front-facing camera that is useful for taking self-portrait shots and making video calls.
Last year, the Korean firm introduced camera features such as Best shot on the S3, which allowed users to take a series of shots and select the best picture. These features return, but with the S4 Samsung stepped up its snapper game, debuting more additional snapper functionality including Eraser, Dual shot, and Animated photo.
Eraser enables the S4 to capture multiple shots (5) and then allows you to erase moving objects from the background of a photo. For instance, if you capture a group shot of all your friends and someone walks by in the background, you are able to remove them from the scene pretty easily. Dual shot allows users to employ both the front- and rear facing cameras to capture stills or video. This is quite useful during important sporting events where you might want to capture the playing field while at the same time showing yourself and your mate in the stands.
Last but not least, there is animated photo mode that is similar to the Cinemagraph app for Nokia Lumia smartphones, enabling you to create animated GIFs. This is an easy process as the S4 does most of the work, with you simply using the smartphone's camera to snap a few seconds worth of video footage.
Users are then able to make the video go backwards or forwards and can also select which parts of the image must remain motionless and which sections can be animated, allowing for a fair degree of creative possibilities.
All in all, the extra camera modes and features help reduce the need to pack a digital camera when going to sporting events or family gatherings.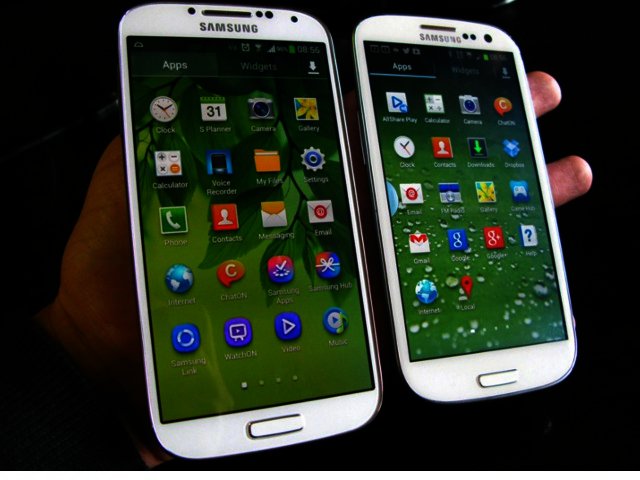 Not only is the display of the S4 slightly bigger (5") compared to the S3's 4.8" screen, but it's also full HD.
Battery performance and connectivity
The S4 boasts a large 2600 mAh Li-Ion battery, which might be smaller than the one (3100 mAh) used within the Galaxy Note 2 (review), but it still delivered much better battery life than the S3. Our S4 test unit lasted a whole two days with moderate usage and the mobile data connection turned off at night between 23:30 and 06:00.
Power users will have no problem getting more than a full working day's usage out of the device (around 14 hours), even with Wi-Fi turned on all day at work and mobile data connection enabled the duration of the day thereafter.
In terms of connectivity, the S4 I9500 offers 3G HSDPA with download speeds of up to 42.2 Mbps and upload speeds up to 5.76 Mbps, dual-band Wi-Fi 802.11 n/ac, and Bluetooth 4.0. It must be noted that the S4 version currently available doesn't include LTE, so if you want faster download speeds you would have to wait until mid-June for the LTE-enabled S4 to arrive, even though it would contain a quad-core processor.
New software features from Samsung
Running the mobile operating system show is the latest version of Google's Android mobile platform - namely Android 4.2.2 Jelly Bean - along with the latest edition of Samsung's own TouchWiz UI (user interface).
Samsung is known for including numerous software features to enhance its devices. The S4 comes packed with more than ever, and while you may never use them, these are nonetheless worth exploring.
For example, there is Smart Pause which pauses video when you look away from the display of the S4 and then resumes the onscreen action when you look back. This functionality, like all the other features utilising eye-tracking software, does not work at all if you are wearing glasses. Even sans spectacles, using Smart Pause turned out to be a hit or miss affair. It either did not work or it stopped the video when we looked away without hassle, but then would not start it up again even if we virtually stared a hole into the screen.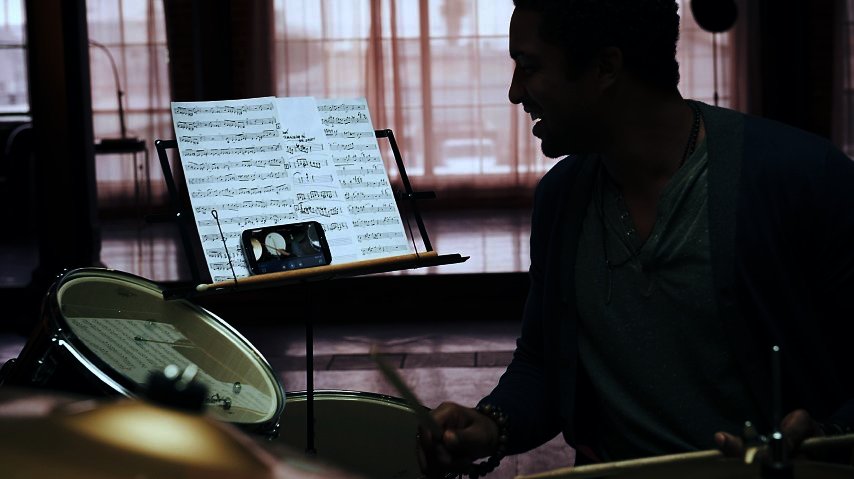 We didn't have the same success as this guy with Smart Pause.
Air View enables users to preview info the likes of the contents of an email without even opening that mail. This is achieved by hovering your finger over the display without actually touching it, which was derived from the Galaxy Note devices, but actually works a charm without an accompanying stylus.
You can also move in between browser tabs or scroll through your photo album via Air Gesture, by performing gestures just above the display such as swiping from right to left to scroll to the next picture in the gallery. Like Air View, Air Gesture worked from the get-go.
Smart Scroll has users scrolling through websites simply by glancing to the top or bottom part of a webpage. This sounds great in theory but during the two week stint with the Galaxy S4, we can count the number of times this feature performed as desired on one hand.
The S4 also sports the ability to act like a universal remote control for compatible electronic devices in your room and lounge, thanks to the IR (infrared blaster) on the top of the smartphone. By using Samsung's WatchON app, we had no trouble using our S4 as a remote control for an old school LG TV set as well as a newer Samsung full HD TV, with the app allowing us to change the channels, increase the volume and perform all the normal remote functions via its easy to use onscreen buttons.
Other noteworthy software extras include Story Album, which allows users to create great-looking photo albums that can be easily shared over social networks, email or Bluetooth.
In practice, we did not make constant use of any of the new features, finding them more gimmicky than useful. The S4's multiplicity of features also come at a price to storage space, as users of the 32 GB model only have access to 23 GB of actual internal memory, with the OS, UI and included software taking up a hefty 9 GB of space. We love Samsung for still providing the option to expand on space with a microSD card slot.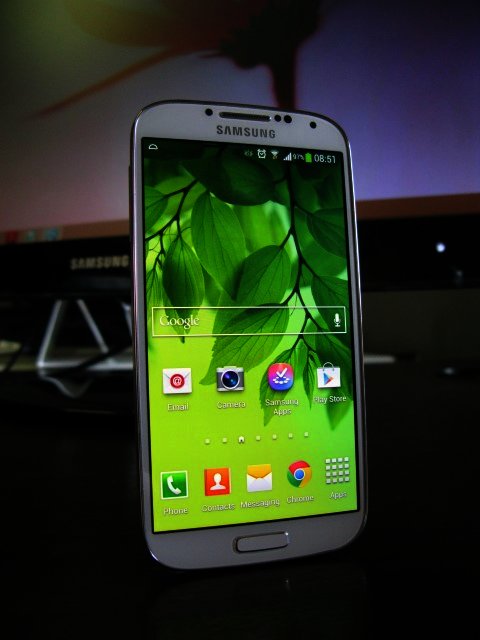 The S4's Octa-core CPU beats the competition when it comes to general benchmarking.
To the point
Along with HTC's One, Samsung's Galaxy S4 is without a doubt the best Android smartphone available on the market at the moment. In fact, these two are actually the best smartphones available currently, period.
We feel that the HTC One boasts a much better design, takes better shots in bad-lighting situations and delivers a much improved audio performance, both via the onboard speakers and when you are using earphones. However, the Galaxy S4 trumps it in terms of battery life as well as benchmarking performance, and offers a lot more software features.
It is definitely a tough choice for users deciding between these two Android flagships. Our take is as follows: if you favour solid build quality and design, or are making the switch from an iPhone to Android, go for the HTC. However, current S3 owners and fans of software features (no matter how gimmicky these may be or how often you might actually use it) will love the new Galaxy S4.
There is however one more, but quite excellent, reason to opt for the S4: Samsung is offering a 24-month Accidental Damage from Handling (ADH) warranty to cover screen breakage and liquid damages. Dropped your phone in the pool or cracked it on the pavement? No problem, take it to an authorised Samsung Service centre to replace the screen or board free of charge. Users are limited to two incidents per 24-month period, and devices need to be registered via the e-Warranty service at www.samsung.com. If you were reluctant to go with the S4 above Sony's waterproof Z, this warranty might just change your mind.
The Samsung S4 goes for a recommended retail price of R9 000, making it a cool R1 000 more than Sony's Xperia Z (R8 000).
Pros
Brilliant display.
Great performance from the octa-core CPU.
Runs on the latest edition of Android.
IR blaster functionality is handy.
Excellent snapper with plethora of camera and video features.
Good battery.
Cons
Plastic build doesn't match the premium feel of rivals like the HTC One and iPhone 5.
Low-light photo quality is no match for rivals such as the Nokia Lumia 920.
Capacitive buttons cannot be seen in direct sunlight on the white S4.

Brilliant display; great performance from the octa-core CPU; runs on the latest edition of Android; IR blaster functionality is handy; excellent snapper with plethora of camera plus video features; and good battery.

Plastic build doesn't match the premium feel of rivals like the HTC One and iPhone 5; low-light photo quality is no match for rivals such as the Nokia Lumia 920; capacitive buttons cannot be seen in direct sunlight on the white S4; and not much else.