<< PREVIOUS PAGE
NEXT PAGE >>
As the first manufacturer of an Android device ever, the HTC Dream (
review
), it's safe to say that the Taiwanese company knows a thing or two about the little green robot. We've seen it in a
consistently
good
line
of smartphones, with last year's particularly impressive HTC One X (
review
) being in many cases a better phone than Samsung's all conquering Galaxy S3 (
review
).
With the One, HTC's new full HD flagship, the company's marketing department better step up to the plate, because it cannot be journalists' task alone to tell people how good a phone it is. And trust us, it's good, it's very, very good. In fact, if it was a rugby player it would have been Bryan Habana during his all-conquering 2007 IRB Player of the Year season.
From left to right: Samsung Galaxy S3; HTC One; BlackBerry Z10. 
 Look and feel
We've criticized many Android phones in the past for their plastic tendencies, with both the HTC One X and S3 guilty as charged. The HTC One though is beautifully enveloped in brushed aluminium with a plastic strip separating the phone's front and back silver linings. With rounded edges and a slight curve on the back, the One feels comfortable in hand, even providing a welcome heft.
There's two habits though HTC cannot seem to break. Firstly, the battery is built in, which means you cannot have a secondary battery on standby when the first goes flat. Secondly, there is no microSD card slot onboard, so you better be happy with the 32 GB of storage since you're not getting any more (unless you count cloud services such as Dropbox). It's also unfortunate that HTC sticks with the power button on the top left of the device since it's not as easy to push as one on the side.
Metal at last. The white bars noticeable on the back are actually part of the One's antenna system.


Screen size
Unlike both the new
Samsung Galaxy S4
and Sony's Xperia Z (
review
), HTC doesn't jump screen size to 5", rather opting to go for 4.7", the same as the One X. Now while you might lose the .3" you gain a much better pixels per inch (ppi) with the 4.7" full HD screen (1920 x 1080), since the One provides a class leading 468 ppi (the Sony Z and Samsung S4 manages 440 ppi).
It need not be stated that full HD looks a treat, with it being very difficult to spot any jaggy edges on icons or webpages, even when zoomed in. This is further helped along by good saturation, especially noticeable when capturing photos or recording videos.
As expected from a flagship, the One comes with a number of connectivity options, including NFC, LTE, Bluetooth 4.0, Wi-Fi 802.11 n and also an infrared port (but you cannot use it to control your TV channels locally).
Performance
Another point where the HTC One excels is in its performance, once again worthy of the Habana
circa
2007 comparison. During benchmarking it proved unbeatable thanks in no small part to Qualcomm's hardworking
Snapdragon 600
quad-core chipset running at 1.7 GHz per core, and 2 GB RAM.
Just before we tested the HTC One, the benchmarking crown was snatched away from the Samsung Galaxy Note 2 (
review
) by Sony's quad-core Xperia Z (
review
). Now it firmly belongs to the One, with the HTC topping Smartbench 2012 (9783 vs. Z's 7379), AnTuTu (24100 vs. Z's 20067) and both Vellamo HTML (2381 vs. Z's 1983) and Metal (766 vs. Z's 509) benchmarking tallies.
But the HTC One's biggest competition is lying in wait. Almost like the North vs. South rugby clashes of old, we're waiting for the Samsung S4 to land on local shores in order for these two mighty flagships to go head-to-head. How will the Snapdragon 600 perform against the eight core beast that is
Samsung's
Exynos 5 Octa 5410
? We can't wait to see.

The Bryan Habana (circa 2007) of smartphones. 
The HTC One's fast processor means you need not wait for applications to open, the camera to start, or when scrolling through your contacts. If there is a bit of a delay noticeable, it is when activating the recent apps screen. This is done by double tapping the home icon, which brings up screenshots of your nine recently opened applications. 
Having nine recent applications at your fingerprints is just excellent, providing a better solution than the more frequent 'scroll up for more' option on other Androids, or even BlackBerry 10's solution where you also need to scroll to find eight recent apps. If there is one feature missing that Samsung is doing well, it's the ability to pull in two apps split across the screen in order to check your Gmail while still watching a video.
Although the HTC One is a figuratively hot device, it unfortunately also becomes literally so once you start putting it through its paces via 3D gaming, benchmarking and the likes.
HTC Sense and BlinkFeed
HTC's handling of
Android
via its Sense 5.0 interface might be baffling at first. Apparent immediately is that Android (4.1.2
Jelly Bean
) is displayed in a different font, so it does not look like the Android you might be used to. This while the configuration of BlinkFeed as your home panel, plus the pre-grouping of a number of apps (all the Google apps such as Gmail and Chrome for example are grouped together), make it difficult to find your footing.
HTC die-hards will notice that the new Sense interface is a lot cleaner than the old one (for better or worse), with, for example, only 12 apps displaying per app 'page' instead of the more common 20.
The One is the first HTC device that features BlinkFeed. This pulls together news from different categories (technology & science, travel, business, politics, music etc.); headlines from certain news groups (AFP, Reuters, etc.); and content from apps and services (Facebook, Twitter, LinkedIn for HTC Sense). It then provides this as a panel of tiles which updates throughout the day. It reminds a bit of Flipboard and if you are into your news, BlinkFeed provides an attractive way of staying abreast. (TechSmart will be one of the local technology news providers for BlinkFeed when the One arrives locally.)
We liked BlinkFeed best though when it was not the main home panel, and to do this just change the screen you use as your home screen by long-pressing one of the panels until it minimises, then long press the panel you want to set as home screen. The option should be provided to 'Set as home'.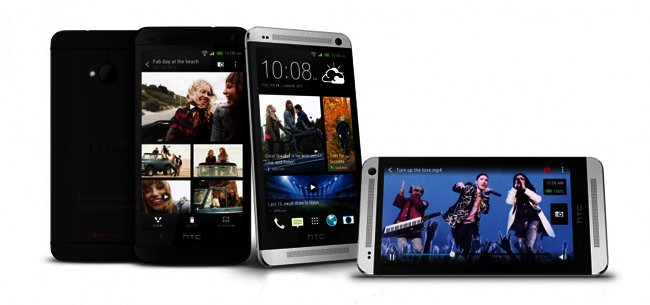 The HTC One checks a number of features, including good looks. 
Camera, Zoe and video
Much has been said about the 'UltraPixel' camera found on HTC One. The company claims that the four megapixel sensor not only carry larger pixels, but each pixel also captures 300% more light than "leading 13 megapixel cameras". It's very difficult to test this, but in practice we were satisfied with what we received on both the camera and video side, but not overly impressed.
The camera's autofocus is surprisingly quick, and can focus very close to help with macro shots. Furthermore HTC's filters are great, the zoom in and out works a treat and in general provided most that we could ask for. The HDR mode is not quite up to the challenge, providing blotchy results that simply cannot compare with the One X's results. Much like the Sony Z, the HDR video capture is not overly impressive. There is also no protective covering for the lens, so in most cases if you want decent results you need to clean it first since it gets smudgy from fingerprints very easily. 
Two things stood out though. We quite like HTC's Zoe concept, which instead of just taking a simple picture actually takes a three second long video (irritatingly saved as a bunch of JPEGs which plays havoc with your Dropbox/file folder because it can become overwhelming if you take a lot of Zoes). We love Zoes and also the fact that they come to life in your gallery.
But there was something we liked even more – the video that is made of your day's events. After a day of shooting the HTC One automatically compiles a good looking movie from all your pictures, Zoes and videos – complete with transitions and music – with no effort on your part. If so desired, you can customise this, with a choice of what media you want pulled in, or the theme of the video. It still needs a bit of work, since in our tests it included pictures that were not selected, and we would have loved to have used some of our own tunes.
HTC has done well to include a number of added extras, including object removal on pictures if taken as a Zoe, slow motion video capture and sequence shot. If you learn how to use these you will be rewarded. 
On-board sound
There are a number of circumstances where we listen to podcasts not through earphones but rather through the onboard speakers. Thank heavens then for the front facing dual speakers on the One, which HTC states include built-in amplifiers.
Good dual speakers on the front of the device make for some of the best onboard sound yet.
The sound emanating from these are much better than on others, with Beats Audio now also making an appearance here and not just as an option reserved for earphones. Beats' bass heavy delivery provides a fuller sound for the onboard speakers and does much to enhance clarity, but when it comes to listening through earphones, we prefer our tunes Beats-less.
Regarding battery life, it's neither better nor worse than most smartphones out there and you will have to charge the smartphone at the end of each day.
To the point
The HTC One is not flawless, but we can safely say that it is the best Android smartphone we've tested to date. It quite comfortably runs through our 'love-to-have' checklist of features, including excellent performance (the best benchmarking yet); sleek metallic design; solid photography features (Zoes are great); and a gorgeous full HD screen (4.8" pushes the PPI to about 470).
There are a few features missing, including the ability to replace the battery and to use a microSD card, but in general, HTC has made it very easy to recommend this phone. Already it's difficult to see the HTC One not featuring in our 2013 Top 3 smartphone list at the end of the year.
At the time of review, the One's main rival (and the one with the marketing budget) –
Samsung's Galaxy S4
– is still to make an appearance. Based on specs the two match up well, but how will they differ when it comes to everyday usage? We can't wait to see.
The HTC One is due in South Africa in mid-May and should retail at the high-end of the spectrum. No local price is available yet.
Pros
Excellent full HD display.
Very strong chipset performance.
Sleek metallic design.
Solid photography features.
Excellent onboard speakers.
Cons
Might not 
immediately
be easy to start off with.
No microSD.
Battery not swoppable.
HDR photos not the best.
<< PREVIOUS PAGE
NEXT PAGE >>

Excellent full HD display; Very strong chipset performance; Sleek metallic design; Solid photography features; Excellent onboard speakers.

Might not immediately be easy to start off with; No microSD slot; Battery not swoppable; HDR photos not the best.