Unlike Samsung's Galaxy S II, which can be described as the boisterous Kanye West of smartphone
s, the Sensation is no showboat. This despite the fact that, just like the SII, it boasts with a 4.3" screen and a dual-core processor.
In our opinion the Sensation is also more stylish device, thanks to its toughened plastic and aluminium encasing that features a grey, dark brown and black motif at the back. That said it can be a pain to remove while it's also so sleek it's almost slippy.
The Sensation does not come across as large as the SII (more like the original Galaxy S) while it's also very comfortable in hand, mainly due to a thickness of 11.3 mm that does not compete with other cardboard-thin smartphones. The S-LCD capacitive screen's resolution of 540 x 960 pixels (256 pixels per inch, still not close to that of the iPhone 4's 330 ppi) went far to make the most of HTC's visually rich Sense 3.0 user interface.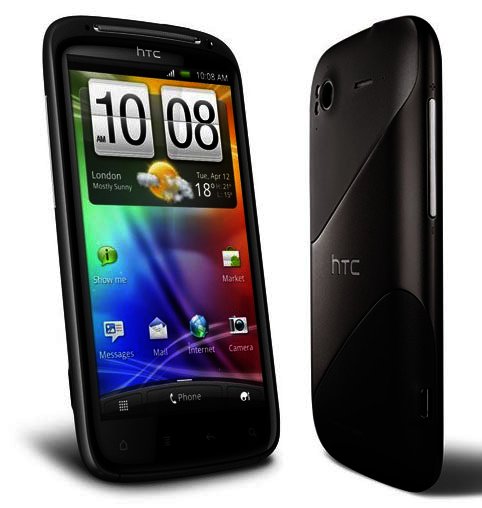 The HTC Sensation's unibody design makes for a stylish look.

A touch of (common) Sense

It is with Sense 3.0 that we feel HTC has a jump on the Android competition. It manages to enhance Android 2.3.4 (Gingerbread) to such an extent that it almost makes for a fresh Android experience (we honestly cannot wait for Android 4.0 Ice Cream Sandwich though).

The "Unlock Ring" for example allows for a quick-drag manoeuvre to swiftly go to your mail, phone, camera or messages, while the way Sense arranges your apps (All, Frequently used and Downloaded) is a big improvement on the regular long list of apps to scroll through. Add to this a number of visually appealing widgets (weather, photos, favourites) that can be loaded onto different screens, and you have yourself a best-in-business interface.

Even its Notification bar is top-notch, not only displaying recently used apps but also providing access to turn on/off Wi-Fi, Bluetooth, Wi-Fi hotspot and GPS amongst others, but unfortunately not phone sound.

We've recently switched back to a Samsung Android device sporting their TouchWiz interface, and it's almost frustrating to work with that again.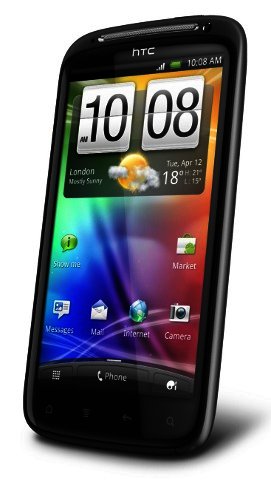 HTC's Sense 3.0 interface does a lot to spruce-up Android

Performance

The 3D and animated elements of Sense are helped along by a very capable dual-core 1.2 GHz chipset (featuring a Qualcomm MSM 8260 Snapdragon). Interestingly, during benchmarking (Smartbench 2011) its Productivity Index score of 1905 could not match the dual-core performance of the Motorola Atrix (2792) and fell way behind the excellent 3990 of the Samsung S II.

Benchmarking apart, we did not struggle with the phone regarding processing – it was fast and effective, helping to deal with the 3D interface without lag. There were instances when the screen was unresponsive to touch tough, which required a press of the screen lock button and a quick screen unlock to resolve.

The Sensation carries a commendable 8 MP camera which includes some interesting effect filters that can be added to your pics afterwards. Colour saturation is good, although like most smartphone cameras it does not deal well with whites, usually leaving it overexposed and cloudy. If video is more your thing you'll be happy to learn about the phone's 1080p movie capabilities, but unlike the Sony Ericsson arc, there is no mini HDMI port available.

Verdict

The Sensation is exactly what a good smartphone should be like in 2011. This flagship phone is not flashy, instead providing classy looks, a good screen and solid performance. HTC's Sense 3.0 user interface is the clincher though – it made us wish for the ease-of-use of the Sensation when testing other Android phones. It retails for a recommended R5888.

Pros: HTC Sense 3.0, fast, nice screen
Cons: No backlight for onscreen soft buttons, some instances of screen unresponsiveness, loudspeaker could have been better, no Gorilla Glass

HTC Sense 3.0, fast, nice screen, decent size

No backlight for onscreen soft buttons, some instances of screen unresponsiveness, loudspeaker could have been better, no Gorilla Glass