Razer's Tiamat Elite 7.1 gaming headset is one the first pairs of gaming headphones to provide true 7.1 surround sound via 10 individual drivers. Does this set allow for a more immersive gaming experience or is its impressive feature set firing off blanks?
The futuristic styling of the Razer Tiamat Elite makes for a breath of fresh design air after the conservative - to the point of being boring - look of the Razer's Carcharias Professional PC gaming headset (review). The Tiamat Elite boasts see-through ear cups that allow users to peer under the sound hood of this monster headset, just like a Ferrari or McLaren owner is able to gaze at the powerplant of his supercar underneath its see-through engine cover.
Audio performance
Staring at you from underneath are two 40 mm subwoofer drivers, two 20 mm side surround drivers, two 30 mm front drivers, two 20 mm rear drivers, and two centre 30 mm drivers. All of these drivers deliver a mighty sound bang and impressively clear quality at all but the maximum volume, at which point the sound gets a bit tinny.
The Tiamat also transforms your gaming experience to the same auditory extent that a new GPU has you looking at your old games through a fresh pair of I-need-to-replay-this specs.
Within Medal of Honor: Warfighter, we could almost close our eyes and pinpoint enemy positions on gunfire and footsteps sound alone, while boosted ambient sounds breathed new life into Civilizations V.
Gamers will also appreciate the large leather earcups and adjustable headband that delivers a comfortable listening experience, even during extended gaming sessions. For in-game chats and Skype calls, Razer provides a fully retractable mic that is pulled out from the left ear cup.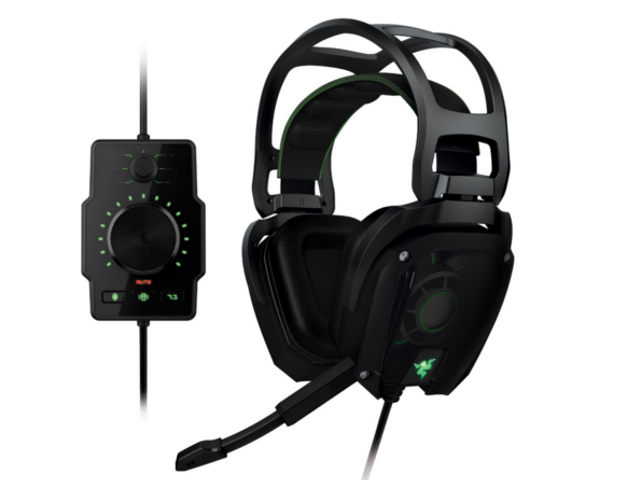 Gazing at you from beneath the see-through earcup covers are ten drivers which breath new auditory life into your gaming experience.
Setup process
Setting up the Tiamat looks complicated at first, due to it packing no fewer than five 3.5 mm audio jacks and a USB connection for power. First you plug in the USB cable to power the Tiamat, and then you connect the green 3.5 mm audio jack of the Elite into your sound card. All of the remaining four jacks have to be connected to the speaker input dongle (secondary audio cable provided in the retail package), which sports four corresponding 3.5 mm ports that are all colour coded to make this process simpler.
To adjust the volume, Razer provides a large in-line control unit, which boasts a volume knob, volume toggle switch, and three buttons for muting the microphone, switching between speakers and the headset, and toggling between 7.1 and 2.0 output modes.
To the point
Razer's Tiamat Elite 7.1 surround sound gaming headset is a sturdily constructed, head-turning piece of gaming kit. It delivers exceptional audio quality, very decent volume bang and will ultimately boost your audio gaming experience to new reinvigorating heights, provided you have a soundcard that supports 7.1 surround sound.
It goes for a pricey RRP of R2 000, which is around R700 more expensive than Logitech's G35 7.1 surround sound gaming headset.
Pros
Impressive volume.
Decent bass response.
Excellent audio quality.
Eye-catching design.
Comfortable to use over long periods.
Cons
Not the most portable of headsets.
Expensive.

Impressive volume; decent bass response; excellent audio quality; eye-catching design; comfortable to use over long periods.

Not the most portable of headsets; and expensive.