At Mobile World Congress last year, Sony focused on two product categories - smartphones and IoT (Internet of Things) smart devices. The latter proved the more interesting of the two, with the Japanese company revealing a handful of concept and prototype products. Among them was the Xperia Ear, an audio-focused wearable, or 'hearable', that essentially embedded a digital assistant within a bluetooth earpiece.
As a concept, the Xperia Ear sounded extremely promising, but now it's time to see whether Sony has been able to deliver on that promise, with the company bringing in a small number of hearables into the country.
Sleek and sophisticated
Before we delve into functionality, let's take a moment to appreciate the Xperia Ear's aesthetics. We think it looks great, is extremely polished, and banishes any memories of those people in the office or in traffic that obnoxiously wear bluetooth headsets to answer their 'important' calls.
In terms of the materials at play here, an aluminium frame sits on top, with plastic and rubber used for the rest. It's a fairly premium feeling mix, which is matched by an equally intriguing 300 mAh carry case that doubles as the main means of charging the Xperia Ear. Upon first opening of the case, it immediately reminds us of a Zippo lighter, and looks far cooler than the Apple Airpods' dental floss one for example. It also delivers a handy amount of battery life, offering up roughly three days of Xperia Ear time from a fully charged case, depending on the wearer's use.
Added to Xperia Ear's sleek design is a lightweight construction at 6.8 g, which has both its advantages and failings. For the former, it makes prolonged wear throughout the day far more manageable than other more bulky options. The downside to its small dimensions and weight is that you never fully feel confident the Xperia won't slip or fall out when running or working out. As a device you can wear all the time then, the Xperia Ear falls a little short in our estimations.
Smart enough?
When comes to styling, the Xperia Ear is hard to match. The more important element, however, is how it performs as a smart device. Much like smartwatches, the Xperia is designed to be an extension of one's smartphone, trying to ease the burden as opposed to adding to it. The Xperia Ear achieves and falls short of this in equal measure.
'Smart' things it excels at include the ability to power on and off when the device is placed in or removed from one's ear, thanks to some embedded proximity sensors. Added to this is the digital assistant, which can greet you by name and give you some information via settings made in the Xperia Ear mobile app. To that end, things like weather, calendar events and significant news will be read out to wearers. The hearable can also read out specific messages and emails, along with allowing its wearer to craft replies by dictation. It's a nifty thing to have available when one's phone or PC is not immediately in reach or hands are otherwise tied up. Whether it's more efficient or a time saver compared to using one's smartphone or computer instead, is up for debate.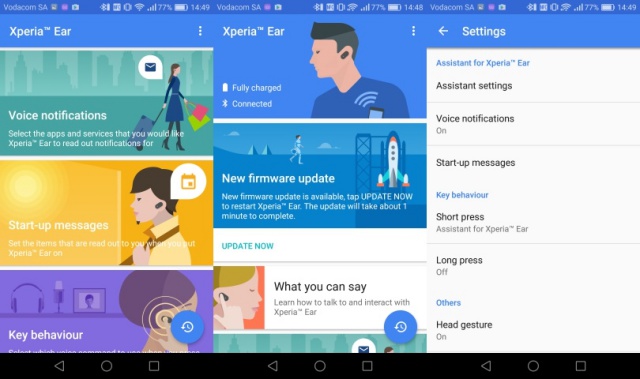 Hit and miss
Much like a smartwatch, much of the Xperia Ear's shortcomings are linked to a lack of fully fledged functionality. An example of this is being able to ask the Xperia Ear questions. Basic things like weather and calendar queries are handled easily enough, but the moment you get more complicated, like asking what time your favourite sports team is playing that night, often yields no result. As such the smart aspect of this hearable is still some ways off from being a piece of technology you're going to want to use all the time. A version of Google Assistant for your ear then, this device is not.
Other kinks that need ironing out include the audio quality, which is poor at times, especially if you want to listen to music. Furthermore, the Xperia Ear is only compatible with Android devices (4.4 KitKat and up), a compatibility issue that other hearables like the Bragi Dash do not suffer from. Speed is also a concern, with the time taken to call a contact via voice command often taking four to five times longer than doing so manually on your smartphone. Whether this is a connectivity issue (Bluetooth 4.1 and NFC) is unclear though.
It's not all doom and gloom though, as the Xperia Ear works well as a device to have surreptitiously working in the background. The quality of voice recognition is also good, allowing you to talk at lower levels and still dictate messages or prompt calls. Having a steady stream of information funneled into one's ear can also prove quite helpful, especially if you're a productivity focused multitasker.
Final verdict
Is the Xperia ear the hearable we most want at the moment? No, but it is certainly a good start for Sony and their range of impending IoT-focused accessories and devices. The main issue at the moment, however, is that it still feels very much like a prototype or concept offering, stuck in beta until the small niggles get sorted out.
As such, I wouldn't recommend getting the Xperia Ear, which costs R2 499 at local launch, but would rather say waiting to see what the next iteration of this hearable serves up, as a better course of action. All things considered, there is definitely potential here, it simply has not been fully released with this first offering.

Great look and feel; Lightweight construction; Good battery life

Assistant functionality erratic; Audio quality poor at times; A bit pricey