A good screen can do wonders for your productivity, and when you're dealing with a 23" full HD one with a few added extras, even more so. Apart from being an excellent screen, Samsung's Central Station C23A550U has a few tricks up its sleeve thanks to four USB ports at its base.

If you're anything like us, extra USB ports always come in handy, with so many peripherals taking up the available ones. What makes the Central Station special is the fact that two of its extra ports are USB 3.0 enabled, allowing faster transfer speeds if you have a USB 3.0 enabled PC, while a USB 3.0 connection cable is included in the box.

At the back of the monitor's stand you'll find an Ethernet port, while an HDMI port also makes an appearance. A 3.5 mm audio jack rounds off the array of connections on offer, making it easy to plug-in headphones or stand-alone speakers (there's no onboard speakers available).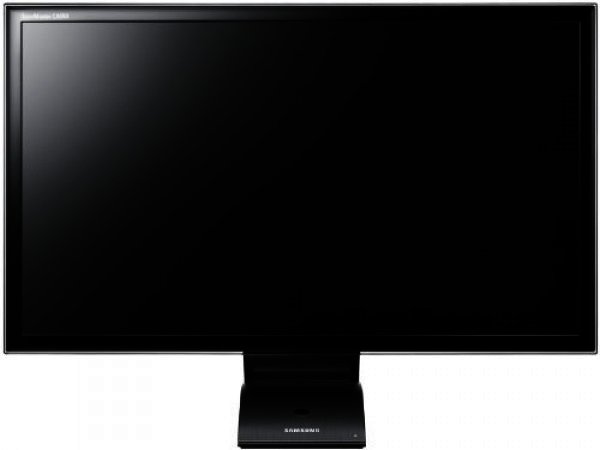 The Central Station's good looks are a plus, while 23" is just about perfect for the office.
Set-up

The screen is an absolute breeze to set-up, with most of the effort going towards getting it out the box and onto the desk. The rest is simply plug and play, with almost no time spent calibrating settings, since the Samsung auto-configures.

There's certainly not a lot to complain about when it comes to screen quality. For everyday computing tasks the 1080p screen is simply superb (viewing spreadsheets on a screen this big makes for an excellent experience), while its 23" of screen real-estate makes it suitable for gaming (2 ms response time) or watching movies (3000:1 static contrast ratio).

As with most of today's monitors, there are a range of different options and settings, including Samsung's MagicAngle (enhanced viewing angles), MagicBright (brightness settings including Game/ Cinema/ Dynamic contrast) and MagicColor (enhanced saturation). Graphic designers and photographers will appreciate these different options, but when using the screen for regular work-purposes you need not worry about these too much.
The Central Station is able to go down low thanks to its dual-hinge system.
How low can you go?
What we liked about the Central Station's height and angle adjusting dual-hinge system, is the ability to drop the screen very close to the desk. Much like the
Samsung LD220G Lapfit
, this helps to align the screen with your notebook if you're using the C23A550U as a secondary screen, minimising any excessive neck movements on your part. If you do lift your notebook via a stand, or use the screen as your primary display, then you need not stress, since the hinge can lift 120 mm off the floor.
No HDMI cable
HDMI cables seem to be the new printer cables, in the sense that companies don't include them in the box. Ditto for the Central Station, since you'll only find an older (and inferior in resolution) D-sub one to connect it to your PC. Most new notebooks these days have HDMI connectivity, and why companies can't ship screens with HDMI cables included only they will know. To make proper use of the screen's excellent 1080p resolution, remember to add another R150 bucks to buy an HDMI cable. There is no DVI connection available.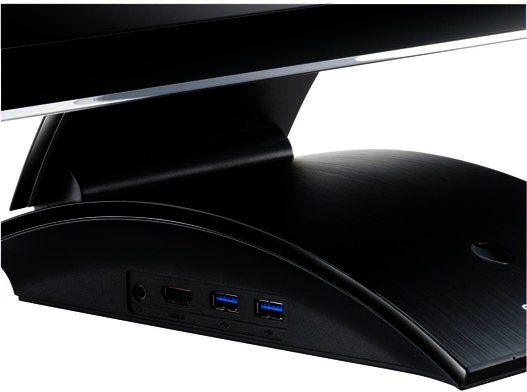 A good view of the two USB 3.0 ports, also showing the HDMI port and 3.5 mm jack.
To the point

Testing the Samsung Central Station C23A550U as a secondary monitor was an experience that came to an end much too soon. With its hassle free set-up, added USB ports and adjustable dual-hinge system, the Central Station was not only very convenient to use, but also added to daily productivity.

23" feels like the perfect size, definitely not too big and bulky, but not too small either, and with its full HD resolution, the Samsung Central Station comes highly recommended. It retails for a good R2499.

4 x USB ports on base with two of these USB 3.0 excellent dual-hinge system, 23

No HDMI cable included, no onboard sound, no DVI port