Asus' own Zenbook has certainly raised the bar in terms of what we have come to expect from the company when it comes to notebooks and ultrabooks. The question on our mind with its VivoBook (budget friendly notebooks) range is whether the company can stray from the exemplary Zenbook (review) offerings and still deliver a well built, attractive and appealing notebook.
Happily, with the VivoBook S550 ultrabook, the answer to that question is an easy, uncomplicated and resounding yes, as the machine checks many of the above boxes.
Show me what you've got
To start with, it certainly looks like the kind of notebook you would want to own, with a smart black cover that reveals a brushed aluminium interior. This well implemented combination of black and silver lends the S550 a classy air.
From a purely aesthetic point of view, this makes it suitable for both business and general users, catering to the former's aversion to a garish or flashy design while simultaneously serving the latter's itch for some style in their devices.
In terms of build quality, we could find no fault either. The notebook is certainly solid, betraying no creaking or flex on its base. This despite the fact that it does boast an optical drive, which can tend towards making notebooks more susceptible to keyboard creak. Equally solid hinges ensure the screen stays put, while the screen itself was free of flex. Indeed, deficiencies in the above are often signs that corners have been cut, but to its credit, we did not get this impression from the VivoBook S550 at all.
Indeed, the S550 is deceptively spacious, and at first glance we almost thought we had a 17" on our hands, not so though, since it's still a 15.6" notebook. Indeed, in performance, size and looks, the S550 certainly blurs the boundaries between ultrabook and notebook, and we actually felt it was more the latter than the former.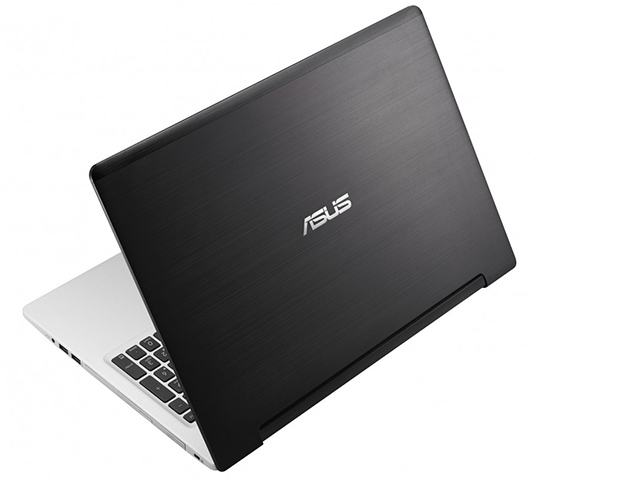 Both from the outside and within, the VivoBook S550 is certainly an attractive notebook.
The proof is in the performance
When it came to performance, we had no complaints, barring the usual Windows 8 nuisances which have nothing to do with the hardware and everything to do with Windows 8 itself. Hopefully though, with the full version of Windows 8.1 just around the corner, many of these will be relegated to the scrapheap where they belong, where they can keep our too frequent curses at Windows 8's idiosyncrasies company.
For its part, the VivoBook S550 sports an Intel Core i5 dual core processor (3317U) clocked at 1.7 GHz, and, unsurprisingly, resulted in all round, general very good performance. Helping things along is the onboard 6 GB of memory, while graphics are served by the integrated Intel HD 4000.
Storage is taken care of by up to a 750 GB harddrive, with the OS being relegated to a 20 GB SSD in our review model. The latter accounted for quick startup times, while the former enables more media storage than you would receive from even a higher-capacity SSD.
In our benchmark tests, we received a decent 5511 in 3D Mark, 252 in Heaven and 1112.6 in Passmark. This easily bests the 1183 marks in 3D Mark 06, 56 in Heaven and 410.7 in Passmark that we received from Asus' other budget orientated offering, the Vivo X202E (review).It also bested the Lenovo IdeaPad Yoga 13's (review) score of 4216 in 3D Mark 06, while almost matching that machine's 1190.3 score in Passmark.
Furthermore, it is considerably, and curiously, bettered the Lenovo ThinkPad Twist's score of 3993 in 3D Mark 06, despite that notebook running a Core i7 processor.
Reflect on this
With regards to the screen, we found ourselves split, as there are both positives and negatives on this front.
Firstly, in the plus column, the screen is both sharp and bright; certainly a welcome sight since we found several other Windows 8 notebooks with touchscreens seemingly to look noticeably dimmer and a little 'flatter' than their non-touchscreen counterparts. Colours saturation is decent enough, and as we suspected it would be considering screens on Asus' tablets, there is more than ample contrast on offer.
On the minus side though, the VivoBook S550's screen is particularly reflective, to the point of becoming distracting. As much as we love a glossy screen, and generally tend to favour it over a matte finish, the VivoBook's was a bit too much for our liking.
Additionally, the screen sports a middling 1366 x 768 resolution, which is ok, although quite honestly we feel the notebook would have been better served with some HD treatment or at least a higher resolution.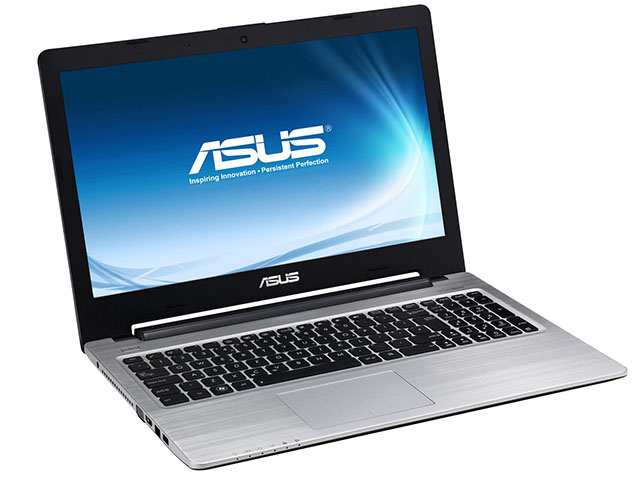 While the keyboard offers a shallow press, and some cut down sized keys, it does bring a numpad and generously sized trackpad along for the ride.
Is this space taken?
Moving on though, that other 'key component' of a notebook, its keyboard was quite nice on the S550 and certainly felt inviting to work on. A lovely spacious palmrest area and generously sized – and responsive - trackpad dominate the notebook's base, and reminded us more than a little of Apple's approach to its MacBook Pro keyboards.
The chiclet keyboard though, exhibited a noticeably shallow press. That being said, we had no problems typing on the machine, nor did we find our fingers inadvertently and accidentally straying to neighbouring keys – something that keys with deep presses don't necessarily preclude. For those for whom it is important, Asus has included a numpad, although its keys are halfsized; and the inclusion of this also saw some other keys, such as the shift, control and backspace, having their size cut a bit as well.
This decision though, did leave us wondering whether the notebook may not have been better served by ditching the numpad altogether. Alas, there is no keyboard backlighting on board, somewhat a more forgivable omission considering this notebook comes in at just under the R10 000 pricepoint.
Minor details
Also onboard is the usual smattering of ports, which include a USB 3.0 port, two USB 2.0 ports, an HDMI and a VGA port. While it weighs in at 2.6 kg, not exactly feather light, it was still not unbearably heavy either (although our disclaimer is that, having grown up toting far heavier cameras, our definition of light and heavy loads may differ somewhat from yours).
The sound on offer here is actually very good – we had no problems playing movies or music at maximum volume and hearing each word distinctly, with no distortion.
To the point
In many ways the Asus VivoBook S550 balances positives with negatives, to deliver an all-rounder notebook that will likely find its appeal amongst the midmarket end user, who is similarly doing a balancing act of their own, taking into account cost as well as performance.
True, it is not as high-end as the excellent Zenbook, but nor does it carry the same price (R22 000 plus). And, while its battery life tops at around the three-and-half hour mark, it's likely intended to alternate between being on the road and sitting plugged in at a desk. While we (and Intel) may take issue with it calling itself an ultrabook, that is of little consequence; this is not the thinnest, lightest or smallest offering available, nor is it meant to be.
What it is though, is a worthy consideration for someone seeking a Windows 8 notebook that values build quality and general performance, while being able to overlook some minor niggles. It has a RRP of R9 000.
Pros
Well built
Attractively designed
Generously sized trackpad
Bright and responsive touchscreen
Cons
Shallow key press
No backlighting
Overly reflective screen

Well built, Attractively designed, Generously sized trackpad, Bright and responsive touchscreen

Shallow key press, No backlighting, Overly reflective screen