Asus's latest Vivobook, the 15 OLED M1505, aims to offer more than just a good looking body, starting with an OLED screen you can't take your eyes off.
A screen to die for
As the world's number one purveyor of OLED screens on notebooks, the company is leading the charge when it comes to sharp, saturated and crisp screens. This is certainly the case for the 15.6" FHD (1920 x 1080) OLED glossy display on the test model (the Vivobook 15 OLED M1505Y to be precise), and was a significant degree better than the LCD displays found on, for example, Lenovo's Ideapad 3 series.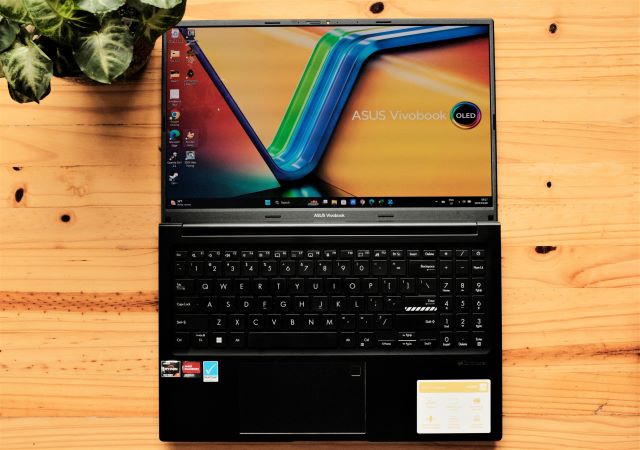 When clocking in for the day, the saturated colours on the Windows 11 lock screen was immediately noticeable, to the extent that colours on certain websites all of a sudden popped out, previously not noticeable.
The awesome screen of course translates to great video – a boon when watching Netflix, further clocking a 0.2ms response time, a 60 Hz refresh rate and 600 nits HDR peak brightness. No matter at which angle you view the screen, it looks tops. Can one complain about the resolution only being 1080p? No, not really at this price-point, while it's also not a touch-screen, which I did not miss.
Body and keyboard
Asus is one of the manufacturers who knows how to design a good-looking notebook, with the Vivobook 15 certainly no exception. The review unit came in what's called Indy Black, which strangely comes across as neither glossy nor quite matt. Plastic by nature, both the cover and keyboard area are a fingerprint magnet and if you're one for appearances, you'll struggle to keep it clean for those boardroom meetings.
The chiclet-styled keyboard is tops, with the keypresses making for easy typing, complete with a large numpad on the side, and importantly, a backlit keyboard. As loadshedding continues here in South Africa, I find a backlit keyboard as almost essential.
Asus also includes its Antimicrobial Guard Plus, which covers the frequently touched areas of the machine and is said to inhibit certain viruses and bacteria, including Covid 19. The trackpad is spacy and works well, while there's a fingerprint scanner offered in the top right hand corner.
Also impressive, I thought, is the 720p webcam, which also comes with a privacy shutter. Sound quality during online meetings, both my own and for others, was good.
Careful with those smudges...
Under the hood
The eight core AMD Ryzen 7 7730U Mobile Processor (2.0 GHz base) makes an appearance here, also featured on other comparable notebooks, including HP's ProBook range. It provides solid performance during the workday, with the notebook dealing with multiple tabs running, Word and GIMP open, plus a few other smaller things keeping it busy. This is no doubt helped along with the solid 16 GB worth of DDR4 RAM, which should leave you in the clear in terms of having to upgrade (unless you are doing video editing), which is good since the machine is non upgradeable on the RAM side.
The integrated AMD Radeon Graphics won't take you far in terms of gaming, with certain older games and less graphic intense games able to run. I managed to play Doom 3, but the machine struggled to properly display Company of Heroes.
Battery and extras
As far as battery life is concerned, you should be making it through stage 6's four-and-a-half hours of loadshedding, with the unit lasting for exactly that amount on a balanced battery setting, the backlight on the keyboard turned on and the display slightly dimmed. It lasted another half hour on battery-saver mode before dying. Asus claims it can recharge as much as 60% in 49-minutes, which can also help if you are in a bit of a rush. The company also kept the power cable really small, which is always a great benefit for travellers.
On the port side you're pretty much covered, with 1x HDMI 1.4, 1x USB 2.0, 3x USB 3.2 Gen 1 (one with Type-C support power delivery) on the sides, with no SD card reader present.
Finally, the sound on the machine is adequate for the most part, but does not really deliver in regards to clarity or volume, which can be a pain if you are sharing the notebook for a movie.
One for the books

At a decent R17 000, the ASUS Vivobook 15 OLED M1505's main selling point is its excellent 15" OLED display, which makes working on this simply great. The lightweight body (1.7 kg) might be plastic but it's stylish (and a fingerprint magnet tbh), the keyboard is great for typing, and it comes with a battery life that will last you through the worst of stage 6. While the sound might be middling, there's very little performance wise that distracts from the Vivobook 15 OLED M1505 being a winning notebook.
However, Asus does not make things easy, since the model below this, with a Ryzen 5 processor and 8 GB of RAM, goes for R4k less - a very tempting proposition if you are looking to save some bucks.

Great screen, decently specced, good-looking machine

Sound mid, battery life could have been a tad better, fingerprint magnet