Like the graceful martial art after which it is named, Asus' TaiChi is an alluring hybrid, that effortlessly and fluidly shifts from between a Windows 8 slate, to being a Windows 8 notebook.
The manner in which it accomplishes this is both simple, and ingenious. Instead of boasting one screen which is revealed when the notebook's cover is lifted, the TaiChi has two – both an outer screen where the lid would be, and the conventional inner display.
Handily, each full HD IPS screen can operate independently of each other, or together – more about this a little later.
As we have consistently come to expect from Asus, build quality was top notch: the smartly attired TaiChi looks and feels like it is made of solid components, with no creak or flex being evident anywhere on the frame.
Gently rounded corners and smoothed-off edges further meant that no part of the device felt like it cut into our palms, a small consideration that nonetheless makes a big difference for devices that are intended to be held in one's hands for significant periods. At 1.2 kg, we can't say that we felt overburdened or uncomfortable holding the TaiChi for long periods either.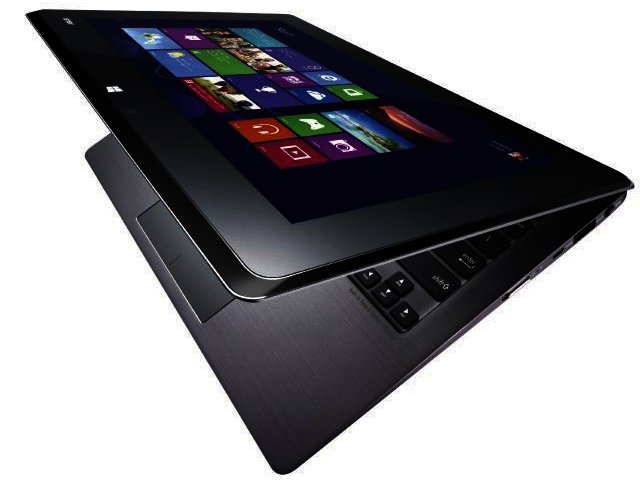 Why have only one screen when instead you can have two? This is the TaiChi's core philosohy, and it works very well.
Two ways to see more
On both fronts (pun intended) the 11.6" displays looked beautiful – clear and crisp, with details rendering sharply, thanks in no small part due to the 1920 x 1080 resolutions across both screens. The 'outer' screen, which has its own capacitive Windows key beneath the screen, is touch sensitive, and is ideal for painting apps or scribbling notes.
Additionally, we found it to be particularly responsive to touch, which made swiping across Windows 8's tile interface fast and smooth. To its credit, holding it as one would a slate or tablet was similarly no problem, thanks to the presence of a decent sized bezel around the edges.
Looking within
Moving to the more conventional inner 11.6" screen, used when the TaiChi is opened like a normal notebook, we couldn't find fault here either. This display is not touch sensitive, which to be frank is not a feature we missed at all. It does however, give the excellent and comfortable chiclet keyboard its chance to shine - quite literally, as the keyboard has some very nice backlighting.
Once again, we found the keys struck a great balance between depth and springiness, which translated into a very comfortable typing experience. No less important was the generously sized trackpad, which was responsive from one edge to the other, while the integrated mouse buttons had some nice and noticeable press of their own.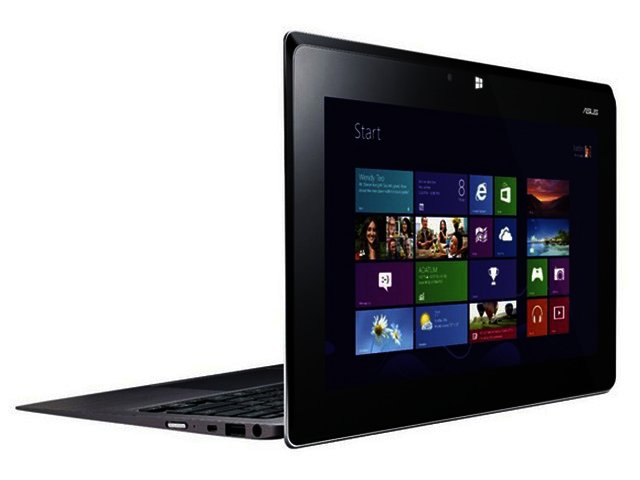 The TaiChi replaces a conventional lid with an outer screen, which serves as a slate when the device is closed.
Moving faster
With regards to specifications, the TaiChi that we tested (and reviewed here) boasts our favourite processor right now, the efficient but budget friendly Intel Core i5-3317U, clocked at 1.7 GHz. Also onboard is 4 GB of memory and a 128 GB SSD drive (94.2 GB of which usable). However, it should be noted that the TaiChi is also available with the Core i7 processor for those users who want the extra processing power oomph.
However, with the i5, the general usage of the TaiChi was no less than what we would expect from a premium ultrabook, offering very good performance in general tasks.
Much like we found with the Samsung Series 5 Ultra, there was the occasional Windows 8 hitch; such as applications spontaneously launching with the slightest touch on the trackpad. This intermittent problem, though, was not the fault of the hardware but rather is an issue we have encountered on other Windows 8 machines as well. Hopefully is one of those bugs that will be ironed out when the inevitable Windows 8 Service Pack arrives.
On the backfoot
While we have not had the easiest or smoothest of introductions to Windows 8, to its credit, using the TaiChi was somewhat less frustrating than some other offerings that have crossed our path. As on other Windows 8 devices, the inexplicable lack of a start menu can be addressed to an extent by downloading and installing
Stardock's Start8,
which makes adapting to, and navigating around, Microsoft's latest OS that much easier.
Graphics are taken care of by Intel's Integrated Graphics 4000, which means the TaiChi is up for some light to moderate gaming. No, it's not a gaming beast, and no, you probably are not going to subject it to Crysis 3 at maximum settings, but for the casual and general PC gamer, this graphics solution should suffice.
Ports wise, users will find two USB 3.0 ports, one Micro HDMI and a Mini VGA port. You can also expect in the region of five hours of battery life, not at all bad for a device that offers not one, but two screens for one's pleasure.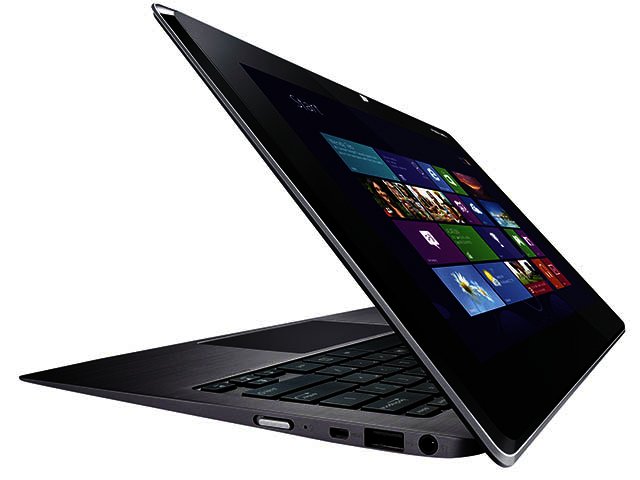 Ports are evenly spread across both the left and right hand side of the device.
Keeping the Chi flowing
The TaiChi's design, and its ability for both screens to operate together, makes it quite easily to go from creating content (in the conventional configuration) to consuming content. As you may have already gathered, watching movies and consuming media on the TaiChi was a pleasure.
Although the sound is not the loudest, it was nonetheless crisp and clear, with no sign of distortion being evident, even when cranked up to maximum. In our case we found a likely scenario would be to search for a video on the internet using the TaiChi with the keyboard, and then simply snap it closed and watch the movie on the outer screen, as one would with a slate or tablet.
Our biggest concern about having a screen on the outside of our notebook though, would be its vulnerability to scratches. It's a good thing, therefore, that Asus includes a very nice – and slim – cover that protects the entire device.
Whether you will want to put this in another notebook bag, or be comfortable with that degree of protection as is, is going to depend on how confident you are about treating your gear with care, and whether or not your device has to withstand greater than average abuse.
We can say this though: like the practitioners of the ancient art from which the TaiChi derives its namesake, this is a reassuringly strong hybrid we got the impression has been built to last.
To the point
Barring the few Windows 8 idiosyncrasies that have characterised the OS, the TaiChi is a very capable, elegant addition to the Windows 8 line-up in its own right, whose beauty lies in the graceful execution of serving as both laudable notebook and Windows 8 slate. It retails for R17 000 for the Core i5 and R18 000 for the Core i7 version.
Pros
Excellent build quality
Innovative design
Lovely keyboard
Cons
Not the loudest audio
Subject to Windows 8 issues at present

Excellent build quality, Innovative design, Lovely keyboard

Not the loudest audio, Subject to Windows 8 issues at present