With a bit of a legacy behind it now, one expects Lenovo's Yoga series to have learnt a considerable amount from its predecessors, and could reasonably anticipate it having successfully graduated from neophyte to instructor, if not master. This is exactly what the Yoga 3 Pro accomplishes.
To start with, the build quality is flawless, as the machine feels undeniably solid and of high grade from the get go. While it is slim (0.5") and sleek (not that I would ever expect an obese Yoga), it's doesn't feel flimsy at all, and special mention must go to the hinges, which certainly look like they will last at least as long as your dedicated Yoga practitioner's daily regime.
The machine's design is also understated but elegant, graceful even, with gentle curves in all the right places, almost seeming to give users a discreet Namaste greeting. From a first impressions point of view, the Yoga 3 Pro definitely impresses.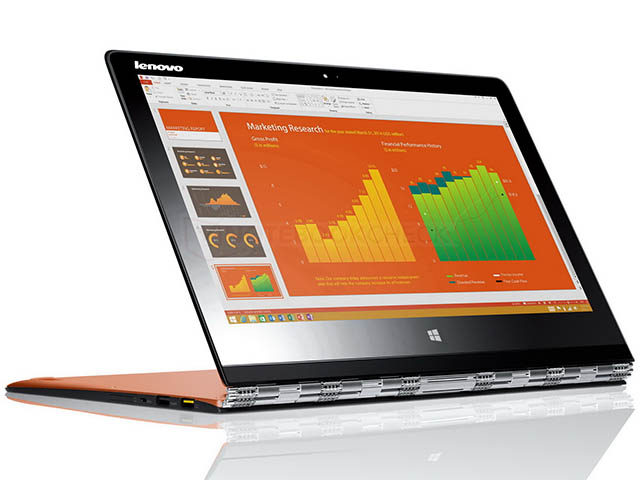 Screen your thoughts
Beyond this though, the next aspect of Lenovo's new offering to really impress is the luscious, stunning screen. Superlatives aside, it's a beauty. Rich, vibrant colours, deep blacks, great contrast and pretty good brightness at maximum converge to create a Quad HD display that was a pleasure to look at. In part, much of this is owing to the high resolution on offer – 3200x1800, which, on a 13.3" screen, looks as good as it sounds.
Surprisingly, this is not edge to edge as has become somewhat of a fashion. In fact, the display is bordered by fairly large bezels, with the bottom part occupied by another Windows button.
To be honest, I would have preferred if Lenovo had ditched this addition, which is superfluous when using it in notebook orientation, trimming the bezels and rather incorporated a slightly larger 14" screen while maintaining the Yoga 3 Pro's physical dimensions, especially with a display that looks as good as what you find here. I suspect the reason why it didn't is to accommodate tablet mode, which is where the Windows key at the bottom of the screen is most relevant.
Are you a little shallow, my son?
Niggles aside though, there are other aspects to appreciate. The base of the keyboard has a nice ribbed texture which I found provided my palms with a better grip to rest on while typing.
The chiclet keys themselves are on the shallower end of the spectrum, although they have enough travel, along with a firm press, to provide good tactile feedback when using them. They are also rather distinctively shaped, with a slight curve on the bottom.
This is meant to complement the shape of one's fingertip, although I didn't really find it to make much a difference when compared with your conventional, square shaped keys. It also boasts a soft and subtle backlighting, enough to show off the keys in dim or dark lighting.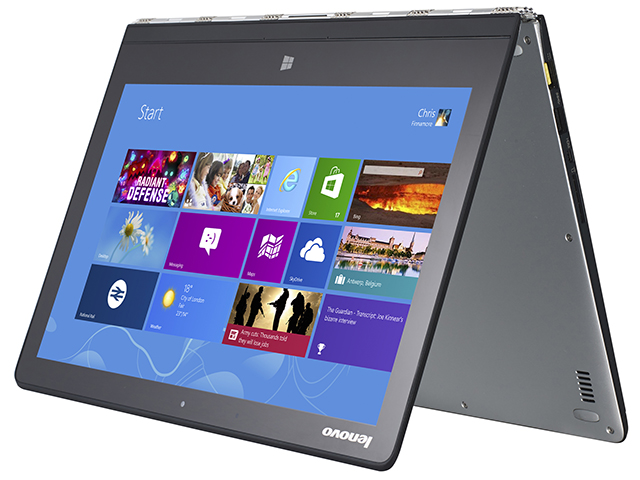 Let me pose a question
As befits a Yoga offering, the notebook can once again adopt some familiar poses, with the screen folding all the way back should you be inclined to use it as a large tablet. In this case, the slightly recessed sink in which the keys lay meant I didn't find my fingers hitting random keys accidentally while holding the device in this orientation nearly as much.
Also making a return are the Tent and Stand mode orientations, more suitable for watching videos while hiding the keyboard. Quite nifty is that the notebook also shows how much time you spend in each mode as compared with the world average, and a tile for apps that are most popular with other Yoga owners. Incidentally, in both cases the standard notebook mode is apparently the most popular (63% world average, almost on par with my 67%).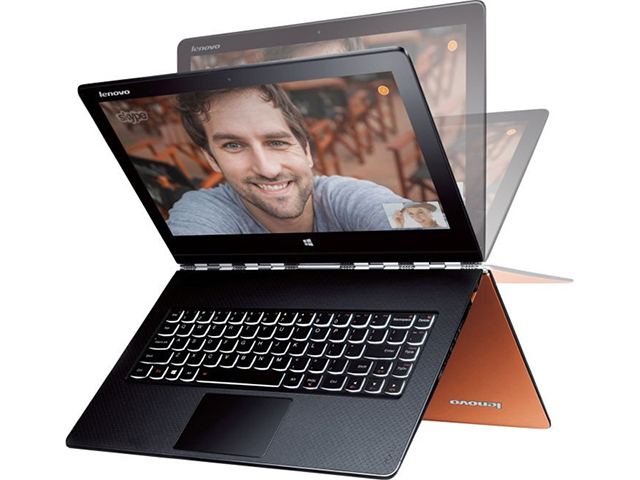 Look within
Internals were initially a bit of a head scratcher, until I attained enlightenment, that is. I largely expected to find either a familiar Core i5 or Core i7 doing duty, instead it was the new Core M (5Y51) CPU, clocked at 1.10 GHz, along with a healthy dollop of 8 GB DDR 3 memory. In general performance though, I had no complaints, with your usual suspects of uses seeming zippy and smooth enough to satisfy.
The important bit is that this new processor enables the device to ditch the fans, which makes very eerily (but wonderfully) quiet computing.
Also worth mentioning is that in my review unit at least, I had a mere 200 GB of storage space to play with, not much by today's standards.
Considering the fact that like most ultrabooks, the optical drive has been left in the earlier part of this century, I would have liked to have seen at least a good 500 GB (there is, by the way, a version with a 500 GB SSD). Intel HD Graphics 5300 handles the graphics, and does a solid job.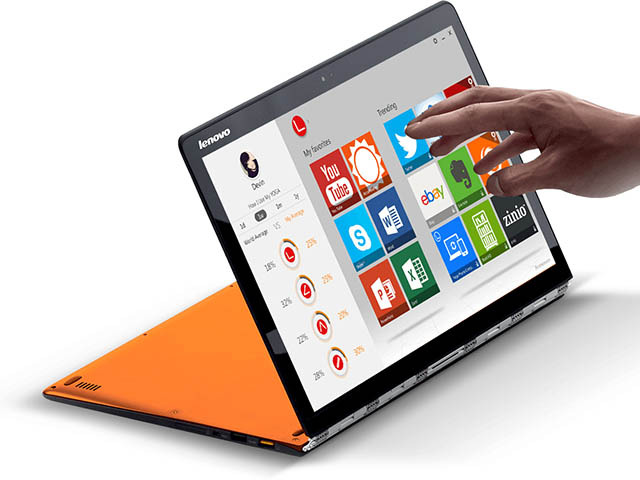 Something odd, something to end
One little bit of an oddity is that there are two ways to control volume levels – physical buttons on the right hand side of the machine for volume up and volume down, and then using the Function and arrow keys, which are about 3 cm away. It might be a stretch for some, but I can't help feeling one or the other was superfluous. As for ports, it's a smattering of two USB 3.0, one DC-in with USB 2.0 function, along with a 4-in-1 reader(SD, MMC, SDXC, SDHC) that have found their way to the notebook's sides.
Where the Yoga really scores is in battery life – up to a cool seven and a half, even eight hours at a push, on a full charge. For me, this, along with how light (1.1 kg) and thin it is, really positions it as the ideal road warrior or traveller's companion.
More importantly, this is undoubtedly the best Yoga yet; the adept has clearly become the sifu, to which its predecessors should well bow their heads (or bend their backs, as Lenovo's Yoga computers are wont to do) in supplication. It has a pricey RRP of R24 000.

Beautiful screen, Terrific build quality, Quiet, Portable, Great battery life

Some odd design choices, Some orientations still superfluous, Large bezels