If the Venue 8 Pro is any indication of portable Windows 8 tablets to come, then the future looks bright for this tablet sector.
Admittedly, we haven't been the biggest fans of Windows 8 tablets in the past, for a variety of reasons. However, Dell's Venue 8 Pro may just be the head of the vanguard to change our mind on Windows 8 tablets altogether.
Firstly, the 8" tablet is just right size-wise; sitting neatly in one's hand and proving both portable and light enough to hold one handed for extended periods, a boon when using it to consume media, read documents or browse the web. That extra inch on the 1280x800 display, when compared with a 7" tablet, also makes the tablet feel less cramped when doing productivity related work.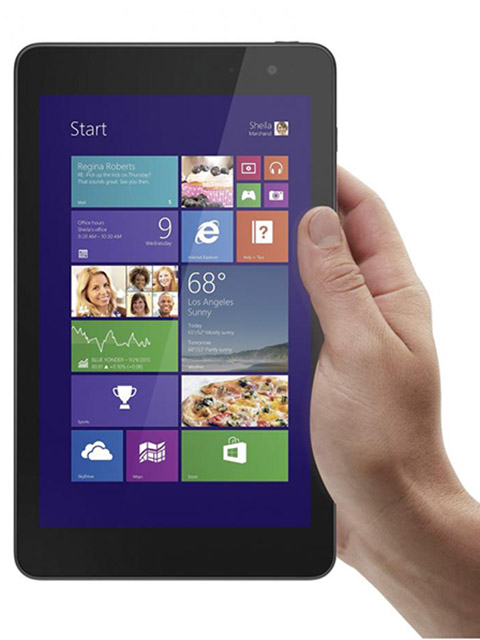 Easy to hold and largely a pleasure to use, the Venue 8 Pro is quite possibly the first Windows 8 tablet to make us finally grok, and even like, Windows 8's design.
Show off
Furthermore, Dell's tablet conjures good memories of the 2012 Nexus 7, similarly boasting a lovely stippled background, and complementing this with a reassuringly solid build. In terms of specs, we found that its Intel Atom processor (Z3740D) and 2 GB of memory performed well enough to provide a smooth performance across the board, and the solid 64 GB of storage is further complemented by a microSD card slot (up to 128 GB).
Additionally, for those who consider Microsoft Office to be their productivity bread and butter, it comes with Office pre-installed, although you do need an Office 365 subscription to use it to its full extent. Working on a document for example was much smoother and easier than on an 11.6" tablet, since typing with both thumbs in both portrait and landscape orientation was not just feasible, but fast and effortless.
Worth mentioning is that this is a full Windows 8.1 experience, albeit on an 8" screen, and actually Dell's offering works a lot better than on its notebook counterparts. The only con is that the back of the tablet gets a little warm after extended use; thankfully not scaldingly so. Also worth noting is that the tablet does not come with a stylus.
All in all, it's a rather impressive 8" tablet, those seeking a great Windows 8 device should seriously consider the Venue 8 Pro. RRP: R5 000.

Great build quality, Generally good performance, Ample storage, Expandable, Reasonably priced

Gets a little warm under load, Windows 8 apps don't match up to iOS and Android counterparts