The number of options in the 8" tablet market these days, just like the mid-range smartphone one, is filled to the gills. As such, manufacturers look to separate themselves by either offering superb value for money, or integrating a unique design feature. The 8" Galaxy Tab Active from Samsung falls in the latter, and is designed to take on some tough enterprise user handling. Is the Tab Active a one trick pony, or does it offer something else?
Tough from afar
The moment one unboxes the Tab Active, it's clear that Samsung has designed it for a specific user. One who's tablet is part of their business life and sees miles clocked up on the road, factory floor or warehouse, and as such requires a device that looks the part.
On that front, Samsung has certainly hit the mark as it looks hardwearing from afar, but a closer inspection will a reveal more of a feigned sense of toughness than the genuine article. The removable back cover for one, looks hard wearing from a distance, with four faux rivets positioned in each corner. Up close however, it feels a tad flimsy, and its removal shows just how thin it is. Thankfully, Samsung also includes a thick plastic case, which feels more capable of keeping one's Tab Active safe and sound.
A nifty little inclusion too, is a top mounted stylus, which slots into the thick plastic case itself. It proved quite a pleasure to use, and brought back memories of the Note 4 (as well as the lingering question of why other phablets and tablets don't make better use of them). Added to this a IP67-rated waterproofness (30 minutes at a depth of 1 metre) and dust-resistance. The Tab Active is also shockproof, capable of withstanding a 1.2 metre drop unscathed. It may not be the type of device worthy of inclusion in a Call of Duty game, but certainly out punches some of the competition in the heavy duty use stakes.
Having dropped and submerged the Tab Active (thick cover on) a few times to check the validity of Samsung's claims, the Tab Active seemed no worse for wear after my time with it.
Steady performer
Despite its design shortcomings, the Tab Active is still a very good 8" mid-range tablet and features a solid set of internal components to compliment it as one. Starting things off is a Qualcomm Snapdragon 400 processor, featuring a quad-core 1.2 GHz chipset to be more precise. Added to this is 1.5 GB of RAM, as well as 16 GB of onboard storage. This setup has yielded a fairly strong performer, particularly for the mid-range market, as evidenced by its benchmarked scores. It recorded a total score of 18576 on AnTuTu (v5.6.1) for example, outperforming the similarly specced LG G Pad 8.0. It also posted similarly favourable scores on 3DMark, more specifically a 4635 on Ice Storm Unlimited during benchmarking.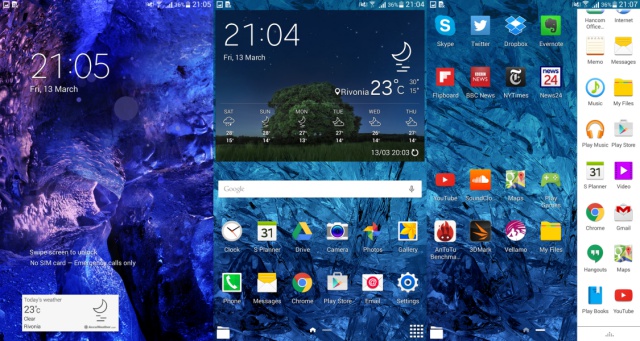 The 8" (800x1280) LCD capacitive display may be a slightly lower resolution than most higher-end offerings, but proves a pleasure to work on, and in usual Samsung fashion is bright and crisp featuring no manner of dullness to speak of. It also responds to both finger presses and stylus touches equally well. Therefore, as a business-specific or multimedia-focused tablet, the Tab Active should prove equally adept.
Mixed Bag
Moving on from performance, Samsung has opted for a rather underwhelming camera setup for the Tab Active, the reason for which is not fully known. On the rear you'll find a 3.15 MP camera, which performs quite poorly, especially as Samsung usually shines in this area. Should you be shooting outdoors with plenty of natural sunlight, it will just about get the job done, while shooting indoors is really ill-advised due to the poor quality of images. Up front is a 1.2 MP camera, which struggles to capture much detail at all, even in the most well lit of surrounds, which means that selfies, or pics of that nature, are not worth taking.
Sub-par cameras aside, the Tab Active does have one important card up its sleeve - battery life. More specifically, a 4450 mAh battery that saw me through a solid two days of use, necessitating a visit to the charging station halfway through the third. In this regard, the Tab Active definitely has some of its 8" competitors beat. For users who hanker for exceptional battery life, the Tab Active is fantastic, and as such plays well into the hands of those on the go, and without ready access to a power point.
Final Verdict
With aspects the Samsung Tab Active shines in, such as battery life and processor performance, as well as areas in need of attention, like underwhelming cameras and a heavy plastic design, it is a somewhat divisive 8" tablet. I was thoroughly pleased with its overall performance from a work-aid perspective, but still struggle to see it as an out and out ruggedised tablet, if used without its secondary thick plastic cover. With the secondary on however, the Tab Active is capable of taking a few more knocks than its counterparts, and will be a welcome device for any mid-range user.
The Tab Active's R5 500 price tag does not help situations, as it places it near the higher end of the mid-range market from a pricing perspective, seemingly aimed at corporates. The internal specs of this device however, as solid as they are, would feel far better priced at the R4 000 to R4 500 range.
That being said, the toughened exterior is nice to have, but is only suitable for users who may be accident or drop prone. If that isn't you, then the Tab Active's ruggedised exterior feels more like a novelty than a true standout.

Capable of taking knocks, Solid processor performance, Bright and vivid screen

Sub-par camera setup, A tad too expensive for mid-range market