For a gaming notebook, the Gigabyte P34 is extremely sleek and refined, with no outrageous stylings to speak of. The P34 may just be the most incognito gaming notebook we have yet come across, a bit of a departure when compared to the Gigabyte P25 (review) or P27 (review).
Our first few moments of our initial encounter with this notebook were spent admiring the painstaking efforts gone into making a device whose beauty is defined by its simplicity. We can certainly see how Gigabyte has drawn on design elements found in the Macbook Air and HP Envy units, with specific reference to the key and trackpad layout, but always ensuring its own unique interpretation.
Bright Resolution
The P34 features a generous 14" full HD (1920 x 1080) display, which is crisp and clear for the most part, the only issue being some small amounts of colour saturation when browsing through online content on occasion. With that being said the display offers high quality brightness as well as a substantial amount of real estate when operating on Windows 8.1 Pro. As maligned as Windows 8 has been, it performs with surprising fluidity on the P34.
The notebook has been fitted with a 1.3 megapixel front facing camera, and although it does not offer superb clarity, it works efficiently with little to no lag, which is really all that you should be expecting from your webcam.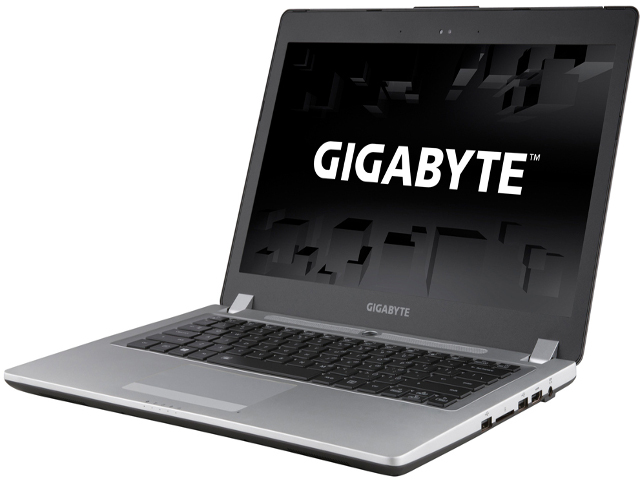 Touch and Type
We alluded to the HP/Apple inspired design to the Key and Trackpad earlier. The P34 typing experience is one of the best we have in quite some time. Each keystroke is sharp, affording users the ability to type with purpose. You can apply ample pressure to the keypad without the casing giving in, a major problem we experienced with the HP Envy series. This is another area that Gigabyte has demonstrated the value of simple, clean design and outstanding build quality.
With the trackpad we did experience some issues, most notably with the sensitivity of the trackpad, or lack there of. It may of been a symptom of quickly interchanging between open tabs, the trackpad surface was a little slow to respond when prompted. Another issue was the trackpad, which seemed to have a miniscule warp on the left hand side as a result of clicking. This may not seem like a major issue, but if we noticed it, so will you. This was a real pity, considering we were only moments ago waxing lyrical about the P34's build quality.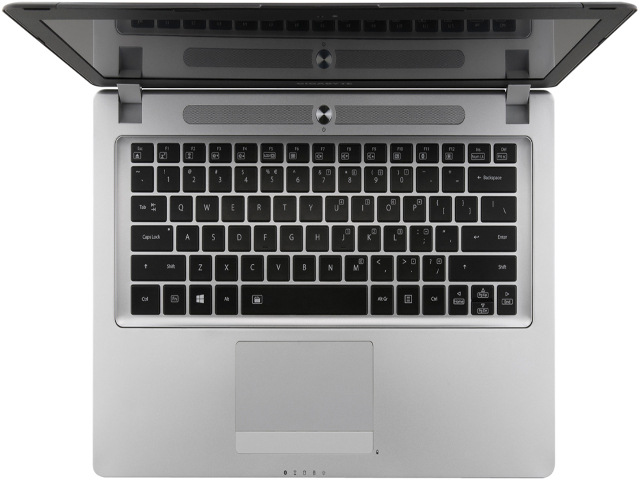 Jack of all trades, Master of some
The P34 is powered by an Intel Core i5-4200H processor, supported by an Nvidia GeForce GTX 760M graphics card and 4GB of RAM, all of which combines into a seamless and highly competent performance. Gigabyte has also fitted this notebook with a bevvy of ports, featuring two USB 2.0 and 3.0 slots respectively as well as a single HDMI and D-sub connections, and SD card reader. This all adds up to an effective multitasker, capable of keeping up with our needs.
As a gaming notebook, the P34 lies just on the cusp of good and great, let down by ancillary elements. These include very average battery life and a keyboard setup not ideal for gamers, with keys a little further apart than the orientation that most gamers prefer. Games like Saints Row IV run smoothly without any lag. The P34 performs similarly well when confronted by larger, graphically taxing titles like The Witcher 2: Assassins of Kings. Its gaming credentials are validated by well considered design and effort on the Taiwanese manufacturers part.
When we put the P34 through the testing ringer, it came out smiling, scoring well on a range of benchmark tests. Its CPU score on PassMark was 4751, with Heaven Benchmark 4.0 score of 583. This confirmed that this was not necessarily a flagship gaming notebook, but definitely warrants its R14 000 price tag.
However, as a office or student multitasker, the P34 is fantastic since it handled everything we threw at it. Running effortlessly while we wrote articles, browsed the web, opened Twitter and Facebook for chats and played video content in the background.
It tips the scale at 1.76 kg, most of the weight housed in the bottom half of the unit. The screen portion is strong and well constructed in spite of this, (another nod to Gigabyte) with the screen tilting easily with no give or strain to it. This is important to note, considering some thinner notebooks suffer from a similar affliction, of giving in slightly when opening.
The only fall back for this notebook is a subpar performing battery which lasted all of 3.5 hrs before the power pack was needed. Gigabtye fitted the P24 with a 11.1V Li-polymer battery that will offer enough peace of mind for long meetings or meeting clients on site, but won't make it for an entire nine to five workday, which is pretty disappointing given the P34's performance in other areas.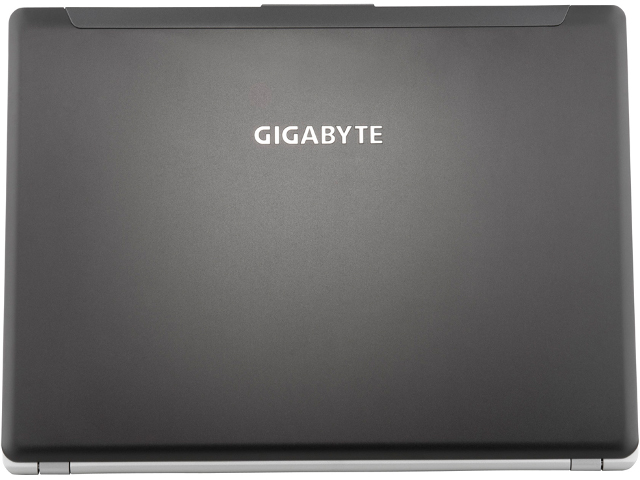 Tale of the tape
With the P34, Gigabyte has designed a notebook that can float pretty effortlessly between the worlds of gaming and office use. The look and feel however, leans it ever so slightly towards the office realm, being subtle enough to effectively blend in and powerful enough to deal with demands. Its key- and trackpad are well oriented for typing away furiously, stuck behind a close quarters cubicle from nine to five. We just struggled to fully imagine it as a dedicated gaming unit. Don't get us wrong, it can definitely handle what gamers will ask of it, the P34 may just have the wrong packaging to ever tempt the hardcore gamer, but it might just appeal to the office worker that also does a bit of gaming at night.

Beautiful clean design, Key layout is solid, One of the better Windows 8 notebooks currently available

Slightly under-specced to be considered real gaming notebook, Trackpad had some sensitivity issues