Notebooks, by their nature, are expected to be the workhorse piece of technology in one's gadget arsenal, and subject to constant travel and movement. Here at TechSmart, no doubt like many notebook users, we rely on our notebook constantly, and carry it with us wherever we go. This makes it even more essential to have a comfortable carrying solution, and to that end, we put Targus' A7 Notebook Slipcase through its paces, to see if it adequately protected our notebook without making transporting our device a literal and figurative pain.

Form Factor

Unlike the predominance of notebook backpacks, the Targus A7 is a briefcase style bag that has both a handle and a shoulder strap. It can accommodate notebooks up to a sizeable 18.4", with a rather conservative all black exterior allowing it to fit in at any meeting we cared to take it to.

The bag itself is made of polyester, lending it a soft but sturdy feel. At 453 x 51 x 318 mm, the A7 is not small, but nor is it too big to be carted around, although the width, which caters to the larger class of notebooks, did take a little getting used to.Nonetheless, a large part of what made carrying the A7 in our hand so comfortable was the inclusion of a padded handle. You can remove this if you wish, although we can't imagine why anyone would choose to. The sling strap, for those who chose to carry their notebook bag on a shoulder, was similarly padded and equally as comfortable. This was also easily removable, for those who may want their notebook case to look and function more like a briefcase without worrying about tripping on a strap.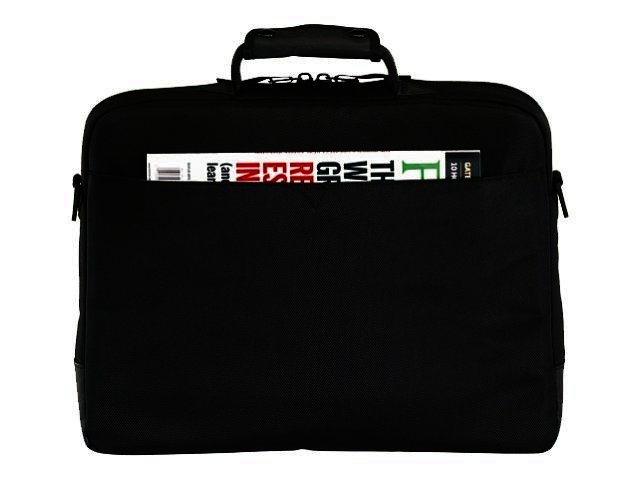 Back view of the Targus A7 notebook slipcase
Inside and out

The main compartment, where the notebook is contained, is padded on both internal sides of the case and is accessed via a zipper. Rather than going all the way around the edges of the compartment, the zipper only opens about a quarter of the way, which is more than enough to easily insert one's notebook. There are no internal pockets or zips inside this main compartment, which means that no objects could be inadvertently stowed here to scratch one's notebook cover or underside. Instead, the exterior and slightly smaller secondary compartment is clearly aimed at holding accessories and whatever additional gadgets one wishes to store. Here you will find pockets for a cellphone, business cards and three pens, along with a further zipped section for papers or a paper notebook.

On the outside of the secondary compartment is yet another zipped off compartment. This is lined by a fleece-like material, where we could safely store coins, more pens, car keys, or any other objects that won't be able to affect the notebook. On the back of the notebook case there is a final thin lining, which has a Velcro tab for closing, and seems similarly destined for the occasional note or sheet of paper.

Size matters

Despite the number of compartments on offer, the A7 is neither overly thick nor particularly cumbersome. While we elected to stow our power supply in the main compartment alongside our 15" notebook, you could just as easily have fit it into one of the outer pockets, depending on how much of a brick your notebook's power supply actually is. However, the 18.4" size is clearly aimed to catering towards the desktop replacement type notebook as well. Any notebook at the 14" or below mark would probably be better suited for a smaller notebook case.

Quality

Despite carrying our aforementioned notebook – which is not exactly light - in the case for several days for purposes of this review, we could see no signs of strain on the stitching. Given the overall quality of the materials used in the A7, it led us to believe that the case has been built to last. Transporting it on the Gautrain and carrying our notebook to and from the office, as well as walking a moderate distance with it from each, was neither painful on our hands nor overly stressful on our back.

To the point

The Targus A7 notebook slipcase proved to provide plenty of protection, two comfortable ways of carrying our notebook, numerous compartments and high quality all around. For those looking for a smart and unobtrusive means of transporting medium to larger desktop replacement notebooks, it is an easy choice to recommend. The Targus A7 has a RRP of R600.

Pros

Comfortable padded handle and strap
Numerous compartments
Soft but sturdy design

Cons

Wide form factor

Comfortable padded handle and strap, Numerous compartments, Soft but sturdy design

Wide form factor