There's a tsunami of tablets flowing into the SA market, and if you're looking to purchase an Android device, your options do not truly differ that much. On the 10" side they will be running Google's dedicated Android OS for tablets called Honeycomb, while the device itself will most probably be powered by the very capable Tegra 2 System on a Chip (SoC). The Toshiba AT100 (promo video below) is indeed one of these, but comes with few important extras in its arsenal.
The boy with a full USB port in his side
Hidden under a plastic panel on the right hand side of the device, you'll find both a full USB port as well as an HDMI port, while a SD card slot is also present.
The full USB port makes it possible to quickly transfer data from a colleague's PC to your tablet via flash disk. That said, the AT100 is not as adept at providing quick access to the content on your flash disk as the
Asus Slider
, which also provides a full USB port. Once plugged in, the Toshiba only provides a link to the amount of storage space available, while providing one touch access to a file manager. For this you would have to start Toshiba's proprietary File Manager app, from where you can view and manage files stored on the device, SD card or flash disk.
Peaking behind the flap you'll find a full sized USB port and a full sized HDMI port. Good news.

Next to the USB port is a full sized HDMI port, handy if you want to view content on your HD TV, with the chances very good that you'll already have an HDMI cable lying around somewhere to do this. If not, you won't struggle too long to actually find one in a shop, which is definitely not the case with any of the mini HDMI port cables needed on most other tablets.

The full SD card slot on top of the AT100 makes the AT100 useful for photographers that want to quickly and easily view enlarged shots of pictures just taken, while also backing up their camera's SD card to the 16 GB of space found on the AT100.
You're the one I love, Fatty
Unfortunately the extra ports come at a cost to both the size and weight of the device. If Toshiba's AT100 was a rugby player, it would be strictly forbidden to play anywhere else but tighthead - seeing that although it might be hefty, it also seems very rugged.
The AT100 pulls the scales at a stout 765 g and makes its presence felt with a thickness of 15.8 mm. Compared to the thin and sleek
Samsung Galaxy Tab 10.1's
565g and 8.6 mm, it's almost double the thickness. Granted the Samsung is on the opposite end of the scale, being the thinnest tablet currently available. That said, the only tablet beating the Toshiba on thickness is the
Asus Slider
, which to its defense contains a slide-out keyboard.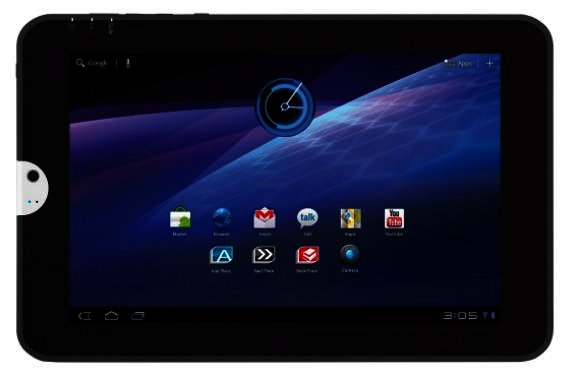 A pretty straight-forward design, except for the chrome detail around the camera.
The black plastic casing, making up the back and edges of the devices, gives the AT100 a rugged look and feel, but although it creates the impression that it is rubberised, it's not, so we don't know how much of an extra knock the AT100 can take. Unlike for example, the
Motorola Xoom
, or the
Samsung 10.1
, the Toshiba is also not fitted with Gorilla Glass.
Still, its thicker body made us treat it with less respect than the thinner
iPad
or Tab 10.1, and while in no way can it complain about abuse, it's still going strong. So we can live with the larger body, but Toshiba can't be forgiven for the almost full-sized AC adapter, that looks as if it was pulled directly of its notebook supply line.
This charming man
Interrupting the AT100's all-black look is a chrome half-circle covering the 2.0 front facing camera with built-in microphone. It might be a matter of personal opinion, but we feel this chrome detail unfortunately adds a cheap-and-nasty effect to an otherwise well designed, but standard, look and feel.
Seeing that the power button is one of the most used functions on a tablet, making it easy to locate is of prime importance, so one aspect we would love tablet makers to pay more attention to, is to not make the on/off switch close to flush with the rest of the surface. This minor bother is also present on the AT100, since its power button, volume rocker and screen locks can be difficult to distinguish.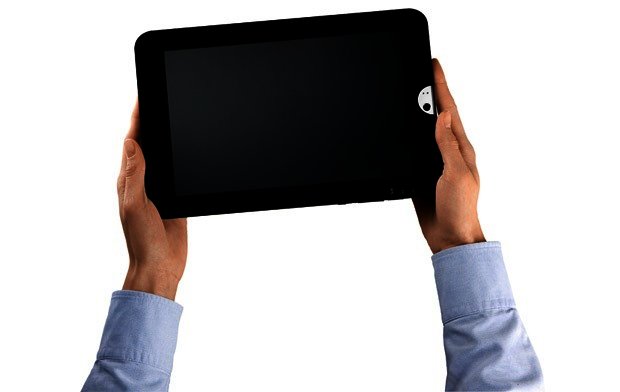 A man holding the AT100, trying to figure out where to turn it on.
Toshiba has implemented TruBrite technology for extra brightness on the screen (1280 x 800, standard on the 10" models), but saturation and brightness are still not up there with the Samsung Tab 10.1's masterful screen. Sound quality coming from the stereo speakers was good and the AT100 was sufficiently loud to watch movies or YouTube clips without straining to hear what's going on. Talking of which, we managed to get through two full movies before battery life became a hassle.
Toshiba provides the straightforward Android Honeycomb 3.1 interface with not much offered in terms of skinning or pre-installed apps. We're not always too stressed about pre-loaded apps, since it's so easy to download from Android Market, but we do like gratis document and spreadsheet editing apps, which you unfortunately don't receive with the AT100.
As far as performance goes, the Toshiba performed as well as the rest of its dual-core Tegra 2 brethren, scoring in line with the
Asus Slider
(2616) and the
Motorola Xoom
(2638) on the Smartbench 2011 Productivity Index, with a rating of 2643.
You've got everything now (at least for ports)
The Toshiba AT100 impressed with its ability to read directly from a flash disk, while it also has a full SD card slot and HDMI port. These unfortunately came at cost to size and weight, with the Toshiba being one of the thicker tablets available. That said, if you've not played around with for example the Samsung 10.1, we don't believe this will be much of an issue – what you don't know won't hurt you.
Currently there is no 3G enable version available, so your AT100 will connect via Wi-Fi. The Toshiba AT100-100 is currently available in a 16 GB version only, which retails for R4999.
Pros: Full size flash port, full sized SD card slot, full sized HDMI.
Cons: Bigger size and weight.

Full size flash port, full sized SD card slot, full sized HDMI.

Bigger size and weight.