Tablet manufacturers in today's fiercely competitive environment do not have it easy, least of all those releasing Android based devices. With the ubiquitous popularity of the iPad 2, and amid rumours of a soon to be released iPad 3, it seems as though every computer manufacturer is rolling out their version of the definitive Android tablet. Making matters more difficult, along with matching the price-point of Apple's offering, tablets are expected to both differentiate themselves from both the Ipad as well as competing Android tablets.

However, with the release of the more stable Honeycomb 3.1, and the recent launch of Samsung's latest 10.1 32 GB Galaxy Tab, this seemingly Herculean task may not prove to be quite so impossible.

Design

For starters, the Galaxy Tab 10.1's most noticeable differentiator is its 8.6 mm thinness and low weight of 595 g. This is lighter than both the 10.1" Acer Iconia Tab A500, which is a heftier 765 g, and the Asus EEE pad transformer, which weighs 680 g.

Despite its solid construction, and its 10.1" size, which is almost half an inch larger than the iPad 2's 9.7", the Galaxy Tab was neither ungainly nor overtly heavy. In fact, the Galaxy Tab's profile was longer and narrower, giving it more of a rectangular profile than a square one, whether held in portrait or landscape view.

We even found ourselves holding it comfortably in one hand from time to time – although it would be stretching the truth to call it a one-handed tablet, among the likes of Samsung's 7" Galaxy Tab or HTC's Flyer.

Additionally, the background of the 10.1 tab didn't feel so smooth as to slide from our grasp, which was one of the complaints levelled against the 7" Tab. There was also enough of a black bevel around the screen to hold it with our hands without feeling as though the tablet had wasted potential screen real estate.

The only buttons present on the top of the device, if held horizontally, are the power button and volume controls, along with a discrete slot for a SIM card and 3.5 mm headphone jack. On either side of the tablet are its speakers, which were well above average if not extraordinary, while the bottom is home to the connector for the power supply and peripherals.

However, unlike Acer's 10.1" Iconia Tab A500, the Galaxy Tab 10.1 does not boast a USB port, nor does it have an onboard HDMI connection as found on Asus' EEE pad transformer. However, the Galaxy Tab 10.1 will be able to accommodate a microSD card (up to 32 GB) with an optional accessory. This is somewhat reassuring, since at this point the company will only be bringing the 32 GB model into the country.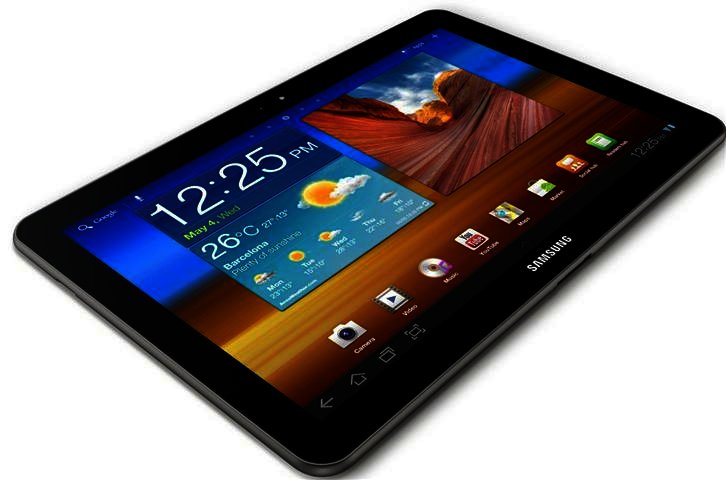 Screen

On a tablet, screen quality is paramount, and on this count, the Galaxy Tab 10.1 did not disappoint. With deep blacks, excellent contrast and vivid colours, the Tab offered a bright screen at a WXGA 1280 x 800 resolution, that offered crisp and clear videos and games in particular, including an impressive browsing experience. This is on par with both the 10.1" Acer Iconia Tab A500 and the Asus EEE Pad Transformer.

Additionally, the screen performed even better than expected in sunlight and direct light, although we did have to crank up the brightness to 90% to read from it. The screen being glossy, resulted in us experiencing some reflections, but these were not overly distracting as to be considered a deterrent.
As seems to be the norm of glossy black surfaces and screens, the Tab acted as a fingerprint magnet, the likes of which the detectives on CSI can only dream about. This could be remedied with the frequent use of a decent chamois cloth though, which is something that should be considered an essential accessory for those who have any ambitions of keeping the tablet's screen clean.

A Real Performer

With a Nvidia Tegra 1 GHz dual-core processor, we expected a certain level of performance from the Galaxy Tab 10.1, and we weren't disappointed. We experienced no lag when navigating through the Honeycomb 3.1 interface, while performing common tasks and opening and closing applications were equally as responsive.

An important measure of the tab's power was how well it treated video. Playback of 1080p full high definition video on the device was a sight to behold. Simply put, video, which renders at 30 fps, looks awesome on the Tab, and certainly made us think twice about making this the our first choice gadget for watching video on the move.

We would be remiss if we didn't mention how the Galaxy Tab 10.1 fared when playing games on the device, since its fast processor, large screen and ready access to the Android market lent the Galaxy Tab perfectly towards serving as a somewhat portable gaming device. On testing Angry Birds (of course), the excellent Diversion, and the more graphically demanding Cordy and Wisp, the Galaxy Tab performed brilliantly, offering defined graphics, silky smooth frame-rates, flawless responsiveness and no discernible lag, delivering the same crispness that wowed us when watching video.

Our browsing experience was similarly impressive. Multi touch, opening and managing multiple tabs worked flawlessly, making zooming into pages and navigating between multiple tabs a pleasure, even though we confined ourselves to the stock browser for our test rather than resorting to the Opera or Dolphin browsers for Android.

The Galaxy Tab 10.1 scored a respectable if slightly lower score of 3368 as compared to the Acer Iconia Tab A500's 3682 on Smartbench 2011's Productivity Index, but was still higher than the EEE Pad Transformer's score of 3115. On Smartbench 2011's Games Index, it scored 2377, but was still bettered by the Acer Iconia Tab A500's score of 2509 as well as the EEE Pad Transformer's score of 2789. It must be noted that all scores were pretty close, which can be expected since all run on the same Tegra 2 processor.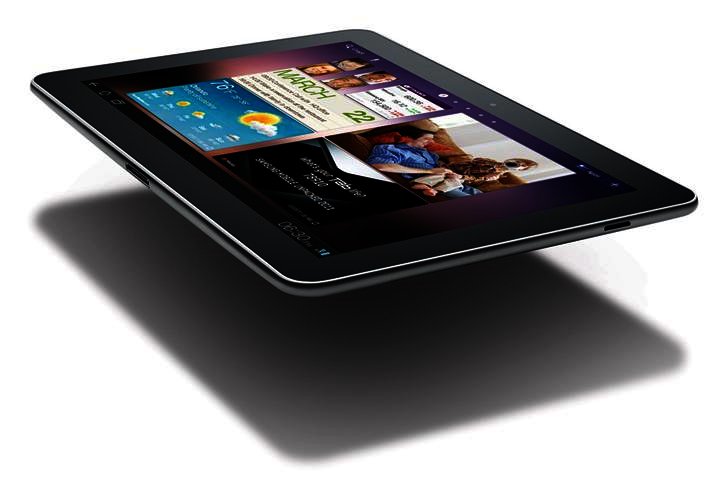 Staying connected

One area of concern for us prior to testing the Galaxy Tab 10.1 was connectivity, particularly since the Galaxy Tab 7" (prior to being updated to Android 2.3) seemed to suffer a little in this regard. We need not have worried. Sporting Wi-Fi 802.11 (a/b/g/n),the Tab maintained a strong and stable connection to our wireless router in previous areas that were dead zones for its smaller predecessor, offering us an uninterrupted connection to the internet. This was irrespective of the fact that there was a thick concrete slab between it and our wireless modem.

Additionally, the 6800 mAh battery offered commendable longevity. The company claimed up to ten hours of continued use on a single charge, and our usage confirmed these claims. However, as with most devices, using Wi-Fi continuously and cranking the screen up to full brightness (as mentioned, only necessary for reading in direct sunlight) naturally lessened this somewhat.

However, installing the latest firmware proved imperative, as the battery life was significantly improved on the updated Galaxy Tab as compared with the factory defaults. While our unit was one of the first in the country, future units would ship with the up to date firmware installed. However, it would still be a good idea to check that there is not a more recent update available from the settings menu.

With moderate use of Wi-Fi and brightness set at mid levels, the 10.1 Galaxy Tab could easily have intimidated and even outpaced a Duracell bunny.

Features

One of the most highlighted features on the Galaxy Tab at its launch was its use of Hubs, with the social hub in particular taking centre stage. Essentially, a central location for our email and social media accounts such as Facebook, Twitter and LinkedIn, the Social Hub was one of our most visited applications, functioning as well as it claimed. Feeds and messages were divided, which enabled us to concentrate on just using the hub to monitor Facebook, download our latest email from multiple accounts, or view our twitter feeds, from within the same application.

Another feature that we appreciated was the inclusion of Samsung's TouchWiz user interface, which enabled us to customise our home screen with a widget connected to the aforementioned social hub, bookmarked websites, agenda and contacts. There is additionally a mini apps tray that can be activated over other applications for quick access to a task manager and calendar, pen memo and music player, without having to resort to exiting the currently running application. The Tab 10.1 also features a three megapixel rear camera and a two megapixel front camera for videocalling.

The one niggle is the location of the Apps icon, which by default is set to the top right of the screen, when held horizontally or vertically. It did feel to us as though having the Apps icon on the bottom of the screen would have been more intuitive and accessible. Unfortunately, this is part of the Honeycomb layout, and was common to other Honeycomb tablets we've tested. Nonetheless, it was a small issue that we became accustomed to, although we would have preferred it to be placed in the mini apps tray by default.

To the point

The Galaxy Tab 10.1 is not perfect – but it is close enough to make it a superb, impressive tablet, that clearly showed both Samsung's prowess at developing solid devices while flying the Android Honeycomb flag high.

At its rather expensive pricepoint of R7500, the race for the definitive Android tablet is far from over, but with the Galaxy Tab 10.1, there is a clear contender of what an Android tablet can be, and just how far other manufacturers will need to go in order to surpass the Galaxy Tab 10.1.
Addendum
Approximately six weeks after this review was written, our unit starting showing what looked like an oily stain on a portion of the display when viewed from an angle. While this did not otherwise affect the touchscreen's functionality, it seemed to at first disappear after a while and then returned, and gradually became larger over several days. Samsung admitted it was a defect that they called a 'watermark'. We were encouraged to exchange our unit - which Samsung collected and replaced with a new Galaxy Tab in two days.
In a response to the issue being raised, the company confirmed to us that any customers who experience the watermark issue could return the tablet to one of Samsung's service centres and they would be given a new device.

Pros
Beautiful screen
Thin and relatively light

Cons
Screen is prone to fingerprints
Low on extra ports
For more follow TechSmart onTwitter and join us on Facebook.


Beautiful screen, Thin and relatively light

Screen is prone to fingerprints, low on extra ports