Logitech brings a whole new level of customisability to the PC mouse with its G9x laser mouse featuring interchangeable grips, a weight-tuning system as well as an on-the-fly adjustment of the laser sensitivity, enabling you to customise the device to suit your needs.
Laser sensor
As is the case with the
Logitech G500 gaming mouse
, the G9x boasts a laser sensor that is much more precise than the run of the mill optical interface used in a standard mouse. This laser sensor is very precise and the sensitivity thereof can be easily adjusted (between 200 dpi and 5700 dpi) on the fly using two buttons on the G9x. A LED indicator below the buttons indicates the level of sensitivity that the device is set to.
This means your sensitivity needs are well catered for e.g. precision for a strategy game, speed for a shooter or just an average setting for general usage. You can also set the colour of the LED using the provided Logitech SetPoint software or customise the mouse button setup and create different profiles, for instance one for gaming and another for general PC usage.
Additional features
The sensitivity of the mouse isn't the only thing that can be customised. Logitech has also included two mouse grips. The standard smoothly textured one has a fuller shape and wider grip and is really comfortable to use, while another uses DryGrip technology. It is less comfortable but offers a better grip and more precision, ideal for FPS. It is really easy to swap between the two as the grips pop of very easily.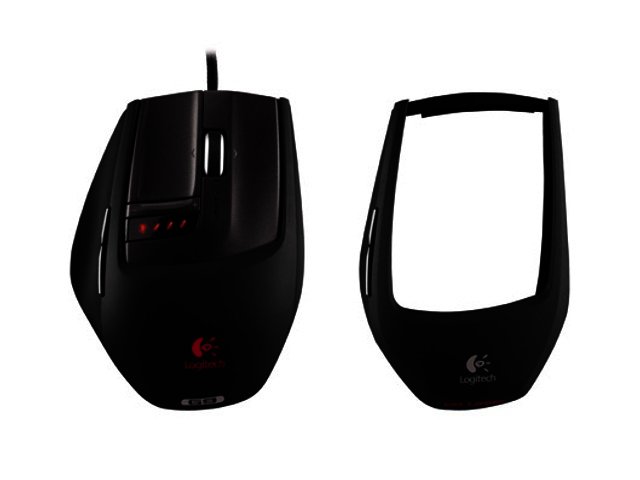 You can also adjust the weight of the mouse by utilising Logitech's supplied weight pack comprising of four 4 g and four 7 g weights. Up to four of these can be inserted into a small compartment at the rear of the mouse.
Browsing
Using the G9x to browse the web makes for a much improved experience than using a standard mouse. This isn't only because the mouse is so precise and customisable, but also because of the additional two buttons on the side of the mouse used for jumping backwards and forwards through your history.
Conclusion
The Logitech G9x laser mouse is easy to use and customise and it boasts some useful functionality that will enhance your web browsing as well as your gaming.
It goes for a recommend retail price of R 950.

Customisability, interchangeable mouse grips.

Pricey.