At first glance, the 200K Scissor Switch looks fairly standard, but delve a little deeper and you quickly uncover a number of nifty innovations.
German company Cougar impressed mightily with their beautifully designed and speedy 700M gaming mouse, so news that its Scissor-Switch keyboard was incoming for review was met with its fair share of curiosity and anticipation. At first glance, the keyboard looks somewhat inconspicuous, particularly for a gaming orientated device. Nonetheless, its minimalist design is supported by a strong build quality and exhibited no signs of creak.

Sometimes less is more
While it is neither adorned with macro keys, nor does it sport a LCD display or many apparent bells and whistles, plugging the corded (but not mechanical) keyboard in dispels allusions about it being run of the mill.
Rather, there are a number of noteworthy features onboard. For starters, the Scissor-Switch technology referred to in the keyboard's name is Cougar's implementation of ensuring both quieter, and more responsive key presses. Speaking of this, the key press is neither overly shallow, nor especially deep, but typing on it felt noticeably smooth and comfortable. A particularly nice touch is that the WASD and arrow keys are interchangeable, thus catering to left hand players who prefer to control their WASD navigation with their right hand and their mouse with their left (or vice versa).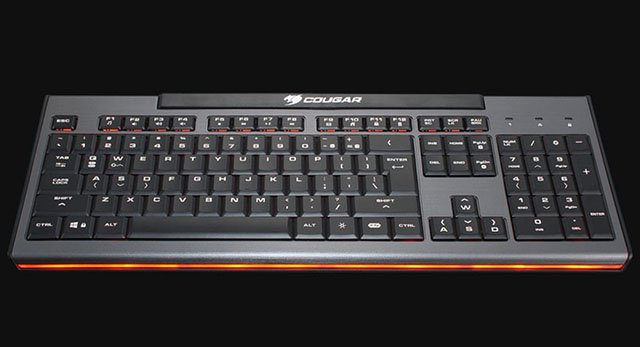 Lighter side of life
While the 200K doesn't put on quite a spectacular light show as Logitech's G910 offering, it's no shrinking violet. Tapping one dedicated key instantly cycles the keyboard's adjustable backlighting between seven colours, or alternatively, the keyboard can be set to pulse through each of the different colours in turn, creating a heartbeat effect. A dedicated and lockable Windows key (which summons the start menu in Windows 7) and media controls are also onboard.
What I was really impressed by on the 200K is its ease of use; for users who don't need a too many bells and whistles, and are watching their budget, Cougar's 200K is a very solid alternative. To stand the chance of winning one of these sleek keyboards, check out our competition, running until the end of February 2015.

Inexpensive, Great build quality, Comfortable key press

No macro keys