When you think of scanners, it's quite likely that you think of large, bulky, flatbed devices that require you to clear some precious real estate on a crowded desk and find a free power input for yet another power cord.
The P-215 portable scanner though, bears no resemblance to this traditional image at all.
Indeed, unpacking the device as we prepared to test and review it, quite comically highlighted one of the device's freshest surprises as we went hunting for a 'missing' power cord, only to realise that no power cord is provided because none is needed.
Instead, the device draws power from a USB connection, making it a genuinely portable scanning solution.
Design
The device itself folds in on itself to resemble perhaps a large notebook 'power brick', but one that easily fits into one's notebook case nonetheless.
There are no garish colours here, the device is smartly robed in a combination of black and silver, and would sit comfortably and discretely in any business environment.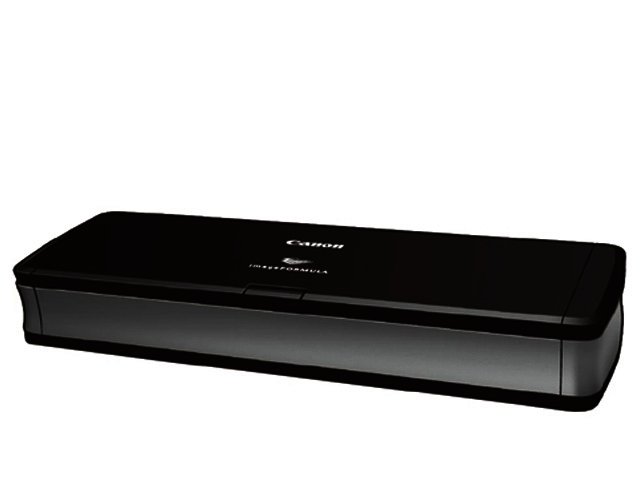 The P-215 folds up into a neat, compact unit.
Features
Beyond its minimalistic looks lies an ease of use that is simply put, a joy. The setup of the actual device comprised of plugging it into a free USB port and pressing a button to turn it on.
The software for the scanner is included within, which means there is no CD to insert or installation procedure to run. Instead, once one has unfolded the scanning tray and inserted a sheet of power to be scanned, all that is left to do is it press a single button. The P-215 then automatically scans both sides of the document (although blank sides can be set to be ignored), feeding the paper as it goes along.
Additionally, useful paper guides can be unfurled to guide paper sizes from business cards up to A4 sized sheets smoothly into the scanner.
Software
Each time the device is connected, the built-in software, CaptureOnTouch Lite, pops up, allowing one to rotate the scan left, right or 180 degrees (which is particularly useful when inserting a document the wrong side up). Users can further zoom in, zoom out or fit to the size of the page.
Additionally, users can choose to save the scan as a PDF (the default), a JPG, TIFF or BMP file, and file names can be specified to include the date or not.
Further advanced options include specifying whether you want the document scanned in 24 bit colour, grayscale or black and white, whether you wish to enable or disable continuous scanning (which worked perfectly) as well as whether the software to automatically straighten skewed images (which similarly worked flawlessly).
Other settings we would have liked to have seen included contrast and saturation adjustment. While these are not present, we found in our tests that even text and drawings done in fairly light pencil came out clearly.
Nonetheless, those additional options would have been a welcome addition for greater peace of mind.
One part of the software which we loved is that each page, once scanned, is then displayed along a top bar within the software, and can be quickly and easily deleted if so desired without disrupting the rest of the pages in a sequence of scans.
Another aspect we appreciated is that once scanned, pages can be re-ordered merely by dragging them and placing them before, or after whichever page is desired. Page numbering is automatically changed and adjusted accordingly.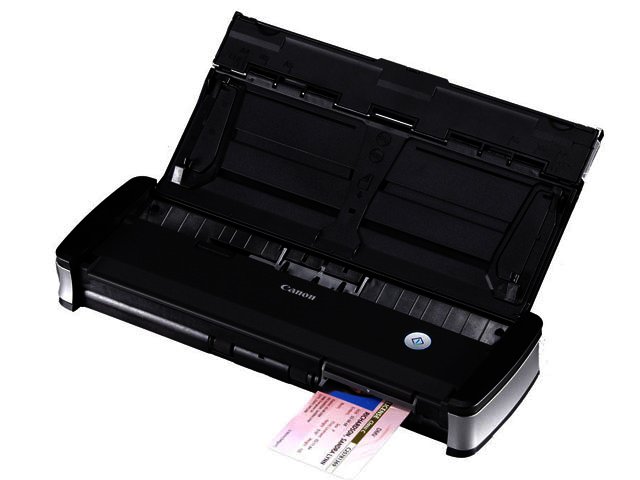 The scanner hosts a dedicated slot for scanning business and ID cards.
Quality and speed
One can easily accept the default settings of 200 dpi, and enjoy rather speedy scans (about four seconds per page) which equates to 15 pages per minute. While we found this quality to be perfectly acceptable for typed and written documents, the option also exists to customise the quality of the scan, up to 600 dpi.
This though, did affect the speed of the scan somewhat, taking between sixteen and twenty seconds per page. However, the scanner does allow multiple documents to be fed into it, and then automatically scans them one after another (provided that continuous scanning is set to on).
Additionally, the P-215 also offers a dedicated card scanner slot which can accommodate business cards (although only one at a time). This made short work of scanning normal sized cards; and we found to be quite useful for the legions of cards that end up making their home around our desk.
Another plus in the scanner's favour is how whisper quiet it mostly is. In order to hear soft paper being scanned, we had to lower our ear to the device to be able to discern some noise; while hard paper made a significantly louder passage through the scanner.
Considering the fair amount of scanning we performed with the device (in excess of 100 pages in a variety of sizes and differing thickness), we experienced a paper jam only twice. The first time was caused only by the scanner losing power briefly when a USB cable came loose, the second involved a piece of paper that was noticeably torn along one edge.
Also worth noting is the quality of the scans themselves. Scanning in an image at the 600 dpi setting delivered beautiful, rich and vibrant colours, a sharp rendering of details and some superlative colour range from dark shadows, detailed midtones and bright highlights.
Naturally, printing the resulting scan would bring the printer's quality into play; however, from the scanners point of view, we were exceedingly pleased with the text and images that the scanner itself produced.
To the point
Admittedly, it's not often that we get excited about scanners. However, the P-215 makes scanning so smooth and easy, with so few hassles, in a nifty portable package, that it didn't take us long to fall in love with this little device.
Despite putting the scanner through its paces – scanning in excess of one hundred pages in an attempt to see how well it would hold up – and feeding it the thinnest paper we could find, the scanner managed the task at hand with ease, and actually made scanning a pleasure. It has a RRP of R2999.
Pros
Compact
Doesn't require additional power cord
Consistently produced high quality scans across the board
Extremely easy to use
Cons
No option available to adjust contrast or saturation

Compact, Doesn't require additional power cord, Consistently produced high quality scans across the board, Extremely easy to use

No option available to adjust contrast or saturation