With the recent entry-level DSLR releases from Canon and other manufacturers, these type of cameras are being utilised by more and more people. Epson's Stylus Photo TX700W aims to be the perfect printing partner to these with its excellent photo printing quality.
Design
After the time we spent with the vertical accending
Lexmark Genesis S815
, every subsequent printer's design feels dated and this also rings true even for the TX700W and its glossy black panels. Its somewhat bulky rectangular frame measures in at 15 x 44.6 x 38.5 cm and it weighs in at a bulky 9.3 kg.
Old school UI
At the front of the printer is a good quality 6.3 cm colour LCD screen that displays the printer's menu system, as well as allowing users to preview the images that they are about to print. Even the high-res images display well on the screen, especially when one takes its size into consideration.
The printer's functions are selected via numerous buttons surrounding this screen including a five-way navigation keypad and four-way directional function selector. It is used to choose either its main functionality (photo print, copy as well as scan) or the printer's settings. The part of the printer's front cover, housing the screen and its surrounding sea of buttons, can also be tilted up to allow for a better viewing angle.
It is as easy to use as the more modern touch-based interfaces of the
Genesis
or
Canon PIXMA MG6140
, although you have to press a few more buttons, which is a little annoying on accassion, like when you have to input data using the up and down arrows instead of a keypad for instance. Unlike the UIs on those other AIOs, this printer's interface doesn't suffer from any lag.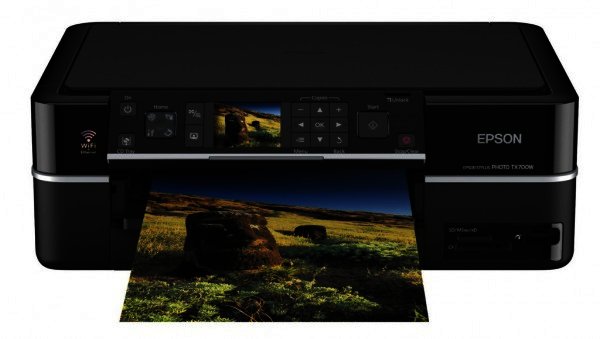 Printing
As a high-definition all-in-one photo printer, the main task of the TX700W is to print photos. According to Epson, this printer offers a printing resolution of up to 5760 x 1440 optimised dpi on certain media (like Epson premium glossy photo paper) using RPM (Resolution Performance Management). This sounds impressive but when viewed on normal A4 paper, it isn't noticeably better than printouts done on most other AIOs we tested recently.
But when printing out photos on the company's premium photo paper, the quality really is impressive. Compared to printouts also done on premium photo paper on
Canon's PIXMA MG6140
for instance, the vibrancy of the colour and level of detail is noticeably better with the Epson. Colour reproduction also seemed closer to the original photo. Unlike with most of Canon's photo printers though, you can only print photos up to A4 in size.
Scanning and copying
Unlike the impressive photo printing capability of the Epson Stylus Photo TX700W, its A4 flatbed colour image scanner, scans pages at an average resolution of 2400 x 4800 dpi. Images can be saved in a variety of formats including PDF, JPEG and TIFF, on your PC or to a memory card (such as CF, SD, xD or memory stick duo).
Also decidedly average is the copying performance of this printer, which maintains the status-quo rather than setting a new speed record or amazing us with its quality.
Unlike the
HP Officejet 6500A Plus
there's no automatic document feeder to speed bigger scanning and copying jobs along.
Paper Handling
To be able to perform all those printing, scanning and copying jobs, this AIO boasts a paper input tray at the front of the printer, holding 120 A4 pages. Although there's only one tray, it is split into two compartments, one holding the A4 pages and the other photopaper up to 13 x 18cm in size.
This doesn't make it suited to be your next home or small business printing workhorse, but is logical when one considers that it isn't the target market segment it's going for, being a photo printer primarily. It also does not feature automatic duplex printing.
Apart from the input tray there is a rather flimsy output tray that folds out right above the input tray. It manages to catch printouts as they leave the printer, but doesn't feel very sturdy, leaving one with the fear that it might break easily.
Other features
As convenient as the flap that drops down automatically, is this printer's integrated Wi-Fi as well as Ethernet connectivity, enabling other users to employ it over the home network. It doesn't boast the most hassle-free Wi-Fi setup though, as you normally merely have to search for a network and input your WEP key. The setup on the TX700W is a lot more involving.
Another important aspect is the ink usage, as the printer utilises individual cartridges for each of its six colours. This is good as you only have to buy a single cartridge for the colour that's empty instead of replacing the entire cartridge every single time. If you are going to be printing a lot of high quality images on the best quality setting and on photo paper, then the ink levels do have a tendency to drop rather quickly on this model.
The Epson, like the
Canon's PIXMA MG6140
, prints directly onto blank CDs and DVDs via a specialised metallic tray situated above the paper output tray at the front of the printer.
Considering that this is a photo printer, this function should come in handy for those who save all their photos onto CD and videos onto DVD, and then want to personalise the front covers of these.
Final Word
This AIO offers fairly standard printing, scanning and copying quality, but as its name suggests, very good photo printing quality. For those hobby- and amateur photographers who want a serious photo printer to go with their new DSLR camera, look no further. You can pick one up for a recommended retail price starting at R1 700.
Pro
Great photo printing quality, good printing speed, faster input via button-based interface.
Con
A bit noisy while printing, Wi-Fi setup not the most hassle-free, fussy output tray, ink levels come down fast when printing many photos.

Great photo printing quality, good printing speed, faster input via button-based interface.

A bit noisy while printing, WiFi setup not the most hassle-free, fussy output tray, ink levels come down fast when printing many photos.