Slotting in right beneath the range topping business all-in-one (AIO) printer from Lexmark, the
Platinum Pro905
, comes the Pinnacle Pro901. Like its bigger brother it sports a cool touch-screen as well as apps and has been introduced to assist small to medium-sized businesses (SMBs) in increasing their printing productivity.
Design and functionality
The first saving it affords SMBs is the desk real estate they can reclaim, as the Pro901 measures 250 x 465 x 392 mm and weighs in at 9.27 kg, which is less on both fronts than the bulkier Pro905. Design-wise the Pinnacle can easily be identified as a Lexmark due to its conservative, yet stylish design cues incorporated in Lexmark's AIO inkjet kin.
The front panel of the printer sports a 4.3" colour WQVGA touch-screen that is used to select the printer's functionality, such as copying, faxing and scanning. We found the display to be responsive with only a slight lag, while it's simple and straightforward to make use of.

Downloadable apps
Besides containing the normal one touch shortcuts to the printer's functions such as copying and scanning, the touch-screen boast a shortcut to Smart Solutions. The latter takes you to a personalised menu for all the downloaded applications which helps to expand on the printer's functionality.
You can
download
a whole host of apps including simple ones such as a Basic Calculator app and the Fit to Page Copy app, enabling your print jobs to be automatically resized in order to fit the entire page. There are also more complex ones the likes of an Apple Hot News RSS feed, allowing you to read news feeds of Cupertino's press site directly on your printer's screen, before printing them and the Google Calendar app, which allows you to view and print meetings and appointments from your calendar.
As with the Pro905, your printer must be connected to your PC as well as the Wi-Fi to be able to download these apps. You also have to register on the site and then add your printer on the SmartSolutions section. Once you've done this you can just add the apps you want to the SmartSolutions section of the site and then sync it with your printer to store the app on there. Your printer doesn't need to be connected to the PC to utilise the apps (once downloaded), but to the Wi-Fi though for the ones requiring access to online content such as Apple Hot News RSS feed and Google Calender.
Printing performance
The printer's paper tray can only hold around 150 A4 pages, which is a little limiting if there are large printing jobs that need to be done. Adding to this limitation for print jobs is the Pro901's pull-out output tray that is able to hold around 50 printed pages.
Lexmark's Pro901 can print at a claimed speed of up to 33 ppm (black and white) and at a resolution of up to 4800 x 1200 dpi (colour) and also boasts integrated duplex (double-sided) printing, a feature we found very useful in conserving paper. Printing is done at a fast pace, although we could not quite match the claimed ppm. It matches the more expensive Pro905 for both speed and its good printing quality.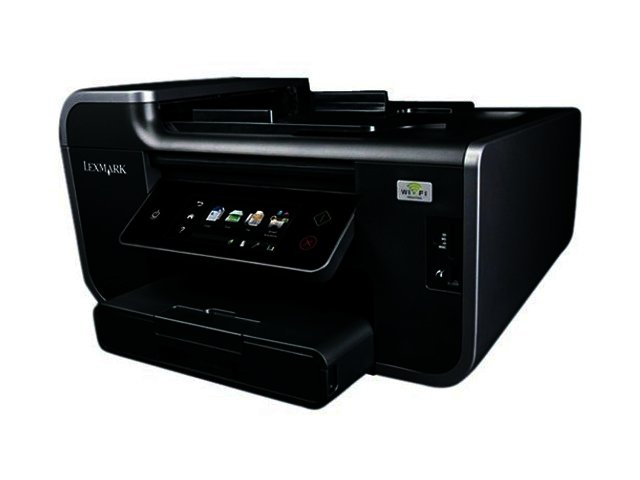 Eco Mode
This printer also sports the company's Eco Mode as seen on its other printers such as the
Prevail Pro705
. If you engage the Eco Mode, by pressing the Eco Mode button on the touch-screen, you'll be able to select certain options such as turning on duplex (double-sided printing) in order to save paper. You can also dim the touch-screen and enable the printer to go to Power Saver mode after 10 minutes of non-use.
Another cost saving factor for this printer is its compatibility with Lexmark's R59 black ink cartridges that offer a good printing yield of up to 500 pages.
Scanning
As straightforward as its Eco Mode is the scanning functionality on the Pro901, with the quality of the scanning jobs being very good, with a 1200 x 4800 dpi resolution over a maximum scanning area of 216 x 356 mm.
Impressively you can also employ the printer's top feeder to do a scanning job with multiple pages and save these as either a PDF document or JPG. All you need to do is to place the pages (face up) on the top feeder, select the directory to which the scan job must be saved (either your USB drive or PC), the file type that it must be saved in (JPEG images or a single PDF document) and the Pro901 will take care of the rest.
Connectivity
There is a abundance of connectivity options available to users of the Pro901 including a card slot for SD, MemoryStick, MMC and xD cards and USB 2.0 flash drives. It also supports 10/100 Ethernet, 802.11b/g/n Wi-Fi, which is easy to setup and USB pass-through via PictBridge Port, enabling you to print photos of PictBridge cameras. This printer doesn't support Bluetooth printing though.
Final Word
Lexmark's Pinnacle Pro901 boasts a good printing quality and rapid printing pace. Its clever SmartSolutions functionality with its downloadable apps will ensure a longer lifespan of the printer as you'll be able to add to its functions over time.

Although the input paper tray holds only 150 pages and the output tray only 50 pages, limiting the scope of print jobs, the Pro901 brings all the savvy touch-screen and SmartSolutions functionality of the Pro905 for a much more affordable price. It goes for a recommended retail price of just below R3 000.
Pro
Easy-to-use touch-screen operation, Wi-Fi is simple to configure, multiple connectivity options, more affordable than its touch-enabled Pro905 stablemate.
Con
Limiting paper input and output trays and no Bluetooth.

Easy-to-use touch-screen operation, Wi-Fi is simple to configure, multiple connectivity options, more affordable than its touch-enabled Pro905 stablemate.

Limiting paper input and output trays and no Bluetooth.