Just as our time with Lexmark's stylish all-in-one (AIO), the
GENESIS S815
, came to end, we received HP's Officejet 6500A Plus to put through its printing paces. Unlike the GENESIS, the HP might be conventional in its styling, but what it lacks in looks, it more than makes up for in printing practicality.
HP ePrint and AirPrint
New to this AIO is HP's ePrint technology, enabling you to print from virtually anywhere thanks to the printer's assigned email address to which you can send documents. Once you've gone through the process to set it up, a relatively stress free experience with HP doing most of the work for you, you can simply send an email with the attached document or picture to the device and you'll have a printout as soon as the message is received. This can be done with Word, Excel and PowerPoint documents, PDFs, or photos that need to be printed. Obviously your printer needs to be connected to the web for this to happen.
We talked to HP about whom ePrint is exactly aimed at, and they claim it has both social and business implementations. Socially they reckon an ePrint enabled printer can be installed at the grandparents' house, where the family can then send pictures or letters to as they please. We're keener on the practical business side, since visitors to your company can quickly email-to-print documents, while employees struggling to connect to a printer should never be a problem again. A hotel or bed-and-breakfast can also offer such a printing service as a value add.
You are limited in the size (5 MB including attachments) of the email you can send, as well as to the number of attachments (maximum of ten that can be sent with a single email). Unfortunately there is no way to select the paper type, so be careful that valuable photo paper doesn't get wasted printing documents.
Another convenient printing technology is aimed at users of iOS 4.2 devices, including the
iPad
,
iPhone
, and
iPod touch
. AirPrint enables the users of these devices to print wirelessly to their HP ePrint enabled printer when using certain apps. They can do this without having to download additional software or perform any kind of set up. Customers will be able to automatically find a printer on their wireless network and print to it.
Of course you don't need to only print via email, since the HP is also conveniently Wi-Fi enabled.
Printing workhorse
Apart from the handiness of ePrint and AirPrint, HP's 6500A Plus offers an excellent printing speed and quality. The pace is frenetic on the draft setting, although a little off the claimed figures of 31 pages per minute (ppm) (B&W) and 31 ppm (colour), with an acceptable quality. As you adjust the printing quality to normal or high, then there is a noticeable drop in pace, but the quality of the printouts are also much better.
You also won't have to worry too much about refilling the printer as there is a 250 sheet input tray at the front that can be adjusted for various paper sizes, as well as a 35 sheet automatic document feeder (ADF) at the top of the printer for scanning or copying.
Just above the input tray you'll find a useful 50 sheet output tray, which catches printed pages as they leave the unit and also sports a handy slide-out extension. This printer also offers automatic duplex (double-sided) printing, a feature we're always looking for in printers, since its very eco-friendly.
Copying, scanning and apps
It's not only printing that can be done with full automatic duplex, as you can employ the top loader to quickly make copies (even duplex ones of single page documents) of multiple page documents. These are done at a resolution of up to 1200 optimised dpi, which make for good quality copies. One minor issue when copying though is that if you are copying high-res images (using the best quality setting) the printouts come out feeling a bit too moist, but they still look good once dry.
You can also utilise the top loader to quickly scan a document up to 35 pages in size. It scans documents at a fairly good resolution, up to 4800 pixels per inch (ppi), onto your memory device (such as an SD, MMC, XD or memory stick duo card) or PC. You can save documents in a number of popular formats such as an image (JPEG), a PDF document or as editable text (OCR).
As Lexmark also offers, you can download apps to add functionality to the printer. Input for the printer's settings and functions are handled via the 2.36" (480 x 234) touch-screen that suffers from a little lag, though not as much as the Lexmark GENESIS S815's. Alternatively you can make use of the numeric keypad (in conjunction with the touch-screen), situated right next to the touch display, offering faster and more responsive input.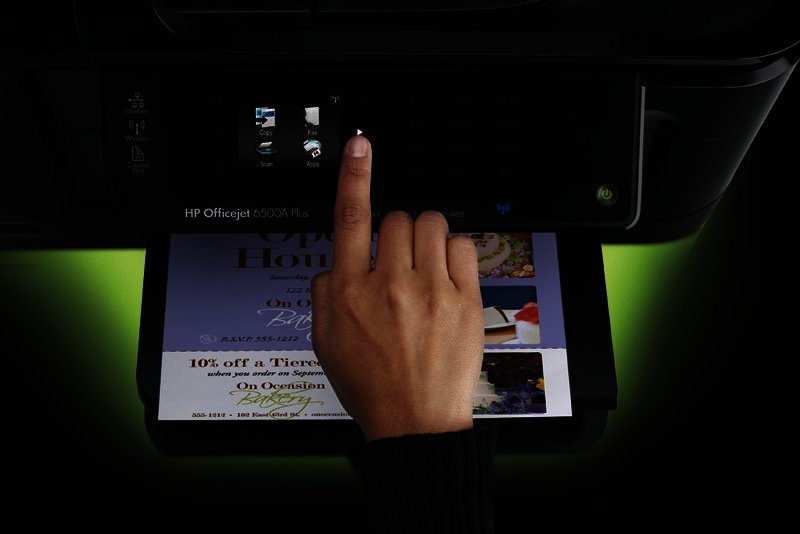 Design
Seeing that the 6500A Plus's scanner assumes the normal horizontal position, we expected it to consume more of our desk real estate than the Lexmark GENESIS S815 at least. This it does, but it's also the biggest desk area hog of the latest crop of AIOs we've tested, measuring 476 x 450 x 258 mm. This is bigger than the
Canon PIXMA MG6140
(470 x 368 x 173 mm),
Lexmark Pro901
(250 x 465 x 392 mm), and even wider that the
Lexmark Platinum Pro905
(307 x 465 x 392 mm) which boast an additional paper tray to boost its input capacity.
It's not the heaviest AIO though, weighing in at 8.25 kg, meaning the Lexmark Pinnacle Pro901 (9.27kg) is still the heaviest AIO we tested of late, followed closely by the PIXMA (9.2 kg).
Final Word
HP one ups the rest of the competition with the HP Officejet 6500A Plus' ePrint and AirPrint functionality. You might find a lot of use for it, or none at all, but it's still a valuable extra. Other than that the HP offers really good quality prints (moistness and all) as well as pace, plus a convenient 35 sheet ADF. It might not be as stylish as Lexmark's GENESIS S815, but it is a very practical small office printing workhorse. You can pick one up for a recommended retail price of R1999.
Pro
Handy ePrint- and AirPrint functionality, automatic document feeder, bigger than average input tray, downloadable apps.
Con
Takes up a bit of desk real estate, not the most responsive touch-screen, some copies come out a little moist.

Handy ePrint and AirPrint functionality, automatic document feeder, bigger than average input tray, downloadable apps.

Takes up a bit of desk real estate, not the most responsive touch-screen, some copies come out a little moist.