Earlier this year it was announced that Toshiba is relaunching its TV range in South Africa, with eight models making an appearance. TechSmart was fortunate enough to receive the new 55" 4K Toshiba 55U79 to test for a few weeks.
Out of the box it's dead easy to set this TV up, with only a few screws needed for the stand (and two people preferably needed to make assembly easier). It's a great looking television, featuring the same thin design and sleek stand we've grown accustomed to over the past few years.
55" of screen real-estate is a generous helping, providing what feels like the ideal size for the family home. Especially seeing that the screen offers a 4K resolution of 3840 x 2160. This screen is definitely worth the upgrade of your Netflix package to accommodate 4K content. Images on the Toshiba are as crisp as one can expect, and there are seven-picture modes to scroll through to find your favourite, whether it be for Cinema or Sport or gaming.
One thing you have to commend Toshiba on is the use of the stock Android 9.0 operating system included. Some televisions come labelled with the word "Smart" but often provide very little in terms of actual proper connectivity features. With Android onboard it's easy to connect to your Wi-Fi network and if you've ever used an Android phone you will immediately understand its operation.
With buttons to Netflix, YouTube and Google Play on the remote, you are covered for quick access, with other apps such as DStv or Amazon Prime available to download from Google Play. With built-in Chromecast you can also cast YouTube videos on your phone to the devices, while Google Assistant makes it easy to search for anything via speaking through the microphone on the remote (it needs to be first connected via Bluetooth). This makes searching for stuff a whole lot easier, since trying to type via remote is a headache.
With three HDMI ports you should be able to accommodate a few extra devices, while two USB ports also make an appearance, one being USB 3.0. We watched content off flash disk through here, with the built-in media player doing a good job of playing different video formats and 4K content.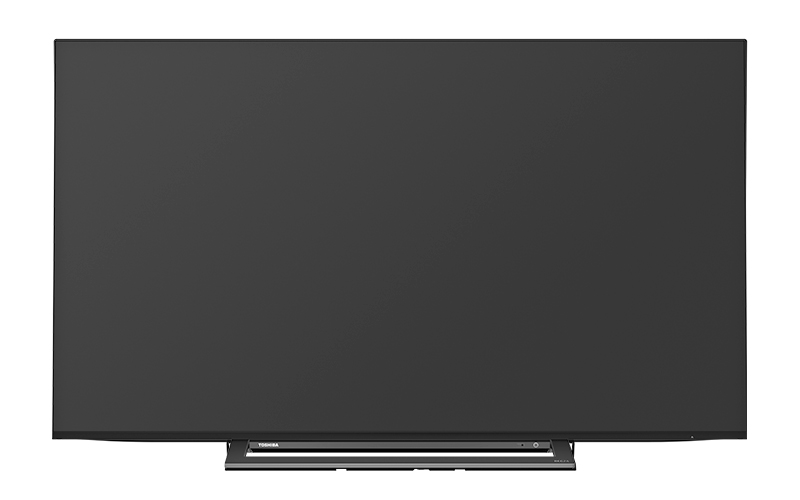 The Toshiba 55U79 is not without its flaws, although not as glaring when taking into account its price. As a starter, the sound could have been better, with adequate sound quality (12W + 12W) from the television but far from great. I preferred to connect my personal soundbar.
While the remote has the quick access buttons to YouTube, Netflix and Google Play, the overall quality of it felt a bit plasticky, especially the control rings around the centre. The sensitivity of the remote was also not the best, and you have to be a bit more deliberate in pointing it in the right direction when scrolling.
Finally, like other LED televisions, the Toshiba 55U79 is not able to provide those dark blacks as seen on OLED displays, even with the help of the contrast booster. It's not to say you won't have a great experience watching movies on here, but there is a reason why OLED is more expensive than LED. Importantly, Toshiba does include Dolby Vision for enhanced HDR (High Dynamic Range) content.
For some the Toshiba 55U79 television's best feature will be its price - under the R10k watermark, finding itself amongst the company of the JVC 55" 4K QLED Android TV as competition.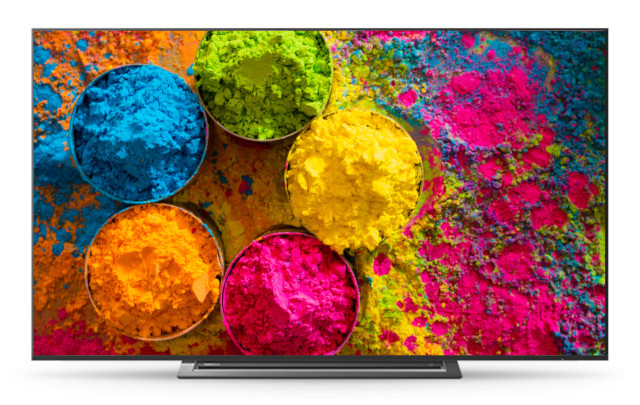 For a 55" 4K that's a smart price, alongside a straightforward Android experience and decent picture quality. If you are looking for a few more bells and whistles, the NanoCell 55" NANO86 Series 4K TV (review) is always available, but that's a full R5k more. Are these prices going to drop? Well, we shall see on Black Friday.

4K and 55

Sound not that great, remote could have been better