For many, coffee is more than a hot beverage, it's a quest. A quest for a black liquid that contains the perfect body, aroma, and taste. While I won't peg my own love for coffee quite as high, I can say nevertheless that the Philips Saeco Intelia super-automatic espresso machine produces a cup that is on par if not better than one can find in a café.
Here's the deal: it's a bean-to-cup coffee machine. That means you pour in the beans at the top (any brand will do), the machine grinds it, and you get the good stuff at the bottom. As the first domestic bean-to-cup machine producer in the world, way back in 1985, Italian company Saeco knows a thing or two about coffee. Take for example the ceramic grinders that grind without overheating the bean, or it's auto cleaning functionality.
How it works
Being gung-ho and not reading the manual first is not a good idea. The Saeco needs to go through a few initial cleaning manoeuvres first before it's ready to deliver the goods. In fact, it cleans itself when turning the machine on, and when it shuts itself off too. So, when switching the machine on it will do two things, heat up the water, and send water through the spout. This does not take long, in fact it will be ready faster than it takes to fill up your kettle and put water on the boil.
The machine can brew a number of coffee varieties, including the regular espresso, espresso lungo/cafè créme, and subsequently americano too. If you want something more special, let's say cappuccino, latte macchiato, or espresso macchiato, well you're in luck, since the machine contains a milk carafe, which allows the machine to froth your milk and mix it (automatically) accordingly. Just make sure the carrafe's spout is well positioned over your cup, especially a small one, since failing to do so will see milk splatters on your kitchen counter.
After you've brewed a coffee, you can go straight into brewing the next, since there is no waiting for more water to boil. A nice little touch is the adjustable spout, which can accommodate larger cups.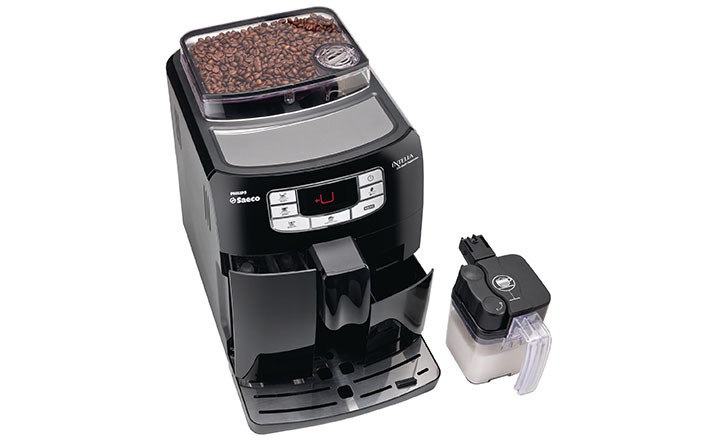 What we liked
Apart from pouring in coffee beans and fresh water ever so often, there's very little hassle involved in getting a fresh brew. There's no need to measure out your ground coffee beans or steaming your milk – the machine does it all. True, it makes a noise when grinding, while it's also a bit noisy when starting up/down and while busy brewing, but in the most part it can be forgiven after that first sip.
Apart from the quick press buttons for your regular espresso, you can also preprogramme the machine to fill up larger cups accordingly. The same goes for selecting the strength of the coffee – here two factors come into play. You can adjust the fineness of the grind; a mechanical process that involves adjusting the bean grinder manually, or you can press a button to select the amount of coffee powder used in a cup.
While the machine will let you know when to clean out the coffee ground drawer, or when the water or coffee bean dispenser is empty, it doesn't warn when the drip tray is full. In my case it resulted in an unfortunate bit of water spillage. Oh well, lesson learned.
What you need to keep in mind is that you are working with quite an impressive piece of machinery, and as such there is some upkeep to do. Saeco notes monthly cleaning of the coffee bean hopper and the brew group, while descaling is also necessary, understandable since it's not just coffee pods that are involved here.
In the end
Much like that girlfriend you didn't appreciate fully at the time, the Saeco Intelia Evo left a gap when she had to return. As a bean-to-cup coffee machine, it performed splendidly, and did as well as one could expect. The proof is indeed in the pudding, and there are no complaints on my side in regards to the coffee it brewed. Using it mostly for americanos, I programmed the machine once and it worked its magic each time afterwards accordingly. The fact that it can also do cappuccino's and latte macchiato's is a valuable extra. Do keep in mind that there is monthly upkeep involved with the Saeco.
For many coffee fans, recently grinded coffee beans is still the real deal, much more appreciated than pre-ground coffee, pods, or, gasp, instant coffee. If that's you I'm describing, the Philips Saeco Intelia Evo is the machine for you, if you can afford it. It retails for R10k and is available at takealot.com.
Click on the video below to see the Evo in action making a cappuccino.

Perfect cups of coffee, can program desirable cup, easy to use, quite fast

Drip tray doesn't notify when full, monthly upkeep, can be a bit noisy