Projectors are far from the sexiest or coolest pieces of office technology around, with functionality and performance dwarfing most other criteria. But Asus believes that it does not necessarily have to be the case, with the Taiwanese manufacturer producing one of the most stunning mobile projectors that we have ever come across. The S1 Mobile LED projector seems to expertly merge high functionality with versatile portability into one small and beautifully polished package. It appears as if there is very little that this unit cannot handle. However, let's put it through its paces first, before we fall too head over heels for it.
A real looker
There is simply no getting around the fact that this projector looks fantastic, the brushed aluminium finish and clean lines seem to draw inspiration from a similarly striking Asus product, the Zenbook touch. It would appear as if the two were purposely built for one another, and that's a good thing, because it shows that the company is creating a distinct look and finish to its products that emit a certain level of quality and careful attention to detail.
Apart from its impressive design, one of the this portable projector's most defining aspects, is its diminutive dimensions, measuring 110.5 mm x 102 mm and standing no more than 30.7 mm high. It is made even more impressive, when you consider the quality of image this small unit can generate.
Asus has fitted the S1 with a LED based light source with a maximum output of 200 lumens, which makes visual content look sharp and crisp with support for (up to) 1080p video playback. The added advantage of this also means this projector has a battery (6000 mAh) life, of approximately three hours at an average output of 50 lumens.
The overall lifespan of the LED lamp offers a maximum lifespan of 30 000 hours; this translates to more than ten years worth of potential usage (eight hours a day) and makes the S1 ideally portable at 342 g, for use both in and out of the office.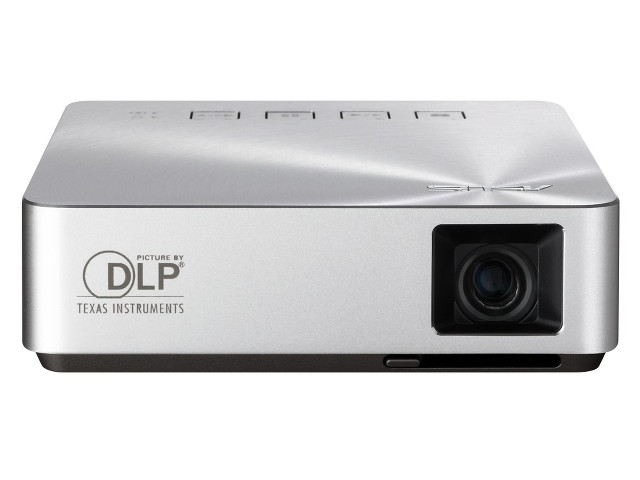 Crowd pleaser
The S1 is one of the best in-class short throw projectors according to Asus, and we'd tend to agree, as it provides a 41" (diagonal) display as little as one metre away. This means users can set it up virtually anywhere. Asus has also fitted a focus dial on the side of the S1 to adjust the projected image as required. This aspect functions as well as can be expected, but the dial itself is surrounded by a square aluminium cut-out that often grazes uncomfortably against your fingers while adjusting focus. This isn't a deal breaker, but it is something that all users will notice and become irritated by.
The LED display further boasts up to 16.7 million colours and a native resolution of 854x480, which is not going to blow users away, but certainly holds more than its own against similarly specced competitors. Colours still retain their vibrancy with all the detail from your notebook or smartphone translating well onto the projected image and highlighting all the elements you want when trying to make an important presentation or viewing a movie.
Setting up this unit is quick and painless, as Asus has fitted the S1 with a number of ports to the back of the device, ensuring all your connections needs are adequately met. The main connection we made use of was the HDMI/MHL port which is used to connect either notebook or smartphone devices.
One aspect to keep in mind, is that the S1's keystone cannot be corrected, but there is no noticeable impairment or affect to audiences' line of sight when viewing content. In order to assist in this regard, Asus has fitted a tripod slot, underneath the unit, for users to mount the projector and adjust the image accordingly. You will however have to front some more cash for a tripod stand, as this is not included when purchasing the S1.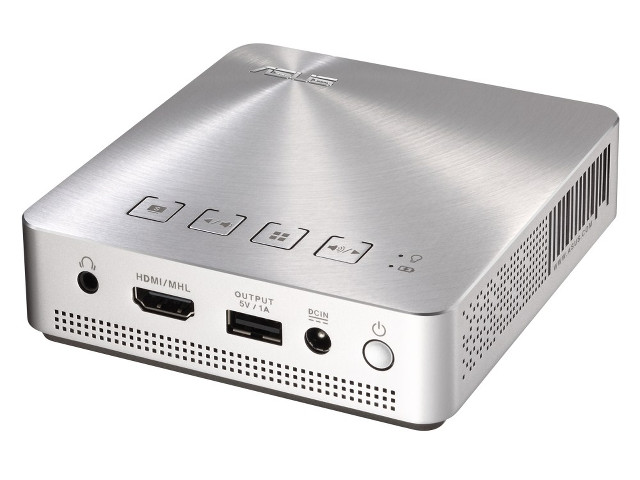 It's also important to note that it will only work with smartphone devices that feature a micro-USB port (disappointing if you're an iPhone user). Thus it's best to aware that ancillary connections will have to be purchased in order to have full functionality. One of the features we were impressed with was the fact that the projector adjusted its orientation (Landscape/Portrait) based on the way users held the device.
Another welcome inclusion is the USB output connection which can be used to charge other devices, even when the projector has been powered down. This makes the S1 a nice option to utilise as a power-pack when not in use. The USB port also supports viewing of PDF files, but this function does not extend to Excel or Word documents.
Asus has also incorporated its own SonicMaster sound enhancement technology, that is said to deliver a more realistic listening experience, but on the S1 is best described as adequate, with a single 2 watt built-in speaker doing all of the work. As this unit is fairly diminutive, it will inherently have a smaller internal speaker setup which is ideally suited for smaller groups of viewers and will not impress larger crowds.
Final Verdict
All in all, the S1's lightweight construction and quick setup make it a great portable projector, with its LED light source offering strong visuals and more than enough clarity to make presentations and content viewing a pleasure. As with the majority of projectors, the darker the setting the better, but the LED display is easily distinguishable in normal daylight, which means movie night is not only limited to after sunset confinement. This makes the S1 equally appealing for boardroom and living room use.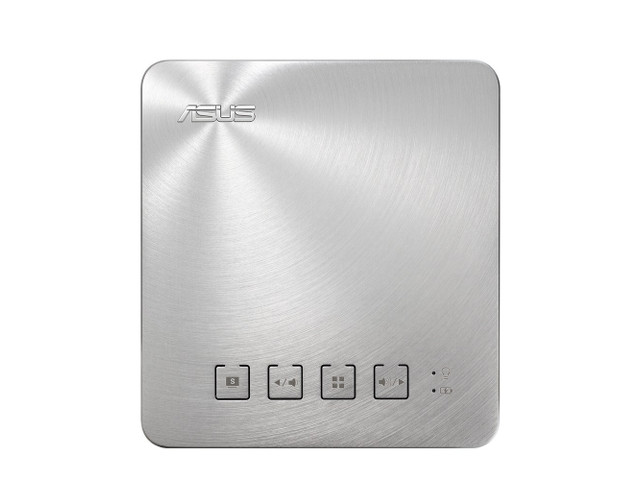 One of the other great selling points, is its great battery life, which is mainly down to the use of an LED light source. This makes this unit power up and shut down quickly with no additional time required to warm up or cool the projector itself. The added benefit of up to ten years of lamp life span makes it an even more attractive prospect and at around R4000, the S1 Mobile LED projector has a lot going for it. For those looking for a unit ultra light, super portable unit that performs well, there are very few options better than the S1 in our minds.

Powers up and shuts down quickly; Excellent battery life; Ultra portable

Lack of keystone correction; No tripod included