For those who live on their iPhone, the Joybee GP2 might just be a godsend, seeing that included is a mounting slot for the iPhone 4/4s. Now while this isn't new (the Epson MG-850HD projector also has one), what is unique is the combination of the GP2's range of connectivity options and its small size.
The GP2 fits in one's hand and is less than a sixth the size compared to a conventional projector such as the LG BX327c (review
here
). It weighs half a kilogram and can be fitted, along with the power cable, in its included carry bag.
While it might not be as small as 3M's business focused MP410, it takes up very little desk real-estate, and can be basically set up in any boardroom, livingroom or bedroom. The device's footing cannot be adjusted (it does include a tri-pod mount), but its upward throw means that you don't need to stack magazines underneath to adjust where it will project. An added boost is the JoyBee's ability to automatically correct the keystone, which in most cases worked just fine.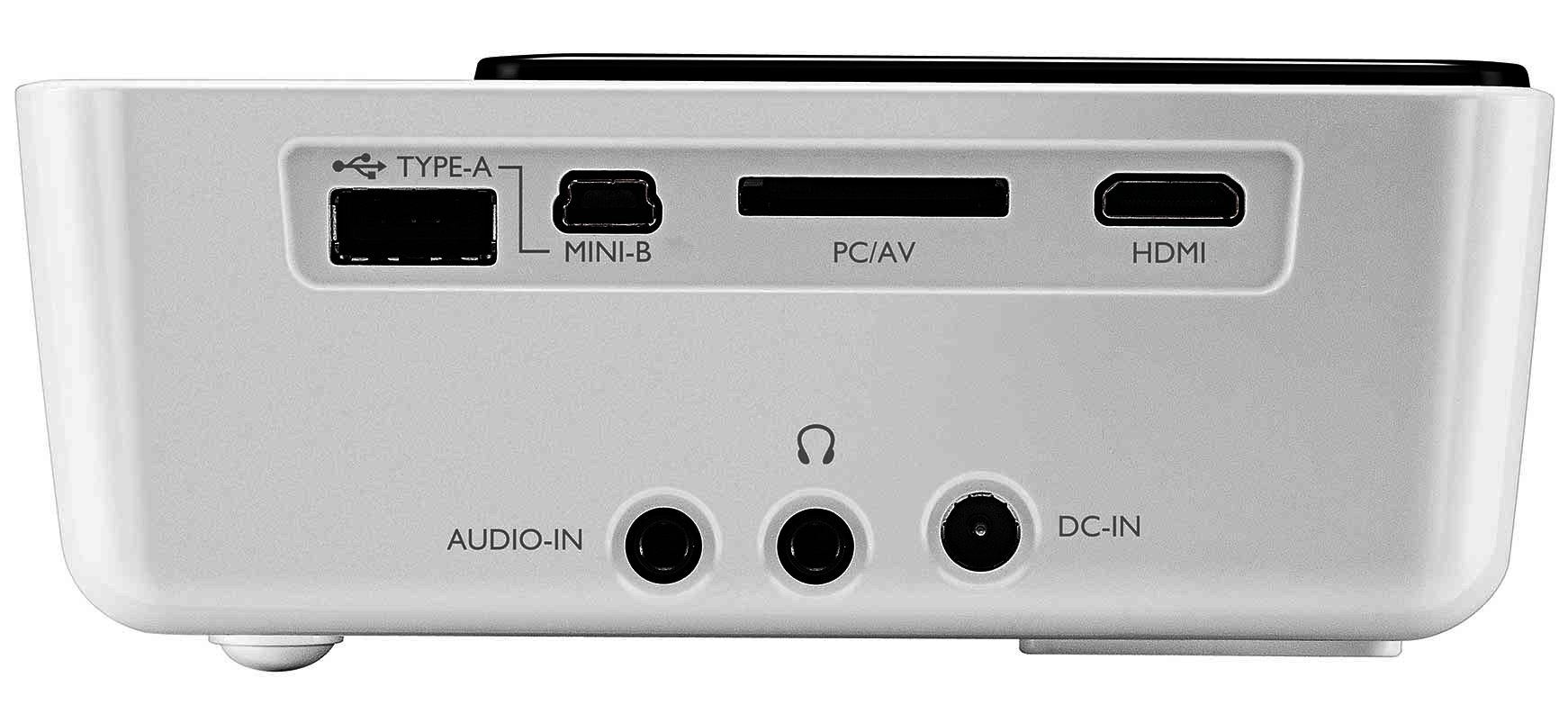 A range of connectivity options makes the JoyBee accessible for loads of application.
Ports and connectivity options
Apart from the ability to dock your iPhone/iPod and play content from there, it's also possible to control your device's volume and playback options via remote control. No iPhone? No problem, since included is a myriad of other connectivity options. These include HDMI mini (v1.3, no cable provided); USB Type A for flash drives; Mini USB to connect to your PC (cable provided and works well, although Kaspersky IS 2012 wrongly identified the installation file as malware); and an SD card slot (difficult to eject, supports up to 16 GB cards).
BenQ provides a multi-cable that supports VGA input for PC connectivity (D-sub 15-pin) and the familiar red, yellow and white ports for RCA. Furthermore, the Joybee GP2 includes 1.3 GB worth of onboard storage space for when you don't want to drag your PC along to presentations.
No iPhone? No problem, seeing that the BenQ also caters for flash disks.
Menus
Like most projectors, the JoyBee does not automatically select your source. This is done using either the touchpad on top of the projector, or the included remote control. Once selected, all the options associated with your input are provided. For example, selecting the USB Drive will open a sub menu for Videos, Photos, Music, Documents and Safe Remove. We found this an easy enough categorisation, with the machine not taking too long with displaying the different files. Documents and spreadsheets loaded on your flash drive can be displayed, while BenQ also caters for PowerPoint presentations but without slide transitions and animations.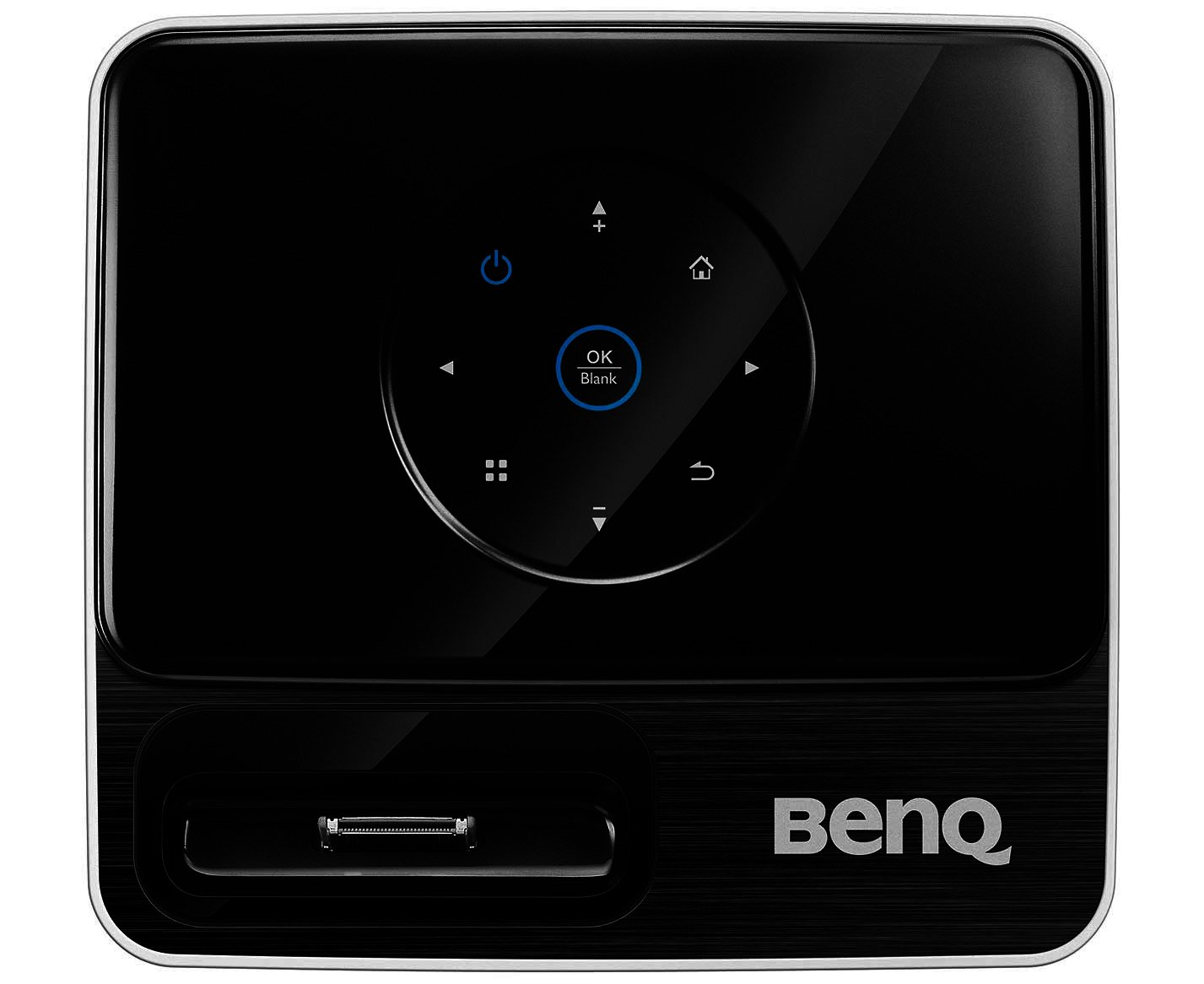 Stylish from the top, with the menu touchpad on display.
Specs
One thing to keep in mind is the JoyBee's 200 ANSI brightness. Powered by three LED lights (supporting a DLP, not LCD, projection system), it does not match full-sized projector's ±2000 lumens. However, the JoyBee is in line with the similar sized
Acer K11
LED projector; much better than the pocketable
Acer C20 pico projector's
low 20 lumens; but falls short of 3M's MP410's 300 lumens.
This translates to brightness that should do fine in a dark room, but you do need to keep ambient light at bay for a clear picture. Also remember that the projected image's brightness decreases the further away from the screen, so rather keep the BenQ close. Luckily, as expected from such a small device, it has a very short throw distance, and we got an in-focus 500 mm (20") display from only 450 mm away. BenQ states you will have a 44" display at a length of 1 m, which should be serve nicely both in the boardroom or bedroom. You can go even bigger in screen size, but with a decrease in eventual display brightness.
The JoyBee has a decent native resolution of 1280x800 (16:10 image ratio) which should cater for 720p movies, while its contrast ratio of 2400:1 compares favourably to the similar sized Acer K11's 2000:1. Unlike larger models' bulbs which offers about 2000 hours, the lamp life of the GP2 clocks an excellent 20 000 hours – it should actually last for the projector's life-time.
Although the JoyBee includes two 2 Watt speakers, the sound was not the greatest, and you might want to revert to external sound if you're watching movies, especially with other people in the room. For the most part the fan noise did not bother us, although it is more noticeable when sitting close to the device.
With an iPhone docked, it shows the BenQ's small size.
Conclusion
BenQ's JoyBee GP2 projector offers not only an iPod/iPhone docking station to project media stored on your phone, but also a broad range of connectivity options plus internal storage. If you're looking for a very portable projector with a short throw distance that will not take up too much desk space, the GP2 is a solid option.
Keep in mind that it performs best in a darkened room with very little ambient light, while the onboard sound might not be of sufficient quality nor loudness. It retails from Incredible Connection and Hi-Fi Corporation for R7500, which seems to be in line with other similar sized offerings but still not quite affordable.
PROS:
iPhone dock
Lots of connectivity options
Onboard storage
Comes with carry bag and remote
CONS:
Does not perform well with ambient light
Onboard sound not the best
Power cables take up lots of space
No HDMI cable included

iPhone dock lots of connectivity options; onboard storage; comes with carry bag and remote

Does not perform well with ambient light; power cables take up lots of space; no HDMI cable included; onboard sound not the best.