The pico projector trend of a few years ago promised much but eventually got side tracked by the technology not being quite up to scratch just yet. Now, with the work LG has done on their Minibeam projector range, it feels like these small little LED projectors have come into their own. The LG PH550 Minibeam is a well-rounded solution, pretty much nailing it if you are in the market for a portable projector.
Granted, the PH550 is not as small as some of the projectors we've seen; at 174 x 116 x 44 mm it's about the size of a thick novel. At 650 g it is far from breaking the scales though, and LG provides its own little pouch for protection when you go travelling with it. And travelling it does well, since you can slip it into a bag/backpack and forget about it until needed.
Loads of connectivity options
There are a few things to enjoy about the Minibeam, firstly that it is actually pretty self-sufficient. All you need is a USB stick with movies on and you are ready to go. Switch the Minibeam on, adjust the projection angle through the little leg at the front (or mount it on a tripod), find your focus and select your input. Scrolling through the menu system is relatively quick, and in general the machine did not take long to start playing movies.
If you live on your smartphone or tablet, you can always connect to the projector's Wi-Fi network and use Screen Share to project your screen, but only if you use Android. It's another feature that makes this little projector a bit of a treasure in my opinion.
At the back you will also find inputs for one full sized HDMI port, a 3.5mm jack, RGB in (for old PC connectivity) plus AV in with composite cables provided in the box.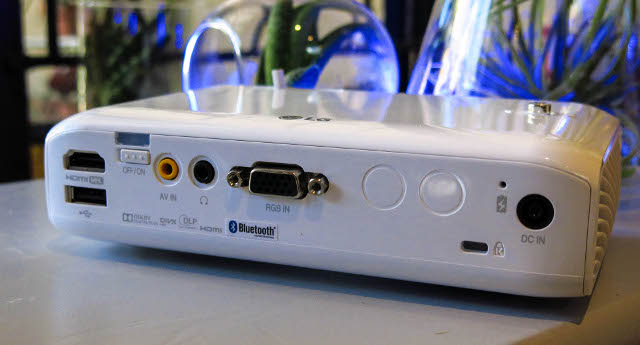 Good for getaways
Using it on a breakaway weekend, the onboard sound was more than sufficient for a smallish room, and if you need better audio you can always connect it to external Bluetooth speakers. With its onboard battery you don't even need power for the Minibeam, but it will only last you through a movie and a bit.
The little projector didn't get hot like normal projectors, nor did it kick up much of a racket, and it switches on and off without having to warm up or cool down. In the same breath, with 550 lumens of brightness onboard, you are going to struggle with ambient light while projecting, but it did so less than I expected.
With these small projectors, the image brightness will be higher the closer it is to the projected image. If you are happy with a 40" image, the projector can offer this by positioning it about 1.24 m away. The larger the screen you want the more you would have to sacrifice brightness.
And the bad
So here perhaps a few of the less standout features. The Minibeam does not project Full HD, rather HD Ready at 1280x720. There's also no input for an SD card, although that is hardly a show stopper.
Finally, there is the Minibream's price to contend with, and here it might be where the party comes to an end for some. At R4 999 it makes this more of a deliberate purchase than one you could do on a whim and a fancy. Other than that, the LG PH550 Minibeam does seem like the perfect solution for those who might need it on holiday, or who have given up on a television set and are looking for an option that can connect to a number of different devices. And if it was cheaper, I would have bought one myself.

Small and light with some great connectivity options, Bluetooth audio, Screen Share, Battery included

Price