FULL DISCLOSURE: Shoes were received from Under Armour South Africa as a review pair and not returned.
There's always a point where, if you've started dabbling in running, you start wondering about getting a decent pair of running shoes. You've realised that you're actually enjoying this and that the shoes you've started with are maybe not best suited for the longer distances you want to take on. If this is you, then the Under Armour HOVR Sonic 4 running shoes arrived just in time.
To call the Sonic 4 entry-level would very much be an insult. It's not, especially with Under Armour's innovative Bluetooth pod built into the shoe (more about it later). Under Armour's Sonic range is aimed at runners who are looking for shoes that can go the distance but can also be used in other fitness activities, such as gym work, or even as a comfortable casual shoe. The Sonic 4 fits this to a T, with the midsole and the construction of the shoe providing the flexibility needed for multiple usage.
At a glance
The Sonic 4 is first and foremost meant for running, with this neutral running shoe providing firm cushioning that's neither too padded, nor too stiff. If you're new to running shoes, you'll find most brands offering some form of 'energy return' tech in their midsoles. Under Armour calls theirs Energy Web, noting that it "contains and moulds UA HOVR foam to give back the energy you put in". This translates to a bit of a kick and lift provided when your foot hits the ground, rather than just a flat thud. Some shoes offer a far more prominent kick, such as the recent Puma Deviate Nitro (review), but it still doesn't mean you don't have to put in the hard kilos on the road.
At 281g per shoe according to Under Armour (320 g on a UK size 10), the Sonic 4 is lighter than Adidas' Ultraboost 21 (340 g), although heavier than the UA Flow Velocity Wind's 241 g. It makes it ideal for mid-tempo runs going past 10 km and towards 21 km. There's a minor 8 mm drop between your heel and front foot which allows for decent stability in the gym. And because the cushioning is firm it won't bounce off the workout floor as would the Puma Nitros for example.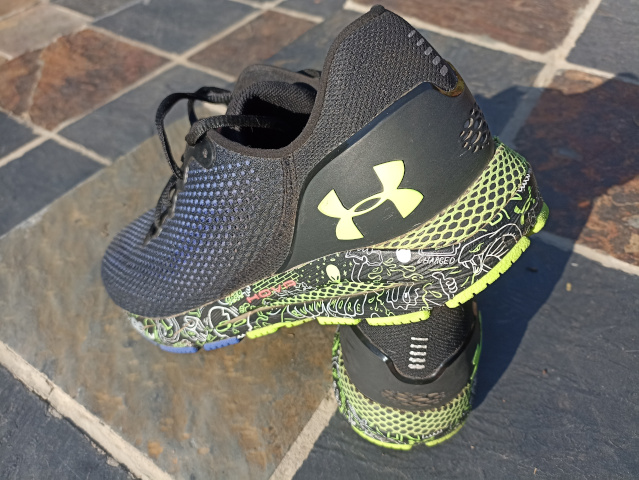 As far as the outsole is concerned, Under Armour provides a high abrasion rubber with decent grip. The rubber seems to last, noting my runs have been done in clear Gauteng winter weather, splitting road with trail, so it might not have been the best test.
The shoe is highly breathable thanks to the mesh rubber that provides just enough stretch to make for comfort. There's also a heel counter that keeps your foot in place without locking it down completely, with strips of extra padding on the inside to prevent abrasion. Just note - the Sonic 4 runs narrow, with my size feeling especially tight around the bridge. It might be wise to first try these on before purchasing.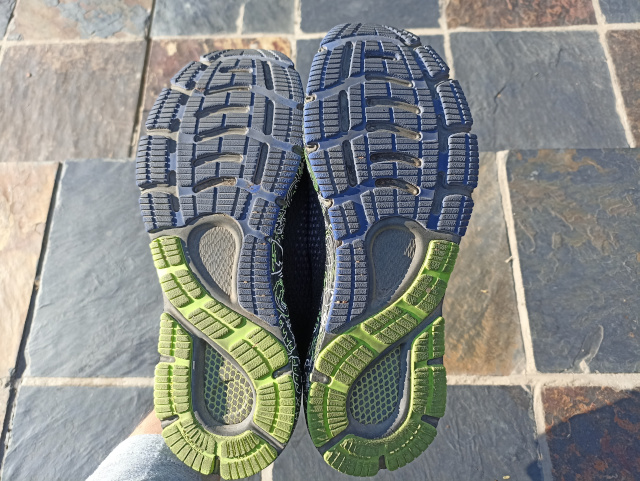 Form coaching included
For the R2499 asking price, Under Armour also includes a little Bluetooth pod in your right shoe, which connects to the UA MapMyRun app. With this you can receive live feedback on your runs, not only relating to your distance and time, but more specifically to your cadence. The number of steps per minute wasn't something I paid attention to before testing the UA HOVR Machina shoes with the same feature. I believe the focus this brought helped improve my running and fitness but having said that, the in-run coaching can get tiresome quickly (it can be turned off via the app).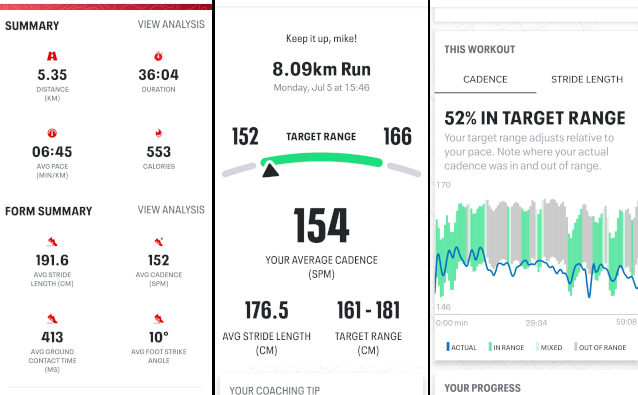 With the Sonic 4s I ran without the coaching or even the shoes connected to a smartphone. Interestingly, the Bluetooth pod will continue to track your runs and you can download the results later. As far as the accuracy of these runs are concerned, measured against my Fitbit Versa 3 with GPS, the results were more or less in the same ballpark, with the odd run that was a bit off. If you haven't got a GPS watch and refuse to run with your smartphone, the Sonic 4 shoes will do the trick of ensuring your runs still get logged.
We're currently testing out the Sonic 4 running shoes from @underarmourza. How crazy are these midsole doodles? pic.twitter.com/prtGu27AEI

— TechSmart (@TechSmartZA) June 28, 2021
A bit of a laugh
Finally, perhaps the best for last. The shoe model I received for review is more specifically referred to as the Sonic 4 FnRn. While I could not find information on why it's called FnRn (Fun Run perhaps?) this model includes the black/blue uppers, neon tipped laces and a doodle-filled neon midsole. I love it. The doodles add a welcome bit of light-heartedness to running, which at its core should be an activity that one enjoys doing. I mean, what's not to love about an alien doing laps around the rings of Saturn, or tattooed knuckles stating "RUNN MORE"?
The Under Armour HOVR Sonic 4 comes best recommended for those new runners looking for a shoe that can start getting them to 10 km and beyond, or current runners after a shoe that can also do duty in the gym and other fitness activities. With the Bluetooth pod built-in that will help with form coaching and tracking your runs, the R2 599 asking price becomes more palatable.

Great shoe if you are new to running or looking for a shoe that can also take on extra activities, Awesome doodles on midsole, Form coaching and tracking with Bluetooth pod

Runs narrow, Form coaching can be overwhelming during a run, 21 km and up might look at shoes with stronger midsole support