LG has provided texting and social networking junkies with an updated, fully touch-enabled version of its popular
KS360
in the form of the GT350. TechSmart took it for a test-drive and here is what we found.
Design
The GT350 retains the slide-out QWERTY design as encountered on the KS360, with the keyboard utilising the same user-friendly key layout. This makes typing messages and coping with extended MXit sessions a breeze, but we still prefer Nokia's QWERTY keyboard used on the
N97
and
N97 mini
with its larger, raised keys.
Although the phone isn't equipped with an accelerometer, the display switches easily between portrait and landscape view when the keyboard slides out.
The GT350 is only marginally bigger than the KS360 (101.5 x 51 x 16.8 mm), measuring 107.5 x 52.5 x 15.9 mm and weighs a bit more as well (125 g, which is 17 g more than the KS360).
With this phone being a fully-enabled resistive touch device, LG has reduced the number of keys on the front of the phone to three (including the task manager button) resulting in a less cluttered feel to the face design.
The directional keys have also been replaced by a task manager button that brings up a tabbed window showing the apps that are running as well as links to favourite apps, such as the music player or message composer.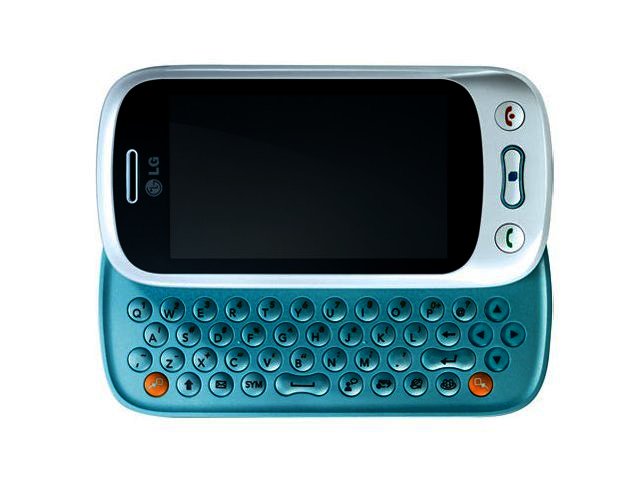 Other features
LG has equipped the GT350 with a 3" TFT resistive touch-screen (240 x 400 pixels), a rather disappointing run-of-the-mill 2 megapixel camera and a 3.5 mm audio jack.
It also sports 56 MB of internal memory as well as a microSD card slot supporting cards up to 8 GB in size, Stereo FM radio, social networking integration with live updates (Facebook) and a document viewer (Office and PDF files).
Using the Facebook app on the phone you can post status updates, send messages and comment on pics etc, but you can't pull in contact details from Facebook and save it to your phones' contacts, like your able to do on Facebook apps on other phones like the
BlackBerry Bold 9700
. Also uploading photos from your phone onto Facebook involves a little more work as there isn't a dedicated photos icon.
Browsing the web is enhanced by the fact that the phone comes pre-installed with Opera mini that features tabbed browsing and utilises much less data, which cuts down on net surfing costs while keeping browsing speed up.
As is the case with the
LG Pop GD510
, the GT350 uses the Korean company's S-class user interface (UI) which boasts three home-screens. You can arrange your chosen widgets (such as the music player, Facebook app and FM radio) on the first home-screen.
The second home-screen boasts a graphical interface (Livesquare) which provides you with graphical representations (in the form of animated people or animals) of contacts who send you a message or phoned you throughout the day.
These representations (Livecon avatars) don't just look nice, but are actually quite useful for quickly contacting or adding people to your phonebook.
The final home-screen can't be loaded with widgets and apps, but allows for quick access to your favourite contacts. Complimenting the three home-screens are four icons located at the bottom of the screen which are for the phone's onscreen dialler, contacts, messages and the main menu.
Main menu
The main menu groups the icon-based phone functions into four groups, which are Communication, Entertainment, Utilities and Settings. You can set-up your personal email (like Yahoo! Mail) quite easily on the GD510.
Generally the UI is easy and intuitive and we felt that it is still more fun to use than the TouchWiz set-up of Samsung, although given the cool looking graphical nature of the interface it's prone to a bit of lag every now and then.
Final word
LG's GT350 has a useful QWERTY keyboard and user-friendly interface and although it lacks 3G as well as a decent camera with flash, its recommended pricetag of R1 699 compensates for that.

Easy and intuitive UI, slide-out QWERTY and pre-installed Opera mini browser.

No flash for the camera, which is also only a stock standard 2 megapixel and no 3G.