Following in the footsteps of its big brother in the budget-targeted C-range, the Symbian^3-powered
C7
, Nokia has made the Symbian Series 60-running C6 available. This phone can be described as a budget version of the former range topping
N97
(or its mini-me
N97 mini
model) and although it might still sport the old Symbian OS, it offers good quality and value for money.
Look and feel
This grip- and pocket-friendly (113 x 53 x 16.8 mm) phone sports the standard touch-screen look of many of Nokia's devices, such as the
5800 Express Music
or the
5230
. Like the N97 and N97 mini, it's a QWERTY-slider complete with a four-row keyboard that comes in handy for typing the occasional email and chatting sessions over MXit or the smartphone messenger app,
WhatsApp
. We found this wide four-row keyboard easier to type on than the
Motorola Flipout
, although not as comfortable to employ as the raised and separated keys of the
N97
's keypad.
The C6's 3.2" TFT resistive touch-screen (360 x 640 pixels) displays media (photos and videos) well, but doesn't sport any new functionality such as pinch-to-zoom that one finds on capacitive displays (you use the outdated tap-to-zoom). There is also very little glare protection, making it difficult to work on the screen in direct sunlight.
Browsing the mobile web is fast on a 3G connection and besides the fact that you employ the outdated tap-to-zoom isn't much of a hassle. Webpages are rendered nicely using all of the display real estate (so you don't have to do such a great amount of scrolling about). There's also a visually presented browser history, which is a nice touch, providing you with screenshots of previously visited pages that you can scroll through.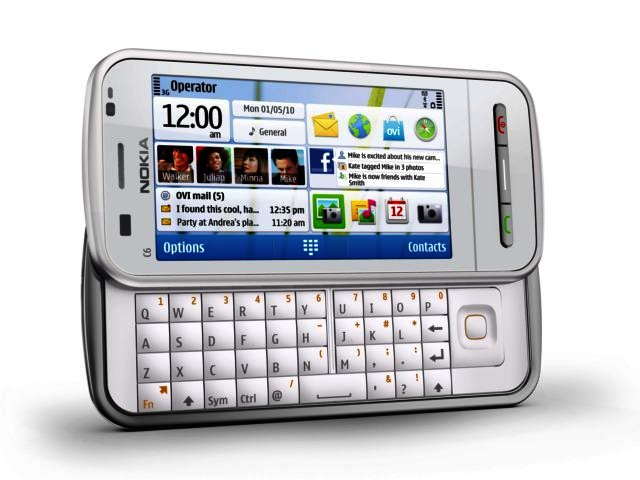 Same old, same old
Besides
the same
browser, display, form factor, OS and ARM 11 434 MHz CPU, the C6 also uses the same type of 5 megapixel camera with autofocus and LED flash that the N97 mini sports, although with a single (as opposed to dual) LED flash and minus the fancy Carl Zeiss optics. Regardless of the latter, the camera takes really good quality photos and lag-free videos. It's not quite up there with the likes of the
Nokia N8
and
Sony Ericsson Vivaz pro
, but for a budget range phone it's very good.
What also needs a mention is that although this phone employs the same OS as the N97 mini, it does seem a bit more stable, not having crashed once during our time with it, although the very noticeable lag issue is still present.
Other features
Also onboard is a GPS with a-GPS support, Bluetooth version 2.0 with A2DP, Wi-Fi 802.11 b/g, 240 MB of internal storage that is upgradable to 16 GB with the use of a microSD card (2 GB card included).
There is a variety of useful pre-installed apps including a Facebook app that works well, but doesn't allow you to link contacts with your phone contacts, and a Reuters Slideshow app, which shows you the day's news pics (separated in category view including news, technology and entertainment) complete with short explanatory captions.
Battery life for this phone was good compared to the modern day standard of around a day for smartphones, as the battery lasted almost two days with medium usages (light web browsing, Mxit and WhatsApp, taking a few pics and making/receiving a few calls ). This fell to about a day though when we extended the Mxit sessions, sent (and then listened to) music via Bluetooth from our PC to the phone and tested the Wi-Fi connection.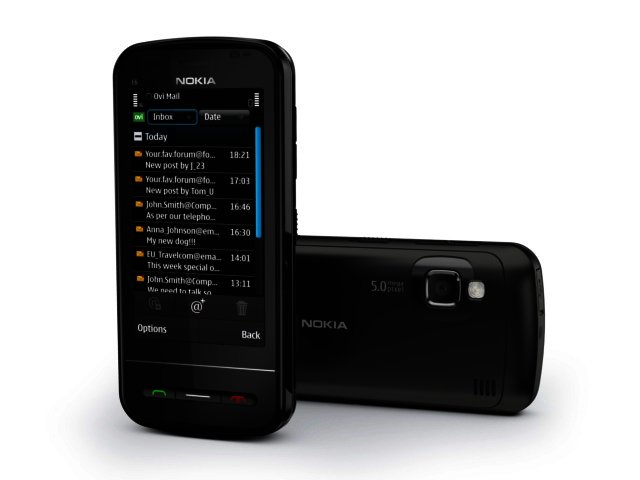 Final word
This phone might be considered old-tech by users of newer devices such as Nokia's own
N8
, but for those that don't require every feature known to man or can't afford to dish out on range topping models, this is a user-friendly device that provides most of the required features in a compact and useful form-factor. This device carries a recommended retail pricetag of R2499.
Pro
User-friendly, good battery life, good camera.
Con
Old OS, sluggish at times, resistive touch experience.

User-friendly, good battery life, good camera.

Old OS, sluggish at times, resistive touch experience.