When one thinks about the CAT brand, hardwearing Android-powered smartphones very seldomly come to mind. The B15Q however, is the manufacturer's mid-range smartphone offering, hoping to become the go-to device for users whose occupation strays from the normal confines of an office cubicle.
In many respects, the B15Q draws inspiration from products that CAT has been synonymous with over the years, namely machinery destined for construction sites the world over. Indications of this rugged heritage are littered throughout the device, with a chunky rectangular shape and angular edges serving as key indications of its ability to cope with a rough and tumble lifestyle.
Strong and sturdy
A closer examination of the B15Q's exterior, will reveal a hardened plastic cover, housing a 4" (800x480) Gorilla Glass display, incorporating wet finger tracking technology, should you have a penchant for using your smartphone in the shower. Sticking with its waterproofness, the B15Q has an IP67 certification, resulting in an underwater lifespan of up to 30 minutes at a maximum depth of one metre, sporting similar specs as some of Sony's Xperia range smartphones.
Other rugged inclusions are military standard 810G shock, drop and temperature ratings. This makes it capable of handling falls under the 1.8 metre mark, which means it should remain unscathed should it happen to slip out of your pocket. When firing of all these facts and figures, one would expect the B15Q to be quite hefty, but it proved far lighter than we initially envisioned, weighing in at only 170g.
In spite of its thick shock resistant cover, the B15Q proved quite easy to handle, and measures 125 mm wide, so it nestles neatly and comfortably in one's hand. To better assist with daily use, CAT has also ensured that its volume and power buttons are easy to reach and responsive enough, so that one's fingers are not bent out of shape while pressing.
Water tight
Being a water fairing animal, the B15Q features two sealable flaps on top and on its left-hand side, housing a 3.5 mm headphone jack and microUSB port respectively. The back cover has also been robustly constructed and makes use of a sliding lock mechanism to open and close. This in order for users to gain access to the B15Q's microSD (up to 32 GB) and standard SIM slots. Removing the back cover will also reveal the 2000 mAh battery that CAT has opted for in the B15Q. This Lithium-Ion cell offers up a full day's battery life under an average amount of use, but struggles ever so slightly should you push it a little further. This means that a visit to one's charging station will become a necessity before the day comes to an end.
Fitted on the rear, you will find a 5 MP primary camera, which produces decent enough images, but really struggles if shooting in low-light conditions or zoomed. This is not a dealbreaker, but will not meet the needs for those users who demand high quality imaging from their smartphones. On the front, CAT has integrated a VGA camera, which too gets the job done, but does little in distinguishing itself from the mid-range crowd. Should you wish to shoot video as well, the B15Q performs admirably, yielding the best results while recording outdoors in natural sunlight. Taking your filming efforts inside however produces videos lacking in detail.
Crowdpleaser
Shifting to its user interface and software, CAT has favoured an Android 4.4.2 OS setup, which performs as fluidly as one would expect for a mid-range device. Another aspect of its mid-range upbringing, is the internal components CAT has incorporated into the B15Q. The most pertinent of these is a quad-core 6582M Mediatek processor, which clocks in at a respectable 1.3 GHz. This is married with 1 GB of RAM and a stingy 4 GB worth of built-in memory.
All things considered, this setup results in a device that performs on plumb average, with no areas during benchmark testing standing out, nor looking subpar. When compared to another mid-range Android smartphone we tested, the Sony Xperia M2, CAT's B15Q performs well. With the Xperia M2 registering a total score of 15 879 and B15Q recording 18 781 on AnTuTu, the main differentiator between the two being the B15Q's Multitasking and 3D graphics elements. In terms of performance, the B15Q should prove a welcome addition to any mid-range smartphone user's arsenal.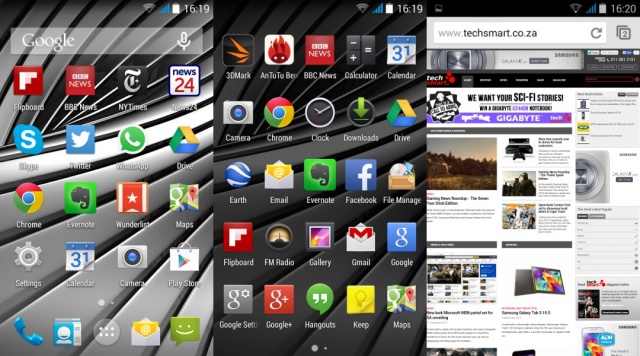 Final verdict
When we first heard of the B15Q's hardwearing capabilities and saw its chunky looking design, we expected a device that only had one party trick. To the contrary, during our time with the device, it surprised us with its relatively lightweight construction and the ease at which it can be handled. Its processing capacity too, proved a pleasant surprise, performing on par with the vast majority of mid-range smartphones we've tested previously, and outperforming some in certain instances.
More than just a marketing gimmick, the B15Q's rugged construction and durability easily handled any challenge we put to it, and meets the hardwearing claims of its manufacturer.
The one thing that may count against it, is its price tag, commanding an estimated R4 750, which is slightly expensive given its internal components. The reason for this specific pricing is unknown, but if we had to venture an educated guess, its down to the fact that the B15Q can be tossed, dropped, thrown and stepped on, with little to no ill effect. If a smartphone capable of handling an active (or extremely clumsy) lifestyle appeal to you, then the B15Q is well worth a gander. For more info on local distribution, check out www.ruggedphones.co.za.

Surprisingly light feel; Solid construction; Highly shock and drop proof

Slightly overpriced for mid-range smartphone; Back cover very difficult to access