Budget smartphones have gotten as much attention as their flagship counterparts from manufacturers of late, with the untapped potential of markets in the African and Asian continents proving a luring prospect. To that end, MTN has thrown their hat in the ring, with the budget friendly Steppa (review) smartphone debuting late 2013 for R500. A year later, the second iteration Steppa 2 landed on the review desk, carrying with it some significant updates and upgrades, along with a R1 000 price tag. As a result, the Steppa 2 is a completely different beast to its low end forbear and goes up against a greater number of competitors.
Minor enhancements
From a design perspective, MTN have made some enhancements, chief among which is sturdier frame and 4" WVGA (480x800) display which is a marked improvement over the original Steppa's granier version. Along with a new screen comes an Android 4.3 (Jelly Bean) OS in the background (upgradable to 4.4 KitKat). Handling the processing portion for the Steppa 2 is a dual-core Qualcomm Snapdragon 200 chipset, clocked at a modest 1.2 GHz. This paired with 512 MB of RAM, a 1500 mAh battery and 5 MP rear camera, all of which are industry standard for entry-level fare. The phone proved a little slow while multitasking, but takes care of the basics.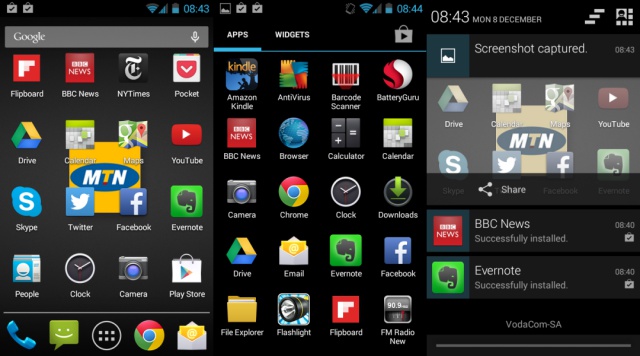 Something missing
When weighed up against similarly priced competition, the Steppa 2 is slightly lacking, and has a heavy plastic feel in hand. It's more expensive than Vodafone's Smart 4 mini and on par with Samsung Galaxy Grand Neo, both of which feature more of a premium quality experience than the Steppa 2. Although an improvement in the specs department over its predecessor, the Steppa 2 does not present the same value for money prospect that the first Steppa does. All in all, the the upgrade has yielded a better specced phone, but not necessarily a better experience.

Sturdy frame; Faster performance compared to previous iteration

Does not have same value for money feel as predecessor