Bang for your buck?
The MTN Steppa is by no means a flagship device, nor is it intended to be; at R499 it's touted as the most affordable smartphone in South Africa to date. For R500 you get a 3.5" touch enabled TFT display, a 1 GHz Qualcomm Snapdragon single core processor, and Android 2.3.5 (Gingerbread) OS. Relative to the price, it adds up to a solid, smooth running system.
Budget crowd pleaser
MTN played a major role in the look and feel of this device, with its logo and colour scheme not so subtly embellished throughout the user interface. Furthermore, if you are thinking that you are getting the standard Android look and feel, think again, since this too is customised by MTN.
The changed UI setup consists of three main screens, which can be horizontally swiped through. The home screen contains six spheres for quick access to integrated Google, MTN, social media, app store and video content. It also combines a bottom banner which brings up the messaging, phone call, camera and settings windows. From the home screen, swiping to the left brings up a list of all the background apps, where users can enable/disable these apps. The screen on the right provides an alphabetically ordered list of all the menu, application and setting options on the smartphone, which is easier to view for those still unfamiliar with smartphones.
One aspect we were quickly frustrated by, was the in-app advertising on the home screen. The advertising indicated additional information for basic versions of pre-loaded apps such as AVG Antivirus and Facebook. When selected, it opened up a link to download premium versions of the apps. The integration of such 'spamware' really detracts from a solid smartphone experience.
All in all, the smartphone experience offered by the Steppa is clean and simple, with most features easily accessed and intuitively orientated.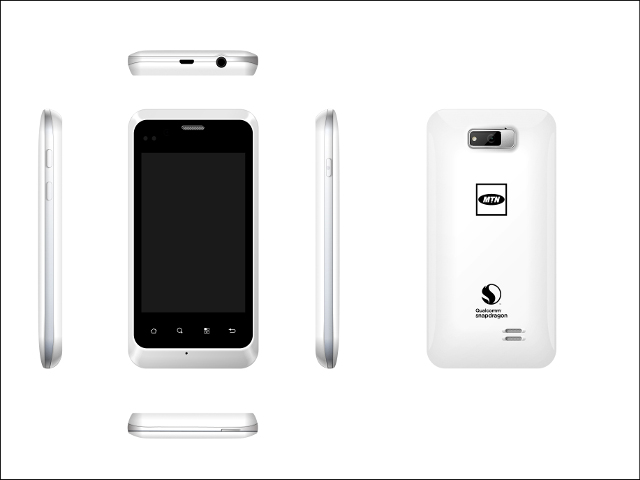 No bells and whistles
As we delve deeper into the plastic casing of the Steppa, there's only 512 MB of internal storage, which does not offer much space for users to download Google Play Store apps, nor photo, video or music content. Luckily there is a microSD card slot, but MTN does not include a card, so you would have to factor in the price of a microSD onto your R500 purchase. It is a good idea to get as large a microSD card as you can afford and stick it into the non hot-swappable card reader, accessed by removing the back cover and battery of the unit.
MTN fitted the Steppa with a 2.0 megapixel camera that produced poor quality images and video, with most looking quite dark and heavily streaked when capturing a moving object. In this regard the Steppa won't appeal to serial Instagrammers, and the lack of front facing camera may shy away the duckface selfie crowd. MTN has included Bluetooth 3.0 connectivity as well as FM radio, a standard 3.5 mm headphone jack and mini USB port for charging and computer connection. This should ensure users can access and share content effectively.
Being an MTN product, the Steppa includes a host of specifically tailored MTN services, such as MyMTNza, 2GO and Appsfire. These are nice for the smartphone first timer, but offer little value for the more seasoned user. All apps run relatively smoothly on the device, if you can forgive the occasional screen lag or freeze, partly due to the phone's limited amount of RAM. This does however show a concerted effort on MTN's part to provide a complete social media and app experience with full access and functionality for Facebook, WhatsApp and the Google Play Store.
Simple and solid
For the price you pay the Steppa performs well and without much issue. It should have big appeal for people looking to make the transition from feature phone to smartphone, without having to commit to a contract. At R500, the MTN Steppa may just be the best value for money smartphone out there. It may not be the contender for best phone of the year, but could rank as one of the most important.

Value for money; solid app support; offers quality smartphone experience

Camera and Video quality poor; plastic body slightly fragile; access to micro SD slot cumbersome