For a long time, if you were looking to purchase a flagship Android smartphone, you often did not veer further than the Samsung Galaxy S-range, but following its latest iteration, the South Korean manufacturer has lost a bit of its luster and struggled to match the benchmarks it set a few years ago.
Nowadays there are a number of contenders to Samsung's throne, with HTC's One (M8) being just such a device. We were thoroughly impressed by the first flagship One (review), which debuted early last year, so much so that it was one of the best smartphones we reviewed during 2013. Now half way through 2014, the newest incarnation of the Taiwanese manufacturer's flagship device has found its way into TechSmart's office.
Late arrival
We were fortunate enough to get some hands-on time with the One (M8) earlier in the year, during its Middle East and Africa (MEA) launch in Dubai. During that brief rendezvous, the One (M8) impressed us to no end, and clearly showed HTC's efforts in building on and improving upon the success of its predecessor. For some unknown reason it has taken close to four months for the One (M8) to makes it way into South African stores, with local operators and retailers slapping an estimated R9 000 price tag on this unit.
At that price, the One (M8) undoubtedly has a foot up on the similar specced competition, but how does the rest of the device compare to its Android powered rivals?
Careful consideration
Let's begin with the look and feel of the HTC One (M8), which by all measures is a rather handsome looking device that almost any Android user would be proud to tote around the office or local watering hole. Not to be confused with the previous iteration, HTC has made concerted efforts to refine the device just enough to look different from its predecessor, as well as incorporating specific design cues to signal passers-by of its patronage. This comes courtesy of the two thin bands located at the rear of the device, as well as the familiar pin-prick speaker holes on the front, both of which being features across the HTC range.
One noticeable change however compared to the original HTC One, is the increased curve given to each corner of the handset, along with the subtle concave shape of the back to make it sit far better in hand. HTC has also increased the aluminium borders found at the top and bottom of the device. All in all this adds up to a pretty discreet device that still retains a high level of quality throughout, compared to the slightly cheap feel of the S5's plastic heavy design.
On the display front, HTC has opted for a 5" Super LCD3 capacitive touchscreen, which is a 0.3" increase in screen size compared to last year's model. As a result of the increased display dimensions, the One (M8)'s pixel density has dropped slightly to 441 ppi, although one could easily be forgiven for not thinking so, as display quality is as sharp and crisp as ever.
When comparing the display of the One (M8) to those of similarly specced Android devices, it performs on par, with the single area of difference being the One (M8)'s higher level of screen brightness. This may not seem like a telling improvement, but it makes all the difference while playing highly detailed games or watching videos.
Light and Dark
If you flip the One (M8) over, you'll find a new dual camera setup, with HTC fitting a 4 ultrapixel lens for its primary camera, which is the same found in the previous iteration. The key difference this time round is the secondary smaller camera that's used to edit images post shot, and shift the focus of the image in a similar way to the Lytro camera. This is an interesting feature and a nice addition to the usual set of filters and augmented reality functions that most flagship smartphones now sport, but is not a distinguishing factor in purchasing the One (M8).
In terms of imaging quality, the HTC One (M8) still falls short from being the best option among flagship smartphone manufacturers, and has a little further to go before reaching the autofocus speed and sharpness afforded to Galaxy S5 (review) users. With that being said, the One (M8) still performs adequately in highly lit environments, with its only major drawback being a slight blurring of light sources when photographed.
Contrastingly the HTC One (M8) performs extremely well in low light and dark conditions, which is partly down to its ultrapixel setup, capable of drawing in more light in darker environments than traditional megapixel smartphone cameras. This may be great news if you're a creature of the night, but leaves you in the lurch during those beautiful South African summers.
Multitasking wiz
Powering the One (M8)'s processing capability is a quad-core Qualcomm Snapdragon 801 chipset, a processor that's highly favoured among the majority of Android flagship smartphones at the moment. Added to this is 2 GB of RAM and 16 GB of internal memory (review unit) with a 32 GB variant also available and microSD slot for up to 128 GB expandable storage. As a result, the One (M8) performs on a relative par with its Android rivals. This is an opinion backed up the barrage of benchmark test we submitted the One (M8) to, registering impressive scores in terms of its processing, web browsing and multitasking capability. The One (M8) scored just slightly lower than the Xperia Z2 (review) and Samsung S5 with a AnTuTu X score of 33236. One area however that the One (M8) shone, was its graphics processing and video playback, outperforming both the Z2 and S5 with a total of 20758 on 3D Mark's Ice Storm Unlimited.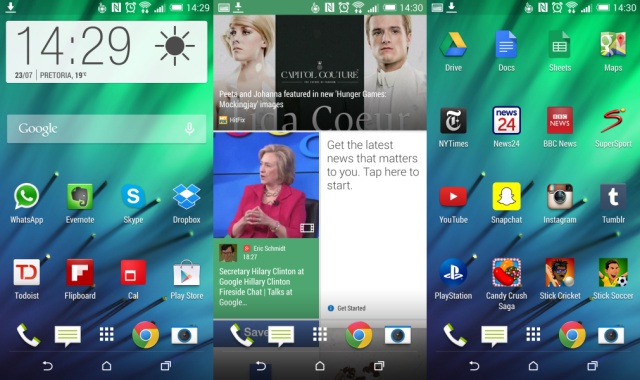 Added to the One (M8)'s solid multitasking performance is HTC's well designed Sense 6 UI, which is easily the best interface we've experienced on a smartphone this year. The amount of screen real-estate is well used and thought out by HTC, with applications equally well spaced on the One (M8)'s 5" display. Side scrolling through menus and trays is quick and responsive, with all of Sense 6's icons intuitive placed to assist in single handed use. If there is one fault to cite with Sense 6, its the scale of the keyboard, and more specifically the size of individual keys being too large. This presents an issue for messaging, with the wrong key being selected every now and then. An aspect which may prompt users to shift to third-party messaging keyboards like Swiftkey.
Added Extras
As the majority of Android flagship smartphones all offer a similar set of functions and features, it has grown ever more important for manufacturers to distinguish their products with unique applications. HTC has always been a company that is cognisant of this, and added a handful of features to make the One (M8) slightly more appealing. The first is HTC's BlinkFeed system, which aggregates all users' social media and news feeds into one single scrolling view, in a similar fashion to Flipboard.
One interesting enhancement that BlinkFeed has over applications like Flipboard is the ability to incorporate info from one's fitness band, and more specifically FitBit's offerings like the FitBit Flex (review). Given the rise of fitness-based content making its way onto smartphones , the future applications of BlinkFeed look promising. Added to this, users can also view messages from their contacts via Google+ for example, as well as phone any of them BlinkFeed directly.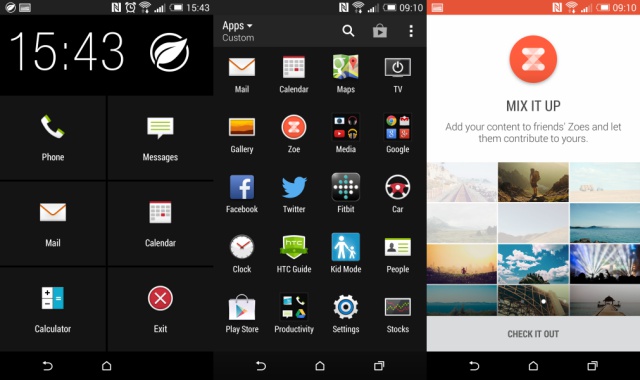 Another one of HTC's features is Zoe, a camera app that allows users to create short three second videos to share with other users. Although not a key aspect of the HTC experience, Zoe is a great app for users who place photography and media related content high on their list of wants from a smartphone.
Final Verdict
From the moment you pick up the HTC One (M8) it feels like a premium device should, with its aluminium unibody casing featuring a beautiful brushed effect. The increase of display size results in a larger and heavier device that measures 70.6 mm wide and 146.4 mm long. This make it just wide enough to nestle neatly in one hand, but ultimately is best suited for two handed use while swiping between menus, browsing online and most importantly typing.
If we compare the One (M8) to the Galaxy S5, the smartphone its aiming to usurp, HTC's flagship certainly has a distinct advantage in the looks and quality department. As an everyday smartphone, the One (M8) is also well equipped with a chipset that supports the Sense 6 UI, in both responsiveness and performance. Furthermore, the imaging quality afforded to One (M8) users is solid enough to happily snap, post and share online, but still requires some enhancement before it becomes class leading.
On the whole, if you're an Android fan or simply looking to make the move from one of the other OS' to a flagship device, you'll be hard pressed to find a better option than the HTC One (M8). When you add to the mix, its R9 000 price tag, you'll be hard pressed to find a better alternative to the Galaxy mainstay.
HTC One (M8) was received as a long term seeding unit.

Fantastic design and solid construction; Intuitive and responsive Sense 6 UI; Strong processing and multitasking capability; Relatively well priced

HTC proprietary keyboard slightly inaccurate; Volume button oddly placed