Huawei's Ascend Mate7 impressed no end when it was launched during AfricaCom last year, and I was curious to see whether the favourable first impressions would persist.
Now that the smartphone has arrived for review, in the cold light of day as it were, the phone looks as elegant and sophisticated as I remembered. This is due to a large extent to the simple but premium styling.
There is no glaring plastic to immediately cheapen the experience, but rather a cool-to-the-touch aluminium. The phone's unibody chassis and curving, unbroken lines, make it more reminiscent of the iPhone than the Android-sporting larger smartphones that are the Ascend Mate's true OS peers. Additionally, the smartphone's near edge to edge 6" screen gives it a very modern appearance, evoking the screen design that 4K TVs nowadays seem to favour.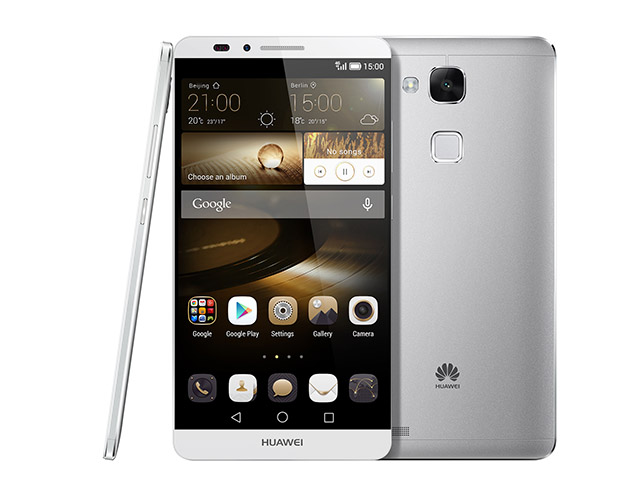 Go big or go home
Beyond its appearance though, the Ascend Mate 7's beauty is not solely skin deep. The user interface similarly feels sophisticated, offering a more refined experience than stock Android, but nowhere as cluttered or obtrusive as some of the other custom UIs out there. Thus, the latest version of Huawei's Emotion UI is streets ahead of its earlier efforts in terms of ease of use.
There is one other aspect of the phone that is hard to miss, and, quite frankly, is something of the elephant in the room. At 6", there is no denying that the Ascend Mate7 is a big phone, even by phablet standards, although its weight (185 g) mitigates this somewhat. That extra 0.5" also makes it larger than the midrange device in Huawei's lineup, the Ascend G7 (review).
The same downside applies here; it wouldn't be my first choice to load up with Runkeeper and take with me when going for a run, unless of course you are also the type to sling a small backpack on when doing outdoor activity.
The Mate7 is a little bit wider, and almost an inch longer than the Galaxy Note 4 (review), which in itself is not exactly pocket friendly. Granted, for phablet lovers, this is hardly a turnoff, but for those users who like their smartphone to easily fit into a jeans or jacket pocket, this probably isn't the 'droid you've been looking for.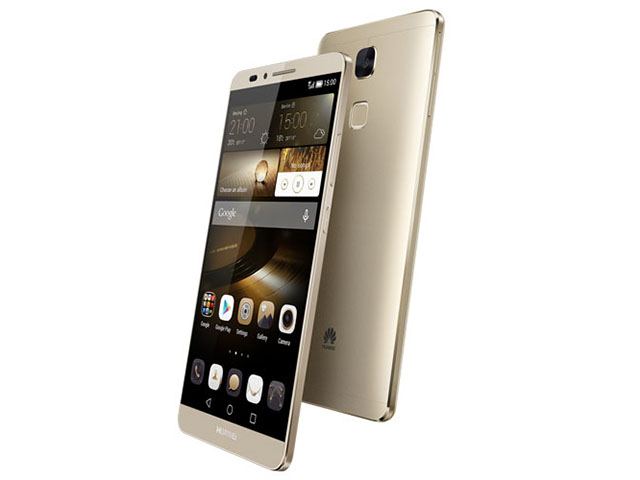 Might is right
This size though, does lend the Mate7 its own strengths, able to be used as a one handed, smaller tablet (and can seriously make one consider ditching their older 7" tablet in its favour). It very capably caters to watching movies, browsing the web and playing games, roundly helped by the loud and clear speakers that are onboard.
Its display is certainly up to the task, boasting a sharp 1920x1080 resolution screen, and its 368 pixel density makes such use a pleasure. However, the smaller screens on its nearest competition, do make a difference. The 5.7" Note 4, for example, boasts 515 ppi, while the 5.5" iPhone 6 Plus boasts a pixel density of 401 ppi and the same sized LG Flex 2 offers 403 ppi. That being said, the Mate7's screen still looks terrific, with great contrast and rich colours.
This is matched by some top notch specs; powering it is Huawei's own Kirin 925 CPU, consisting of a quad-core 1.8 GHz quad-core and a quad-core 1.3 GHz chipset. As for memory and storage, that is a bit more complicated. The standard version of the device, and the one reviewed here, offers 2 GB or memory and 16 GB of storage (expandable via microSD card) but the premium version, which is golden in colour, one-ups that with 3 GB of memory, 32 GB of storage and a dual SIM capability.
As for its performance, I was roundly impressed. Not only is the smartphone fast and responsive in use, it dished up some impressive benchmarks, scoring 43 384 in AnTuTu, clearly indicating this is a high end device capable of delivering the goods when it comes to productivity and gaming alike.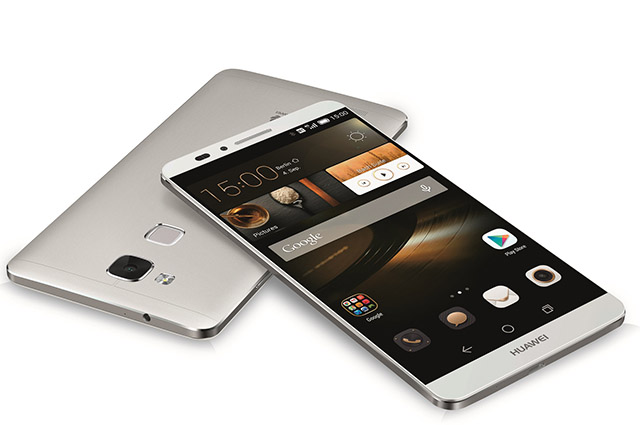 Stand up and stand out
Being a good, even great phablet these days is no longer the accomplishment it used to be – there are a number of choices on the market that similarly can claim that. However, the Mate7 stands out in two regards. The first, is the strength of its camera, which brings a whopping 13 megapixels back snapper, and a high end 8 megapixels front snapper (for the selfie crowd) to your fingers.
Secondly, is the accuracy of the smartphone's fingerprint reader, located just beneath the rear camera. It's larger and more comfortable than the one found on the Note 4, and it also can be used to power up the device from rest, or trigger the camera (which works like a charm and I wish was a feature more smartphones could claim). Thankfully, this requires a slightly firmer press, which means you dont end up inadvertantly taking numerous photos of your feet or shoes.
However, a use where its sensitivity particularly comes into play is if you are monitoring your heartbeat using one of the freely available apps, a boon for those engaged in exercise and activity and using their resting heart rate to monitor their fitness levels.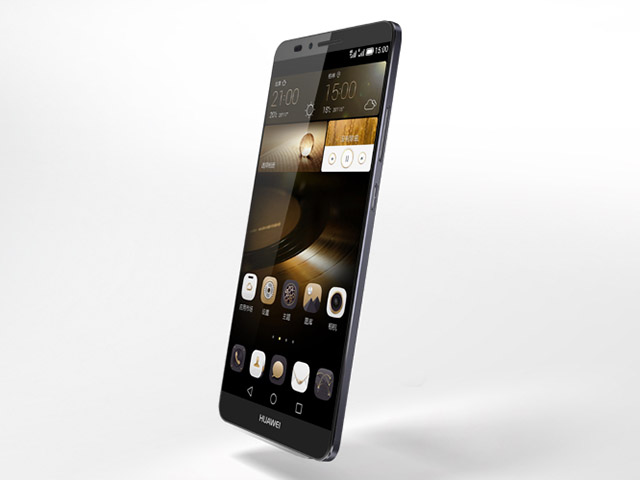 Power up
One look at that giant screen and you expect that it alone would chew through the battery faster than you can blink. Thankfully though, this is not the case, as the phone sports an almost equally large 4100 mAh battery - significantly larger than the Note 4's 3 220 mAh, which provides it with very good staying power, lasting well in general use for a good two days before it needed to be recharged.
The one and perhaps only area where I suspect Huawei has missed the boat a bit is in not equipping the Mate7 with a stylus as so many other manufacturers have. Had it done so, and perhaps packed in some good writing/drawing apps, then Samsung's Note 4 would have had a serious fight on its hands.
Even so, I dare say the Ascend Mate7 is Huawei's best smartphone/phablet to date. It's sophisticated, beautiful, and a pleasure to use. As mentioned, its performance doesn't disappoint, and some nifty features help it stand out from the crowd. It has an RRP of R9 300.

Beautiful screen, Elegant Design

Very large, not quite portable