Generally speaking, the Note range has been the pioneer of Samsung's smartphone offerings, going bigger and bolder where other smartphone angels have feared to tread. The phablets have not been afraid to sport larger screens, bring the stylus back and pitch themselves at a tablet-competing price. In some ways the Note 5 continues this tradition, in others the phablet, seems to abandon it.
This is reason that the Notes, at least for me, have stood out from the same-ol' same-ol offerings out there and thus I was keen to get some time with the newest Galaxy Note 5. Alas, while each successive Note in the phablet range has superseded the previous one, leaving me hankering for an upgrade, I cannot say the same is true here. The main reason is that it doesn't bring enough of a step up from the Note 4, which incidentally is still my favourite smartphone available today.
Paradoxically, that's not because the Note 5 is a bad device, it's not at all. In fact, this is possibly one of the best built smartphones from Samsung, at least from a materials point of view, that I have had the pleasure of holding.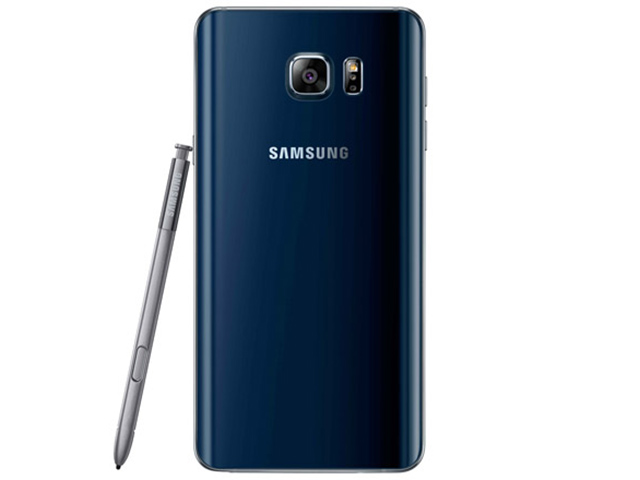 Made of stronger stuff
That all too familiar plastic feel is nowhere to be found. Instead, the device is 171 grams of solid aluminium and glass, in the same vein as the S6, albeit with a 5.7" display. The fact that the Note 5 is a solid slab (no removable battery) also means you don't have a thin removable cover to contend with. There is one caveat though, and that is the phone's back surface is particularly smooth. Combined with its slimmer size (and thus offering less of grip) I found it was more prone to slide out of my hands. Consider a decent cover to protect it a must have.
Even as the Note 5 has certainly been refined, at the same time in some ways it doesn't feel like a phablet at all. For starters, the phone has shaved considerable millimetres off its sides, lending it more of a candybar look and feel.
Now, clearly this will have its appeal to a large group of smartphone users who eschew larger devices in favour of those that can more comfortably fit in a pocket. However, for those whose main motivation is to write or draw on the screen using the stylus, I found this felt more cramped than it has on any of its predecessors.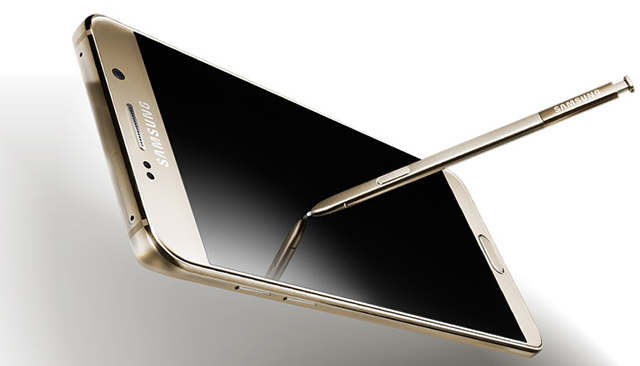 Stylus with substance
This is really a pity, because the stylus itself has never been better, more solid and grippable, less like an evolved toothpick and more like a smaller version of the stylus found on the high end Wacom tablets. While you certainly can use the stylus to sketch, draw and digitally paint, if you have worked on previous Notes, you do realise that you are missing out on some precious screen real estate.
Another change is that the stylus is more discretely tucked away in the body of the phone. Rather than a notch that allows you to remove it quickly, on the Note 5 this relies on a press and release mechanism. Pressing on the stylus exposes a small notch on its base, under which you hook your fingernail to remove the stylus completely.
It is, to be frank, less convenient and accessible than the standard release method used on the Note 4 and the Note 3 before it, and one I found to be a minor nuisance. On the plus side though, the redesigned stylus can now slot into its groove any way you try slide it in, which is a plus. It's also, as previously mentioned, a pleasure to hold when you do use it, while its sensitivity is superb.
Perhaps the most notable (no pun intended) and useful new feature on this front is the ability to remove the stylus and jot down a note when the phone's screen is off. Another very nifty feature is the Air Command menu, which shows up when you remove the stylus. Here you can select from Action memo, Smart select, Screen write (by default) and add up to three of your own program shortcuts. These incidentally don't have to necessarily be stylus related, as I chose Autodesk Sketchbook, Chrome and Voice Recorder apps to be within easy reach.
Now for something completely different
As Samsung has ditched the removable cover, inserting a SIM card is a different affair than before, requiring you to use the included tool (or a safety pin in a pinch) to open the cover for the SIM card. Personally, it's not my favourite means of installation, although if you don't SIM swap often it's shouldn't present much of a hassle.
What you don't get here though is expandable storage, as there is, for the first time ever on the Note range, no microSD slot. It's a move though that will be familiar to Galaxy S6 users. The only reason I can fathom for this decision is to keep the unibody design as intact as possible, but in 2015 depriving users of expanding their storage space, which is always a plus if they intend loading their device with plenty of content, is an inexplicable step back for me. Instead, you need to contend with whichever capacity version you go for (32 GB or 64 GB).
Screen time
Having said all of that, the Note 5, which runs on Android 5.1, has its really strong points, namely a beautiful screen, and terrific performance. On the former, you get a 2560x1440 pixels (518 ppi) display which makes whatever you view on it pop with clarity and vibrancy.
With regards to performance, it's fantastic. This was not just born out by general use, with the device flying through anything I could throw at it, treating it more like a tablet which I expect to do everything rather than a phone. It was also shown in the benchmarks, scoring a stellar 68 756 in AnTuTu. While this falls shy of the Galaxy S6's (review) score of 71 022, it far supersedes the stil very good Huawei P8, which delivered 44 108.
This is thanks to the octacore 64 bit processor, clocked at 2.1 GHz, and consisting of an 4x A57 and 4x A53, aided by a very healthy dollop of 4 GB of memory. As has become par for the course, the onboard 16 megapixel camera is particularly strong, and I found it coped admirably well with a variety of light.
Of wishes and wallets
There can be no doubt that the Note 5 is a very strong device in its own right, it's just not a groundbreaking one. Personally, I would have loved it if the phablet took a bolder, brasher direction and broached the 6" mark, especially considering the brilliance of its screen and how refined its S-Pen functionality has now become.
Nonetheless for those seeking a sleek top tier smartphone with stylus functionality, and if you can stomach the steep R14 000 price without choking, then this may be the 'droid you were looking for.

Superb build, Redesigned S-Pen, Beautiful screen

No internal storage, Smaller in width, Slippery