ALSO READ:
Samsung Galaxy S6 edge Review
Cell C big on data with Galaxy S6 deals
HTC One M9 Review
Whenever I review a new flagship Android device, I often use the Samsung Galaxy S III as benchmark. When it was released in 2012, it set the pace as far as smartphones were concerned, particularly Android OS sporting ones, and marked the first time Samsung claimed the Android flagship throne, in my opinion.
Since then however, follow-up Galaxy S series devices failed to completely live up to the expectation, and did not have the premium feel that flagship users desired. The same can easily be said of the Galaxy S5 (review), which felt far cheaper than it actually should, even though the quality of its internal components delivered.
Multiple influences
Now in 2015, it appears as if Samsung has set the record straight with the Galaxy S6, a beautiful combination of glass and metal that shows a clear change in design philosophy from the South Korean manufacturer. Every inch of the device feels more measured and considered than before, and although it is not uniquely styled, it feels like a flagship truly should.
From a design perspective, the S6 does not look like a solely Samsung device. There are bits and pieces from all manner of flagships, and three in particular according to my eye. There's the glass back and camera from the Galaxy Note 4, angular aluminium side edges from the Sony Xperia Z3 (review), and curved bottom and top edges from the iPhone 6. For now though, the S6 is certainly one of the better looking smartphones out there, with the only eyesore being the primary camera that juts out from the rear.
Apart from being far more eye catching, the new glass back makes the S6 a tad less tactile to the touch, which leads to it slipping from time to time and could present an issue for users with smaller hands. As such, the edges on the either side of the aluminium frame play a more than superficial role, as one's fingers can sit comfortably around them.
Flagship heart
The improved design of the S6 is certainly what will draw users in, but the performance of its internal components is what will keep them hooked. When it comes to processing power and camera quality, the Galaxy S smartphone range has always been superb, but the S6 pushes those limits even further.
Just like many of its flagship compatriots of late, the S6 features an octa-core setup. One change however is that the S6 is only available in an Exynos 7420 chipset offering (as previous devices had both Exynos and Snapdragon options).
This octa-core is split between two quad-core Cortex A-53 and A-57 CPUs, clocked at 1.5 GHz and 2.1 GHz. Also added for good measure is 3 GB of RAM, as well as 32 GB or 64 GB onboard storage variants. During benchmarking, the S6 surprised, recording a mammoth 71 022 on AnTuTu v5.7, with the HTC One M9 (review) being the closest score at 53 429.
Powering the Galaxy S6 will reveal one of its greatest additions, or rather much needed omissions, as a clean and simple Android 5.0.2 (Lollipop) OS makes the UI far easier to come to grips with. Gone is the often unnecessary and unused Galaxy bloatware, instead replaced by two simple Essentials tiles located on the second screen.
Thanks to the aforementioned chipset and RAM, swiping between screens and switching from app to app is easily taken care of, and the S6 truly thrives as a multitasking tool. With the ability to handle both work and play with relative ease, the S6 can deliver on almost any mobile task or need users will demand.
Multimedia wonder
As you run through the Galaxy S6's spec sheet, a few things stand out. One is the 5.1" Super Amoled screen that registers at a resounding 577 ppi pixel density, which should put all LG G3 (review) users in their place. As such, everything that comes up on the S6's screen is sharp and luminescent, and videos in particular look fantastic on the S6. Games and highly detailed apps too look rich, and the S6 proves an amazing multimedia tool.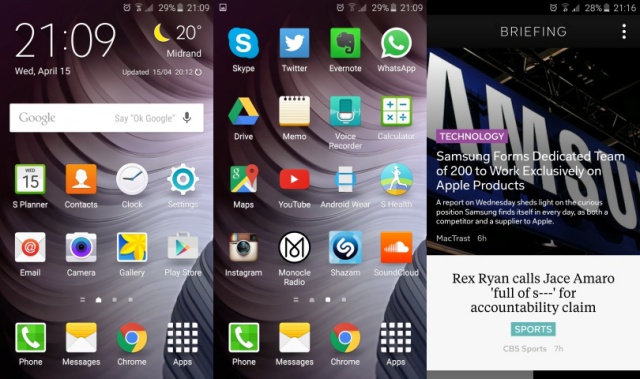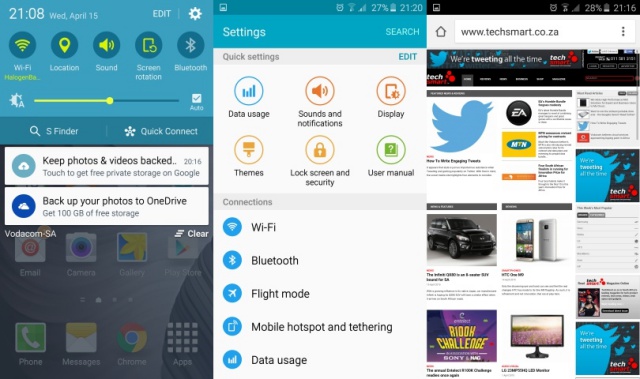 Along with a class leading display, the Galaxy S6 sports an enviable 16 MP camera (2988 x 5312 pixels). The S5 had a very good one that snap images quickly thanks to a rapid autofocus. This new one features the same level of autofocus, with optical image stabilisation added as well to make the S6's camera one of the best out there at the moment.
The S6 is stellar when shooting outdoors, capturing all the nuance that Instagrammers and smartphone photogs will need. Although not perfect indoors or in low light conditions, the S6 is better than most, as the 16 MP lens pulls in more light than other cameras. This effect makes more content visible, but sometimes leaves a slightly grainy image, especially when zooming.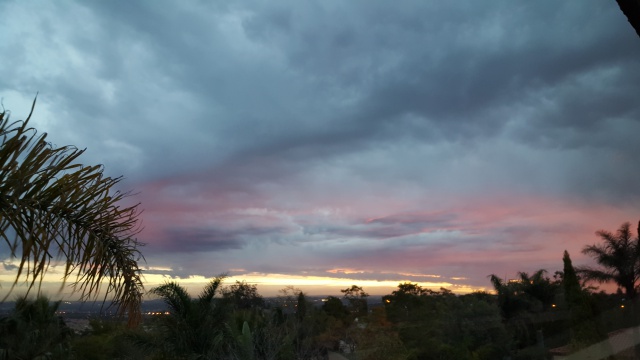 Sample Image.
Final verdict
With previous Galaxy S range flagships (like the S4 and S5), Samsung's position as the King of Androids could always be brought into, with competitors like the LG G3 and HTC One (M8) infringing on its turf.
Now with the S6, such issues are well put to rest as Samsung's newest offering raises the bar in every aspect. Right now, there is no other smartphone that can compete against the S6, on both a specs and overall performance level. When you add to the mix its 2600 mAh battery with fast charging function and newly improved fingerprint sensor, the S6 has been truly overhauled.
Priced at R12 000 for the 32 GB option, the Galaxy S6 is by no means cheap. Neither was its predecessor at R11 000, but no longer will issues of a plastic heavy design or inferior quality build come up with the S6. There are certainly less expensive flagships out there, but none at the moment can perform on the level that the Galaxy S6 can.

Solid build quality and premium feel; Processing powerhouse; Quick snapping camera

Good design marred by camera protrusion; A tad expensive for some