Expectation. It is a word that underpins any flagship smartphone release, and when HTC informed the world that it would be unveiling its follow up to the immensely impressive One (M8) (review) at MWC 2015 in March, expectations were naturally high. Along with trying to outdo the One (M8), HTC's latest flagship would also be debuted on the same day as Samsung's S6 and S6 edge.
Unfair comparisons
When compared to Samsung's latest glass and metal flagships, the One M9 got some early criticism for playing it safe in the design and component stakes. So much so that a writer at one the US' top tech sites dubbed it the "most beautiful disappointment".
We were a big fans of the One (M8), so much so that we gave it top spot in our Top 5 Smartphones of 2014 list. Few devices could outperform the One (M8) from a processing perspective, and its looks alone were reason enough to buy it. The One M9's style is very much the same, with a beautifully milled piece of aluminium used for the rear, complete with solid construction worthy of a flagship device. Where its predecessor had more of a brushed finish, the One M9 features a polished one, as well as a gold and silver jewel tone colouring that changes depending on light and viewing angle.
Perhaps criticised for looking too similar (to which I'd have to agree), the One M9 is still an undeniably handsome device. So much so that its only real competition in the looks stakes are the aforementioned S6 and S6 edge smartphones.
Along with looking great, the One M9 feels great in hand, and weighs in at 157 g. That may only be 3 grams less than its forebear, but the One M9 does feel significantly lighter. HTC has also made some subtle bodywork changes too, as the power button has shifted from the top of the device, to the side just below the volume keys. It is an understated but important change, as the 5" frame of the One M9 would make power button difficult to reach, if it remained atop, as it does with the One (M8).
Pros and Cons
One of the other more superficial changes can be found on the rear, as the round camera enclosure is replaced by a square one. HTC's strange Ultrapixel duo camera setup is also done away with, as HTC has opted for a straight 20.7 MP version. The 20.7 MP is great to use outdoors, with a quick autofocus. Trying to shoot indoors however yields a wholly different result, as images look far duller than they really should. That being said, when weighed up against the shooting capabilities of its predecessor, the One M9 just inches in front.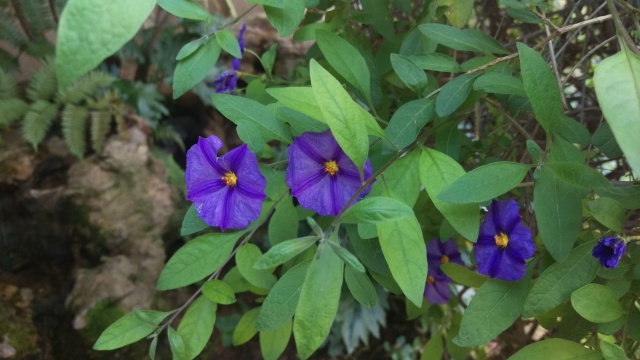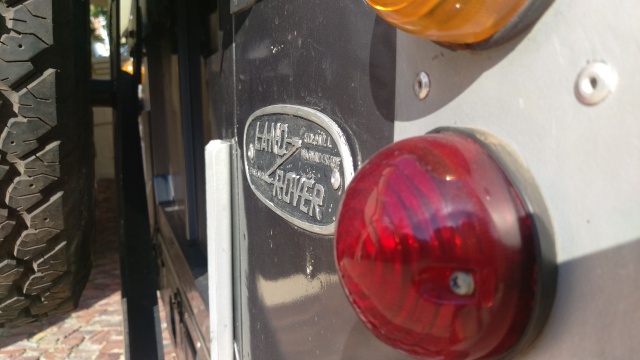 Sample Images.
Although the camera underwhelms slightly, the internal components do anything but. Inside the One M9, HTC has gone for a octa-core Qualcomm Snapdragon 810 processor setup. This pairs a quad-core Cortex-A53 and quad-core Cortex A57 chipset together, with each clocking in at 1.5 GHz and 2 GHz respectively. Added to this is 3 GB of RAM, and the results during benchmarking were both impressive and surprising. I say surprising, as it outperformed every other smartphone I've reviewed to date. On AnTuTu (v5.6.2) it registered an overall score of 53425, which is higher than Motorola Moto X (review) and Samsung Galaxy Note 4. I'm yet to benchmark the Galaxy S6, but for now, the One M9 is king of the Android benchmarks. This processing powerhouse does have one flaw though, as it does tend to heat up substantially when doing some heavy duty multitasking.
Equally impressive is the One M9's display, 5" super LCD3 screen (1080x1920) in this case, which registers a more than adequate 441 ppi pixel density. As such, watching videos and gaming went down a treat, as the One M9's screen remained bright and vivid throughout. The large 5" screen also makes viewing e-mails, documents and messages far better, as more content is displayed with less need for scrolling flicks of one's thumb.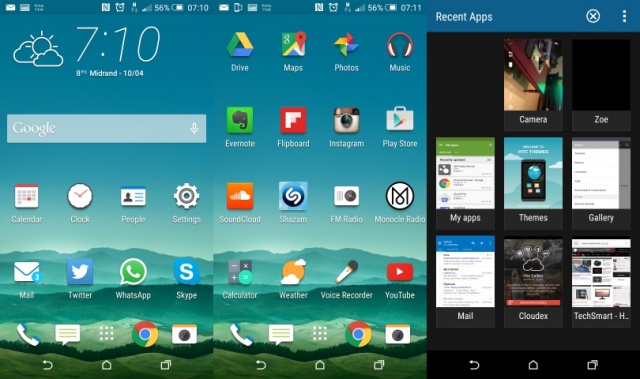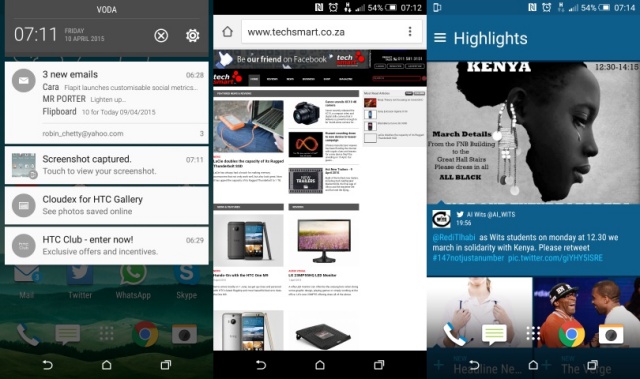 The One M9 is solid in many respects, but one area that it fails to impress with is battery life, which felt a little erratic. During the first two days of my review for example, the One M9 seemed to run out of juice fairly quickly, requiring a visit to the charging cable before my work day (5 PM) was done. Following that though, it seemed to perform slightly better, with a full charge serving up a solid day's use. If you do however find yourself in a bind with no power point or battery pack in sight, the One M9 features HTC's power saver mode, which shuts down unnecessary apps. Furthermore there is also an extreme power saver mode that essentially turns it into a feature phone, with phone calls, messages, e-mails and the calculator on hand.
Final Verdict
That the One M9 is a great smartphone, there is clearly no doubt of. The problem is that it shows no real signs of pushing the envelope, something that its predecessor the One (M8) did last year, and Samsung has done with its new flagships.
When you place the One M9 next to the likes of the Galaxy S6 and iPhone 6, the lack of new features become glaringly obvious, like a fingerprint reader for example. For now, the One M9 will appeal to a very particular kind of user - one that is looking to purchase their first flagship device, or has not used the One (M8) before.
All in all, the One M9 ticks all the necessary flagship boxes, and when it officially arrives on 1 June locally it will be one of the best smartphones on the market. The question is whether it can cope with growing pressure from the likes of Samsung and LG within the slugfest that is the flagship market. At the moment pricing for the One M9 is not listed, but we expect HTC to bring it in around the R9 000 mark.

Well constructed with beautiful design; Powerful processing and multitasking

Heats up under heavy use; Doesn't feel like enough of a step forward