The Sony SmartWatch 2 is the Japanese firm's 3rd generation smartwatch. Does all that experience translate into the best smartwatch on the market?
Although the watch is quite fetching, it does not quite feel as slick or premium in hand as the Samsung Galaxy Gear (review). Sony opted for a blockish Xperia-inspired design for its timepiece that blends glass, aluminium, and glossy black plastic into one stylish timepiece.
The SmartWatch 2 fits comfortably on your wrist thanks to the easily adjustable silicone strap. If a more stylish strap is required for those occasions when you abandon the t-shirt and jeans look for business wear, then you can always opt for the metal strapped version instead for R100 extra.
Second screen symbioses
In order to begin using the SmartWatch 2, you have to download Sony's Smart Connect application from Google's Play Store on your smartphone. Once done, you simply pair the watch with your smartphone via NFC/Bluetooth, and you're ready to go.
Unlike the Galaxy Gear, the SmartWatch 2 works with a plethora of Android-powered smartphones rather than being limited to a few Xperia devices. Any mobile device running on Android 4.0 (Ice Cream Sandwich) or better is compatible and we had no issues using the SmartWatch 2 with our HTC One mini (review).
Like with every other smartwatch currently available, the SmartWatch 2 acts as a second screen for your smartphone, and displays notifications, received email, SMS and the like, which you can read on the watch.
You can take things a step further by replying to missed calls or a received SMS via the SmartWatch 2. This is done by using a preset template message such as "I'm busy at the moment, I'll call you back later" with users adding, deleting or editing these preset messages via the Smart Connect app.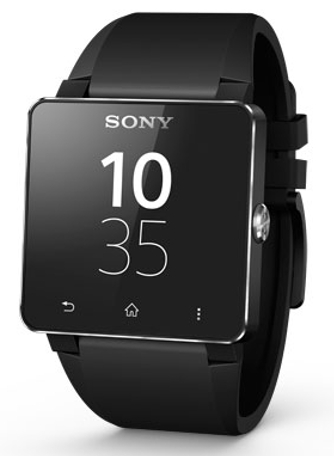 Whilst its not quite as much a headturner as the Galaxy Gear, Sony's SmartWatch 2 gets plenty of glances thanks to its quirky square styling.
Displaying some screen innovation
Notifications are displayed on the SmartWatch 2's 1.6" (220 x 176; 176 ppi) LCD, which is no match for the Gear's 1.63" (320 x 320) Super AMOLED and its superior 277 pixel density. Sony's SmartWatch 2's screen does offer better readability in direct sunlight though and happens to be water-resistant (IP57).
Actually splash proof would be a better term for it, since you cannot jump into the pool or take a shower whilst wearing the wristwatch, but if you happen to be caught unawares in a highveld downpour then protecting the display need not be an immediate concern.
We like the fact that the SmartWatch 2's screen by default,= displays the time, with users having to access the device's menu system by pressing the power key. By comparison, the Gear only displayed the time if you performed a flick motion with your wrist, which we found a tiny bit bothersome since the primary task of any wristwatch (smart or none) is to inform the wearer what time it is.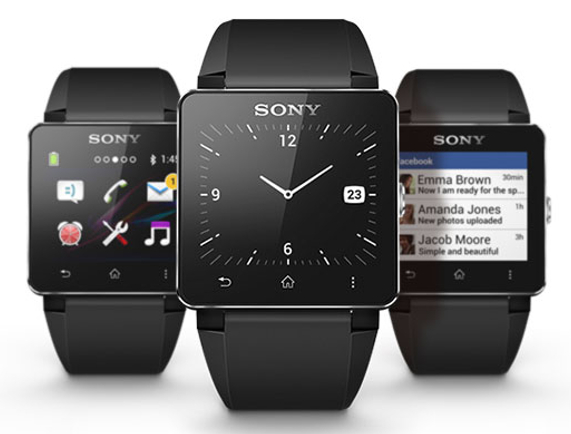 The SmartWatch 2 is a well-rounded device but it is not compelling enough to make us want to go out and buy one.
Limitations as compared to the Gear
Where the Samsung Gear has a leg up on the SmartWatch 2 and most other smartwatches for that matter is with its camera, built-in microphones and speaker. This means that users cannot make or answer calls from the SmartWatch 2 or capture photos or videos either.
You are limited to initiating calls via the smartwatch, by using an on-screen dialler or contacts section within the Call handling app of the device. As with the Gear, the SmartWatch 2 does not pack built-in GPS, so it won't track your morning run sans the smartphone.
The number of available applications for the SmartWatch 2 pales in comparison to today's smartphone app front selections, but it is a lot less limiting when compared to the Gear. We did expect this however as this is Sony's third generation device. You will find the official Gmail, Twitter, and Facebook applications, which are installed on the watch using the Smart Connect app on your smartphone.
Battery life is also an issue with the SmartWatch 2, but we managed to get two full days worth of usage from the device, far less than the 3-4 days claimed by Sony. However, this was better than what the Gear offered since we did not have to switch the SmartWatch 2 off over night to get its battery to last more than one working day.
One issue we did encounter was that the device did not warn us when the battery was flat and simply froze when the battery ran out, requiring a restart after it had been recharged.
The smartwatch to get this Xmas?
Sony's SmartWatch 2 does not sport quite the same premium look and feel that comes standard on the Galaxy Gear, nor does it boast the calling or camera features you get on Samsung's smartwatch. However, it is waterproof (sort of), delivers better battery life and offer a superior app selection compared to any wearable tech rival.
More importantly though is that the SmartWatch 2 works with a wealth of Android devices and costs half (R2 300) of the Gear's extravagant R4 600 asking price. If your request for a smartwatch is already at Santa, make sure he brings you the SmartWatch 2, since it is the most well-rounded offering available.

Competitively priced against rivals; stylish quirky square design; splash proof display; and has opened an app gap compared to competiting devices.

No standout, must-buy feature; and no Dick Tracy style voice calling/answering abilities.