I thoroughly enjoyed LG's G5 (review), perhaps more for the awesome extra wide-angle camera lens than for anything else. The new V20 takes this dual-camera setup, pumps it into a body housing a massive 5.7" screen, in the processes also bumping up a number of specs. Basically, if you're still a bit sour that the Note 7 blew up, and not interested in Huawei's Mate 7 phablet (review), the V20 is the phone to seriously investigate.
Perhaps to start with what the V20 does not include. There's no curved screen, no stylus, no dual-SIM setup, it's not waterproof and there's no wireless charging, but for the rest this phone has got it all.
Screen and another
First up would be the tantalising 5.7" IPS LCD screen. With a pixels per inch of about 513, it shoots up the ranking just below the S7 Edge (534 ppi), with the Sony Xperia Z5 Premium's ludicrous 806 ppi still on top. It is made from Corning Gorilla Glass 4, so should be able to deal with scratches quite well.
5.7" is a lot of real-estate and certainly adds a bit of bulk to your pockets. It sits nicely in hand though and at 7.5 mm thick it handled nicely, coming in 0.2mm thinner than the S7 Edge.
What LG adds which is quite unique is a 'second screen' right about your main screen, much like its V10 predecessor. This 2.1" rectangle (160 x 1040 pixels) is not large, but comes in useful and not just because it provides an always-on method to check your time. This screen can be set to display certain content when the main screen is on or off. While your main screen is off, this little one will show certain quick tools (Wi-Fi, torch, sound profile, etc.), regular notifications and a signature. When the main one is on, there are up to seven different setups that can be selected, including the ability to control your music player, a list of quick contact dials, five app shortcuts, or, the one I found quite useful, your five most recently used apps.
I used this little second screen surprisingly often, and missed it quite a bit when I returned to another phone.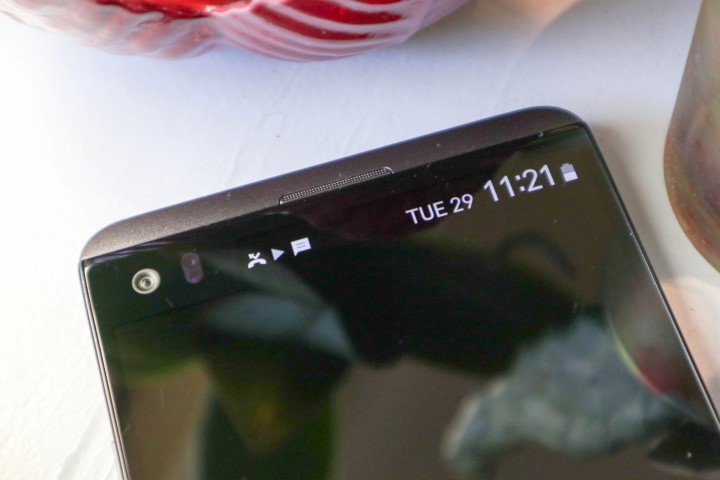 Design
If you were looking for a sweet unibody design, you're not going to get it from the V20. Instead, mostly because they decided to include a removeable battery, you will find a back cover that needs to be open from the side - quite an uncommon site these days.
This comes with both pros and cons - good because you can carry a spare in case of emergency, or at least you can replace the battery if it starts underperforming in a few years' time (as if you would not have upgraded by then). However, the body is not waterproof like some in Sony and Samsung's line-up. Mind you, if the reason for the Note 7's problems were caused by explosive batteries, I'm sure Samsung wished it still had removeable batteries like the good old days.
Talking of which, the 3200 mAh battery is set to last you a day, depending on use. It's not the best usage we've seen, nor the worst, but if it comes to the top of range phones it plays in the bottom half.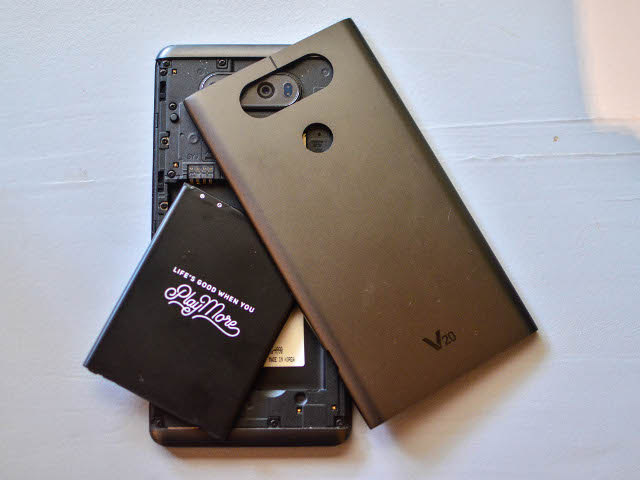 Join the Nougat train
Android aficionados will be happy about 7.0 (Nougat) straight out the box, and while LG's user interface is noticeable (LG UX 5.0), it does not hinder. My review model came with almost no bloatware, with the LG apps (LG Health, QuickRemote, etc.) all neatly place in a folder. One of the most likeable part of LG's setup is KnockON where you tap to unlock, with a fingerprint scanner at the back also able to serve the function.
The LG V20 is not modular like its G5 sibling, but still works with LG's Friends, a marketing term they use for all the accessories available for their products. I got to test the H3 by B&O Play earbud headset*, which provides sweet, sweet sound, allowing for some space between the different instruments used and an overall clear sound. It certainly is a premium product, with a price-tag to match (about R2 800).
The V20 also includes Hi-Fi Quad DAC settings, basically converting digital audio signal to analogue once you plug in a headset or speakers. LG notes it provides a crisper and fuller sound, although I suspect you need someone with better ears than mine to really tell the difference between it switched on and off. Having said that, compared to my regular phone, the Xiaomi Mi4, listening to music on the LG was indeed a better experience.
Sound recording is awesome with the V20 thanks to three microphones and a concert recording setup when capturing live music. If you need to get pedantic there is also a custom setting to adjust things like gain. One interesting option is the ability to play back an MP3 and then recording your voice over it. All this is in line with the V20's awesome media creation abilities. PS - the onboard speakers are also quite loud, without resorting to the usual 'tininess'.
Also tested was the 360 Cam*, which offers 360 degree video recording with a press of a button. It saves on microSD card, but then through the LG Friends Manager connects quickly to the phone in order to transfer video. To watch and 'move' through your 360-degree video you would need to download the 360 Cam Manager app. Seeing recordings in 360° is quite amazing, although transferring these files to your phone can take a while.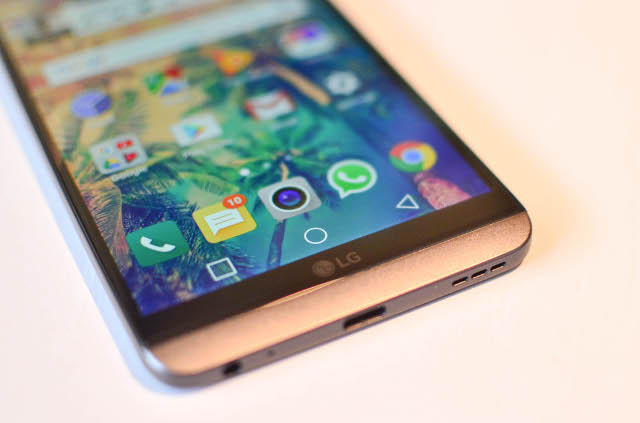 And the beast awakens
Luckily you have a sizeable 64 GB of storage with a microSD card slot for up to 256 GB more. As we've come accustomed to LG's top offerings, the V20 is certainly not underpowered, and taking care here of the nitty gritty is a quad-core Qualcomm MSM8996 Snapdragon 820 (2 x 2.15 GHz, 2 x 1.6 GHz) and a sizeable 4 GB of RAM. First thoughts were that it will be ranking high on Antutu benchmark, but the V20 ended up as our top performing phone of the year, scoring 131 508. It beat out its smaller brother the G5's score of 125 077 and the Samsung S7 Edge's 128 867.
Last but not least comes the dual camera setup, with a regular 16 MP (29mm, f/1.8) and a wide-angle 8 MP (12mm, f/2.4). It's easy to move between the two options, with the wide-angle particularly helpful for landscapes. Furthermore, you have different film type filters to select before shooting, or creative Instagram type ones for post-editing. It's a decent package on offer from LG, with slo-mo and time-lapse options also provided.
If video is more your thing, you'll be impressed by the LG's Steady Record 2.0, which allows for smoother video playback. It works a treat and the 2160p@30fps videos look smart, with an interesting effect achieved when shooting in wide-angle. In all the V20 is one of the best video, stills and audio devices out there.
The best yet?
The more I delved into the LG V20, the more it managed to leave me seriously impressed. It might not be the best-looking phone out there, but in most categories it kicks serious ass. It offers an awesome screen (although some might find it a bit big), some of the best photo and video abilities, an imposing processor and an interesting second screen feature. And here's yet another reason to look into it - it comes with an RRP of R12 000. Truly not bad for what's on offer.
Apart from Google's Pixel XL, which has not appeared in SA yet, the LG V20 is on the inside track for phablet of the year 2016.
*FULL DISCLOSURE. Received as seeding products from LG.

Great processor, second screen a nice-to-have, great dual camera setup

Not the best looking phone, battery life not that great