The Android smartphone market is such that it seems as though almost every week brings with it a new announcement about another Android-based phone offering yet another innovative feature. LG's Optimus 3D, which runs Android 2.2.2 (Froyo, upgradeable in the as yet unconfirmed future to the more current Android 2.3), is one of those. The smartphone's main differentiator, on which it is banking its appeal, is the included 3D display, which does not require glasses and which can capture and display 3D images and video to boot.

However, while this may be its main selling point, and obviously a feature intended to work in its favour, it is not the sole cause of the Optimus 3D's attraction. We have become accustomed to LG producing phones that sit comfortably in hand, with a reassuringly solid build design. The Optimus 3D is no exception to this trend, and while not the thinnest phone on the market, it was not unpleasantly bulky either. At 128.8 x 68 x 11.9 mm and weighing 168 g, the Optimus 3D is substantial enough to make its presence felt in one's hand. However, we never minded that, as the casing is ergonomically curved such that it always felt exceedingly comfortable to hold.

Specs

The Optimus 3D sports a bright and sharp 4.3" 3D LCD capacitive touchscreen, with a resolution of 480 x 800, that while not quite as bright as the Optimus Black, was close enough to be imminently viewable outdoors as well as inside. It further boasts a dual-core 1 GHz ARM Cortex-A9 processor and 512 MB memory, which accounted for a faultless responsiveness when navigating the interface as well as engaging content based apps such as Pulse, 360News, Facebook and Twitter. Internal storage of 8 GB is also included, but this can be expanded by 32 GB with an external microSD card.

Two five megapixel cameras (with resolutions of 2560 x 1920 pixels), autofocus, and a LED flash are also onboard, as is video capture at 1080p at 24 fps when photographing in 2D, or 720 at 30 fps when photographing in 3D. Additionally, the standard four key navigation buttons beneath the screen are capacitive and backlit, which quickly becomes useful when trying to navigate an Android phone in darkness.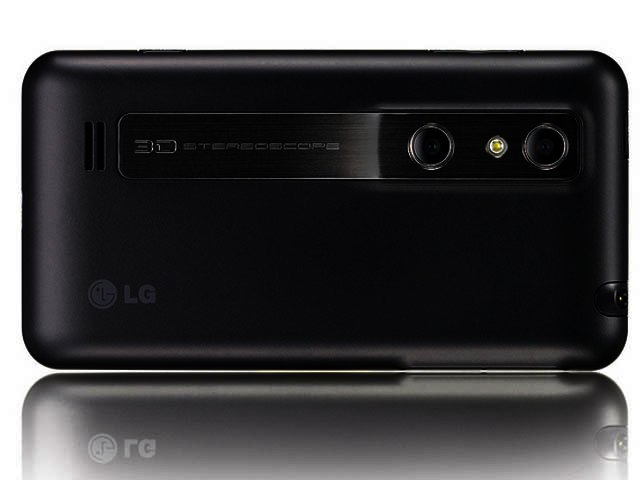 The phone sports dual five megapixel cameras on its back.
On to the 3D

The phone's 3D predilection becomes apparent before one even switches it on, with the presence of not one but two five megapixel cameras less than a few millimeters apart on the back of the phone, next to the tellingly '3D stereoscopic' logo. Upon turning on the phone and engaging its 3D functionality, it was clearly the phone's predominant 'wow factor,' which impressed us and those we showed it to, and was only enhanced by the 4.3" screen. It certainly made us eager to play around with the phone and see what it could offer, which turned out to be quite a lot.

The camera offers a 2D and 3D mode, and when switched to 3D, provides real time 3D preview on the phone's 3D screen of the subject. Additionally, images taken in 3D can be viewed stereoscopically, much like the display found on the Nintendo 3DS, after they have been taken, and 3D images are clearly identified in the phone's image gallery. The quality of both 2D and 3D images were surprisingly good, even when taken indoors in artificial lighting.

However, the phone's 3D functionality is not limited to taking or viewing images; the Optimus 3D also offers the facility to browse certain features in a dedicated three dimensional interface, such as the camera, 3D games and apps, YouTube and the gallery. Additionally, some 3D games are available for purchase through LG's online games store, including Avatar 3D, Real Football 2011 3D, Assassin's Creed 3D and Dungeon Hunter 2 3D amongst others. The phone does come with some games preloaded, including Asphalt 6, Gulliver's Travels, Let's Golf 2 and Nova.

The 3D in the games listed above certainly work exceedingly well. Oddly enough, we found using the 3D in games to be far easier on the eyes than viewing a 3D image straight on, which is a phenomenon we've experienced when playing console games on 3D TVs as well. Even so, the option is there to switch to a traditional 2D view at any point via a dedicated 3D button on the lower right of the phone. Playing Nova - in both 3D and 2D - proved to be enjoyable, and was rendered beautifully on the Optimus 3D's display.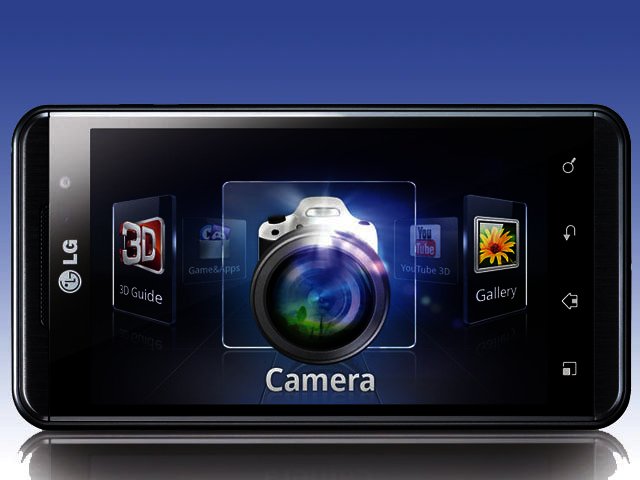 The wow factor of this phone is its ability to capture 3D images and video
YouTube
Another noteworthy feature, and perhaps the most compelling reason to take advantage of the phone's 3D features beyond viewing images or playing games, is that of 3D video recording. Like taking still images, video can be captured in either 2D or 3D, but, if captured in 3D, can be uploaded and shared on a
dedicated 3D YouTube channel.
This is due to a partnership between LG and YouTube, in which the companies jointly collaborated to make sharing 3D content seamless and user friendly, with the Optimus 3D particularly in mind.
Once a 3D video has been captured on the phone, it can be uploaded directly to the 3D channel from the phone's 'share' menu (as well as being shared to Facebook or via email or saved to one's Dropbox). Additionally, video be captured in HD (1280 x 720), VGA (640 x 480) or in a 720 x 480 resolution.
Whether you choose to browse these features in 3D or spend any time with the 3D games on offer is ultimately going to depend on whether you favour 3D viewing, or like some of us here in the office, find it induces nausea and headaches. In fact, LG seems cognisant of this fact, as the company goes in so far as to encourage users to take breaks from using the 3D functionality when it is first engaged. That said, the video functionality alone, and the ability to choose between 2D and 3D at the touch of a button, makes the Optimus 3D a compelling way to capture and more importantly share, one's own 3D content.
Performance
In our Smartbench 2011 scores, the Optimus 3D delivered solid results, scoring 2962 in the productivity index and 2857 in the Games index. While this was not as high as the venerated
Samsung Galaxy S2's
scores of 3990 in the productivity index, it did pull ahead of that same phone's score of 2210 in the Games Index. However, in all fairness, the
Galaxy S2
does boast a dual-core 1.2 GHz ARM Cortex-A9 processor, which accounts for the higher scores. Even so, the Optimus 3D bested the 1 GHZ dual-core
Motorola Atrix's
2797 and 2427 scores for productivity and games respectively.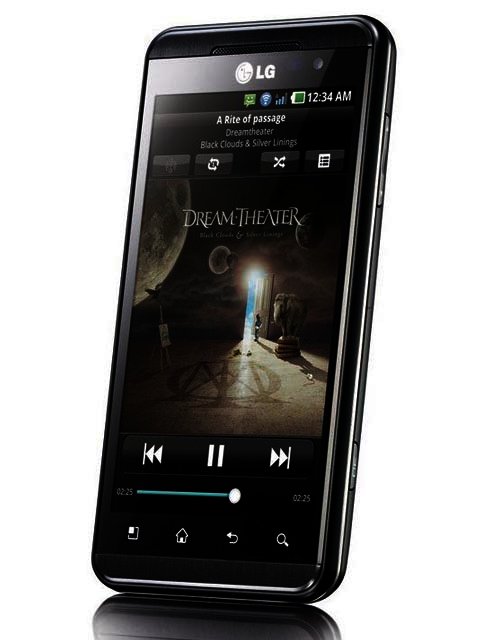 The Optimus 3D offers notable performance

Strengths and weakness

As mentioned, 3D is not the Optimus 3D's only strength. While LG has opted to do little by way of modifying the user interface, this has given the Optimus 3D an instantly recognisable and useable Android experience, while the large, bright and sharp screen made for that much of an enjoyable usage overall. Micro HDMI is onboard, as is Wi-Fi 802.11 b/g/n. The only weakness of what is yet another solid phone in LG's stable, is the LG 3D's battery life.

With the screen set to maximum, taking a few 3D photos and Wi-Fi enabled, the phone's battery reached the half way mark after only three hours, which meant that we had to be more conservative in our use of the phone's features if we wanted the battery to last a full day or longer. This is a pity, because the Optimus 3D certainly lends itself to showing off, but conserving the phone's battery life is essential on the Optimus 3D if you want to avoid making frequent trips to the charger.

Conclusion

The LG Optimus 3D has a number of positives going for it, such as a large, beautiful screen, solid build and noteworthy performance in so far as an Android experience is concerned. While the 3D certainly works, whether one utilises it to its full extent will be determined by one's affinity for - or lack thereof – of 3D displays. Even so, the Optimus 3D is a worthy addition to the Optimus range.

It will retail for R5499, which, while expensive, is a fair price in our opinion, considering the quality of the phone and the range of features on offer. The Optimus 3D's most compelling distinction though, that justifies this price, is the uniqueness of being able to produce and share one's own 3D images and video from the palm of one's hand. This in itself might just be enough to convince even the most die-hard 3D stay-aways to give the Optimus 3D another look.

Pros

Beautiful, large screen
Capable 3D cameras and video functionality, also in 2D
Solid build and ergonomic design

Cons

Sub-par battery life

Beautiful, large screen, Capable 3D cameras and video functionality, also in 2D, Solid build and ergonomic design

Sub-par battery life