Motorola use to make great phones, didn't they? I remember the days (not too long ago I might add), when everybody used that clamshell Razr. But then smartphones happened, and the once great American manufacturer found itself lagging behind the likes of Apple and Samsung.
Fast forward to 2015, and any remnants of Motorola's heritage is all but gone. It's a real shame too, as Motorola's more recent Android-powered devices, like the Moto X (2nd Gen) review, are truly great smartphones, but often get overlooked as they lack any true local presence. Another great device I've encountered is not the flagship variety, but rather Motorola's entry-level Moto E, which has just been released in a second generation iteration.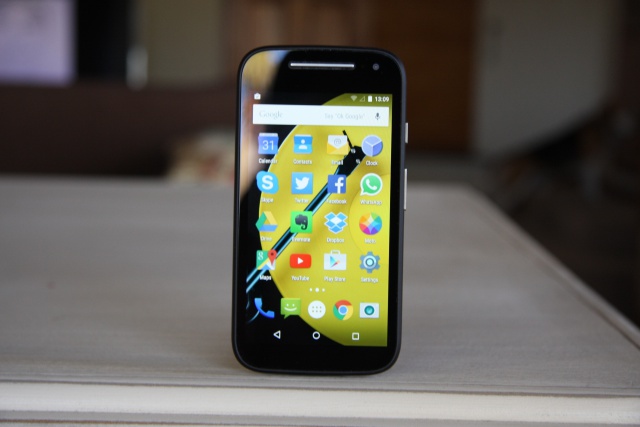 Meeting Demands
While flagship smartphones and higher end mid-range offerings often get the most scrutiny by reviewers and consumers alike, entry-level devices too, are now also getting greater time under the microscope. As such, entry-level users are not simply looking for a great price tag, but also a device that is high powered in its own right, given the disruptive nature of mobility.
This in turn places greater pressure on entry-level smartphones to truly stand out from the pack, and this year, the only noteworthy offering to date has been the Sony Xperia E4 (review). The one major drawback I found with it, was the impending release of a LTE-compatible version, which should debut later this year. Thus, the Moto E seems a better option, as it features said LTE/4G functionality. But that's not all it has going for it, as a few weeks with it reveals a device that is both well designed and equally well equipped at meeting user demands.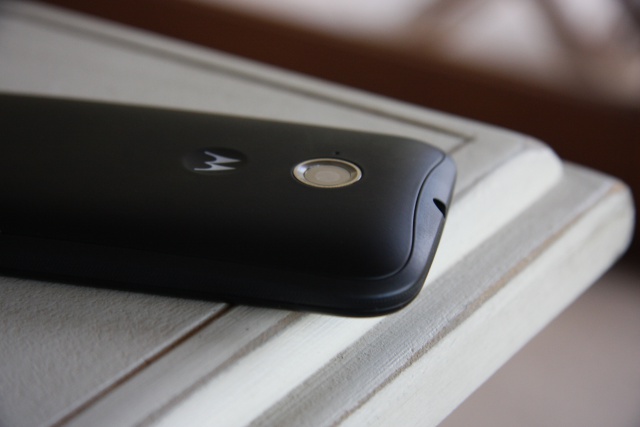 Front and Back
In terms of design, the Moto E has little frills or fuss about it. In fact, those that may have encountered the first generation Moto E will see no discernable difference between the two. For those new to the the device however, the Moto E's plastic ribbed frame is reminiscent of the Moto X, with the same curve on top of the back cover just like its flagship big brother. Added to this, is a matte plastic back cover, which provides a good feel to the touch. Measuring 66.8 mm wide, the Moto E sits neatly in hand, but is a bit weighty at 145 g. That said, it does not make the Moto E unwieldy, as it still feels compact, as a entry-level smartphone should.
Up front, Motorola has gone for a slightly bigger screen for the second generation Moto E, with a 4.5" (540x960) IPS LCD display getting the job done. Although bigger than its predecessor's 4.3" display, the new Moto E has a lower pixel density of 245 ppi, compared to the first gen's 256 ppi. When set to standard or adaptive brightness, the Moto E's screen seems a bit dull, and as such, turning the brightness up is well advised. As a result, the Moto E might not be the best option when it comes to watching content like videos, but gets the job done when viewing pictures and browsing the web.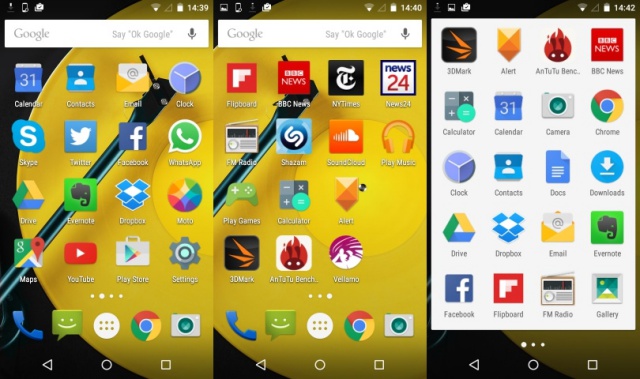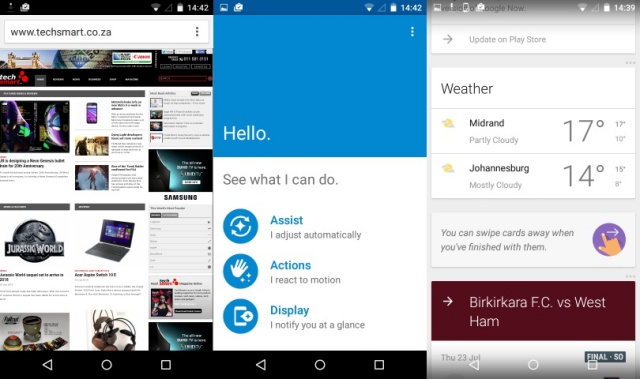 Under the Hood
The second generation Moto E might not be an overwhelming improvement in terms of the screen, despite the increase in size. But the internal components have seen a significant improvement, with the most noticeable upgrade being a quad-core Qualcomm Snapdragon 410 1.2 GHz processor (LTE/4G model only). This is double the amount of cores found in the previous model, with a solid 1 GB of RAM added to the mix as well.
The result is a pretty decent device, capable of multitasking on the fly, and proving a strong aid for users that are aiming to get a lot of things done. To that end, the Moto E performed rather well in benchmarking, achieving a score of 21219 on AnTuTu v5.7.1, which beats the Xperia E4's 19026 score.
The only flaw I found with the Moto E, in terms of processing, is the amount of onboard memory it has. Available exclusively with 8 GB of memory, the Moto E performed far slower when I downloaded a high number of apps. If you couple that with storing pictures as well, getting a microSD card becomes a necessity. To that end, the Moto E features a slot good for an additional 32 GB.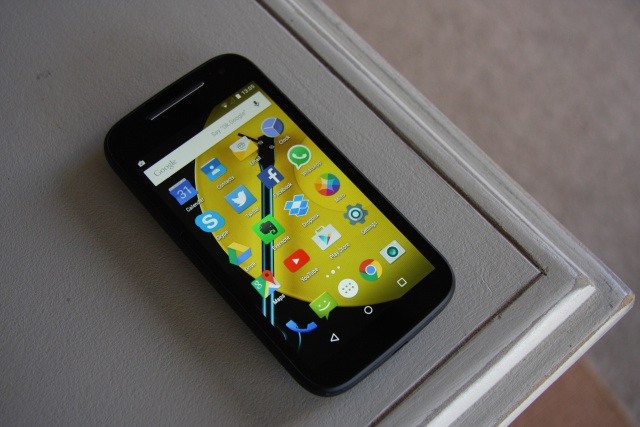 Average Imagery
In terms of cameras, the Moto E is on par with most other entry level offerings, with a 5 MP one taking care of things as the primary means of shooting. As expected with most smartphone cameras of this spec, the Moto E's proves solid while shooting outdoors, and sub-par in low light conditions. If you're aiming to take a few selfies, sports a VGA camera up front, and as a result may not prove the best option for those keen upping the quality of their Instagram pics. All in all however, from an imaging perspective, the Moto E might underwhelm some users, wishing for something a bit more powerful in this regard.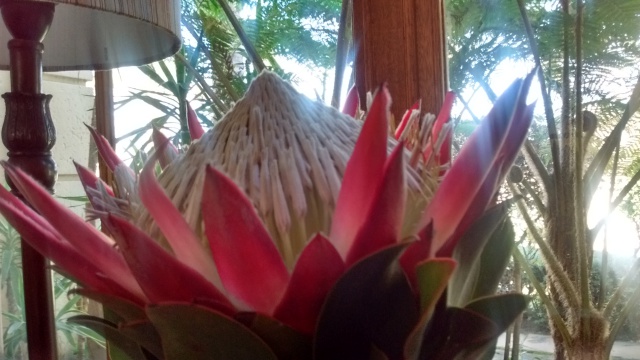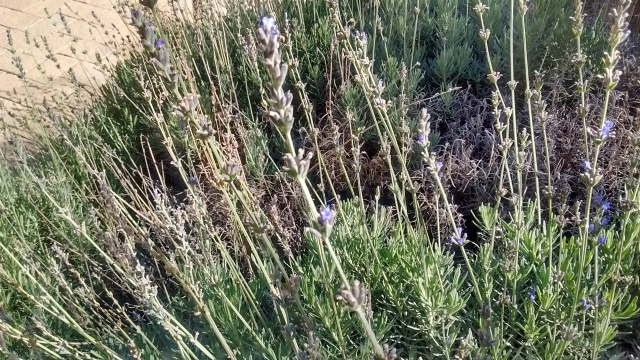 Sample Images.
Final Verdict
For an entry level smartphone that ticks all the right boxes, the Moto E is certainly up there. The one area it may be lacking is in the camera department, but in all other areas in comes up tops, with very few devices out there on the same level as the second generation Moto E. Available from Orange's online store for R2 000, the Moto E is slightly more expensive than than some entry level smartphones, but its build quality and 4G compatibility make it clearly evident where that extra money went.
If you're aiming to make the move from feature to smartphone, then the Moto E one of the best options around, and will give its users a device that will stay technologically relevant for the next 12 months at least.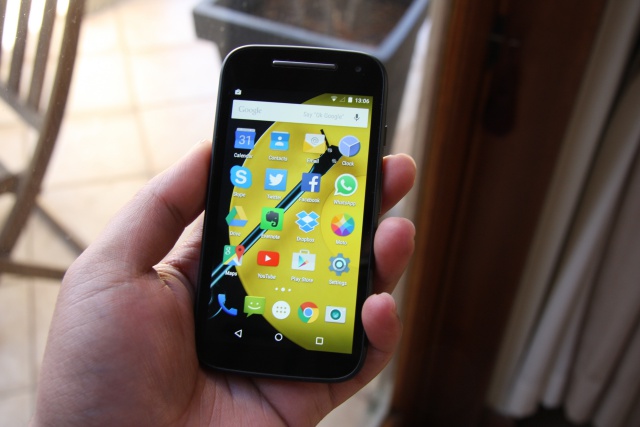 Well constructed compact design; Great battery life; 4G/LTE compatibility

Sub-par front facing camera; Screen a tad dull