The cellphone world is inhabited by a large number of phones that can be grouped into four main form factors. There's the candy bar or classic such as the
BlackBerry Pearl 3G
, touch-screen slab including the
iPhone 4
, slide-out QWERTY models like the
Nokia N97 mini
and the one Motorola themselves made famous, the clamshell models such as the
BlackBerry Style 9670
.
The Motorola Flipout feels a great deal different to other phones running on Android 2.1 (such as the
HTC Legend
), mainly due to it flipping the bird to these more established form factors.
Novel look
Instead of the conventional, it boasts a really compact (67 x 67 x 17 mm, 120 g) and sturdy square pivot design that enables its 2.8" QVGA TFT (320 x 240 pixels) touch-display to rotate, revealing a five-row QWERTY keypad with a separate row for numeric keys underneath. Its diminutive size makes it really comfortable in hand or jean pocket, while Motorola also ups the style stakes by including three additional back covers that will enable you to change its look.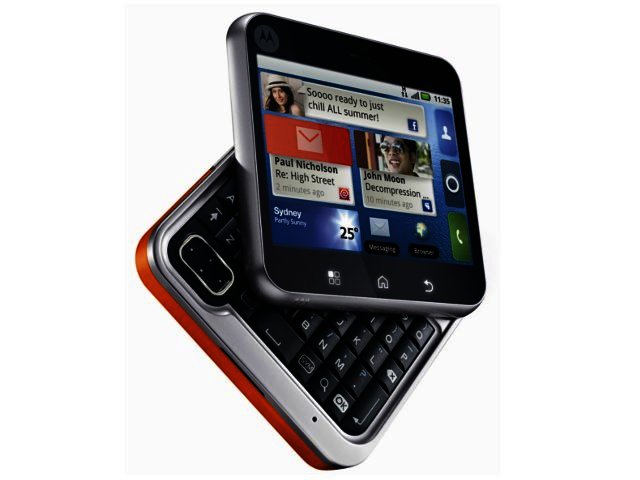 The capacitive display might not be on par with higher-end devices, but it is still a bit smoother to operate than that of the LG Optimus One's. The Optimus' display has a better screen resolution though and thus displays pictures better, plus the Flipout's 2.8" screen real-estate tends to be on the smallish side. This phone's screen is a bit of a fingerprint magnet (pretty standard for most touch-screens) and doesn't offer much in the way of anti-glare protection while you are using the phone in direct sunlight.
We really liked the keyboard which allows for speedier typing on long messages and emails, as well as coming in handy for extended MXit sessions. It's not quite as good or comfortable as the big and separated keys of the much bigger Nokia N97's keyboard, but if you are use to devices with keys that are grouped close together, such asthe BlackBerry Bold 9700, then you won't have any problems.
Underneath the display one finds three Android buttons, namely home, settings and back, which are easily visible thanks to being backlit. Using the Android OS you'll be able to load seven home-screens with your chosen apps and widgets including social networking apps such as Facebook and Twitter, as well as handy Motorola apps such as Sticky note that allows you to make short important notes to remember.
Happy snapper
Another handy app is the provided Kodak Perfect plug-in, enabling you to touch-up (colour and brightness) the otherwise standard quality photos that the phone's three megapixel camera (without a flash) allows you to capture. You can also employ Android's built-in editing functionality featuring some basic editing tools such as photo cropping. Also on board is geo-tagging and a useful gallery (Camera roll) via which you can effortlessly scroll through all the pics and videos that you recorded throughout the day.
A minor issue with the camera is the placement of it on the right shoulder of the phone, meaning you have to be careful how you hold the phone when taking pics, otherwise your finger will be a frequent addition to any photo. You are easily able to zoom in and out of photos using pinch-to-zoom thanks to the device's muti-touch enabling capacitive display.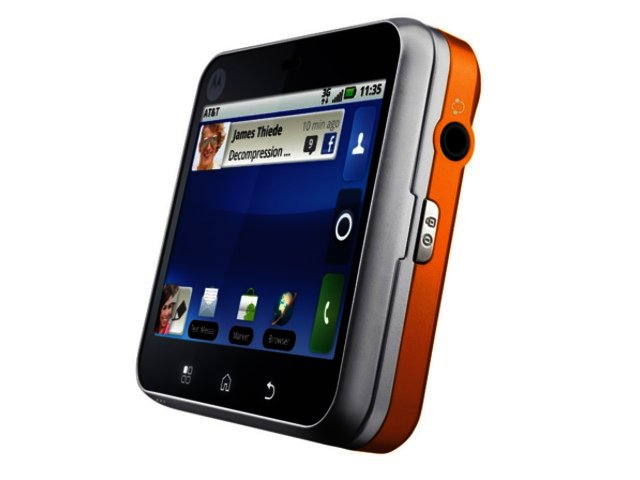 Other features
Motorola has opted to use the TI OMAP3410 600 MHz processor, which along with the included 512 MB RAM makes sure that the OS runs smooth on most fronts, although there can be some noticeable lag on occasion, for instance when you view your photos and vids in the gallery. The Flipout also packs 150 MB of internal storage, which is boosted with the inclusion of a two GB microSD memory card, with the phone's storage space being expandable to up to 32 GB.
The smartphone also boasts easy to set up 802.11n Wi-Fi, a 3.5 mm audio jack, 3G HSDPA, live wallpapers as well as Bluetooth 2.1 with A2DP. Browsing on the web is a so-so affair given the smallish display. Pages load fast while on a 3G connection and it's easy to zoom in and -out using pinch-to-zoom or simply by double-tapping the screen, but like on most smallish phones you have to do a lot of scrolling and zooming (zooming-out to be able to navigate the webpage and zooming-in order to read info on pages).
If you download the Opera mini browser via the Android Marketplace, you'll also be able to make use of tabbed browsing so that you can navigate multiple pages at the same time.
Given the amount of functionality packed into the phone, along with its puny frame, battery life wasn't the best. We averaged about half a day (around 12 hours) with mild usage which isn't that good. You'll even pray (in vain) to reach that average when you go for extended MXit or Wi-Fi sessions.
Final Word
The Flipout brings something different to the party than all the other Android smartphones – an interesting design twist that proved to be actually quite functional. Although battery life and screen resolution could have been better it's still a very decent entry-level smartphone. Using it you'll be in for a lot of attention, since the square form-factor is definitely a talking point. You can get it for a recommended retail price of R2500, putting it in the same price bracket as the
LG Optimus One
and the forthcoming
Huawei IDEOS U8150
.
Pro
Interesting new form-factor, live wallpapers, price point, interchangeable covers.
Con
Noticeable lag here and there, smallish display and poor battery life.

Interesting new form factor, price point, interchangeable covers.

Noticeable lag here and there, smallish display and poor battery life.