Nokia's business targeted
E7
may have already started shipping to destinations around the world, but for business people craving a reliable and competent smartphone that boasts a full QWERTY keyboard, the Finnish manufacturer offers its little brother, the Nokia E5. TechSmart put on a suit and tie to spend some billable hours with this corporate aimed device.
Business ready device
To get the business exec to his business lunches and -meetings on time, the phone sports free drive- and walk navigation via Ovi Maps, which is excellent considering that it's gratis.
As impressive as the Ovi Maps-based navigation is this smartphone's battery life. Seeing that the battery is almost 50% bigger than that of the BlackBerry 8520, it shoots past the normal smartphone average of one day to almost three days with medium usage. This includes making/ receiving calls and messages, chatting sessions, as well as taking pics and recording video.
The smartphone also boasts Quickoffice to be able to view, as well as edit your business documents (Microsoft Word, Excel and PowerPoint) on the go and you can also view PDF documents via the on-board Adobe Reader LE. You'll be able to store documents (as well as music, photos and videos) on the phone's 256 MB internal memory. The latter is expandable to 32 GB using a microSD card (2 GB card included), but the MicroSD cards are not hotswopable, meaning you have to switch off the handset and remove the battery before you can insert the card.
Web browsing is handled via the standard on-board Symbian browser which coupled with the lack of a touch-enabled display makes the whole netsurfing experience feel somewhat outdated. You use the directional keypad to slowly and frustratingly move around pages. There is a nice visually represented page history viewer though, which provides you with snapshots of previously visited pages to scroll through.
Social networking integration
The E5 also pencils in some fun to go with its business functionality. As is the case with the recently reviewed
Nokia C6
, the E5 uses the company's
Symbian Series 60 mobile operating system
(though the older 3rd edition, as opposed to the C6's release 5). Unlike the N6, which offers a Facebook app with no real OS integration, the E5 enables users to connect their Friends' Facebook contacts to their phonebook entries.
This allows you to view your friends' Facebook statuses and profile pics right in your phonebook, which brings the ageing OS in line with functionality that has been on other smartphones such as Research In Motion's (RIM's)
BlackBerry Curve 3G 9300
for a while now.
The first time you start the phone's FB app you get the option to link your contacts to FB which will prompt the device to match your FB contacts with the phonebook entries. Following this you can manually match every new contact you add to the phone with your friend's FB profile, which makes economical sense as you'll be charged for data usage with this functionality, so you want to be able to pick and choose which (and the number) of your friends' data that the smartphone is continually streaming from FB.
Alternatively, you can simply rematch all contacts again at a later stage and you can also choose the timeframe (e.g. hourly or daily) for the phone to update the FB info displayed in your phonebook.
Although we were impressed with the level of Facebook integration that this device features we still prefer the BlackBerry Curve in this regard though. This is because BlackBerry users (with BlackBerry Internet Service or BIS) aren't charged for data usage when it comes to social networking and its Facebook integration offers more functionality such as being able to poke a contact or post to their wall.
Happy snapper
Apart from the proper social networking integration on offer, the E5 also sports a really good camera that utilises a 5 megapixel sensor with LED flash, although there isn't any auto-focus (uses fixed-focus). The camera takes photos that are of a really good quality and offers some additional functionality such as a self-timer and burst mode. The latter allows photos to be captured in six slow (about every second) burst shots.
Doing double duty is the smartphones LED camera flash, which can also be employed as a flashlight by holding down the spacebar on the keyboard in order to provide light in dark places.
Unlike the pics, this phone records videos at a pretty average quality (VGA video at 15 fps) especially compared to more modern devices offering HD-ready (720p) video recording including
Nokia's own N8
.
Design
More modern than the phone's video capturing capabilities is its BlackBerry esque form-factor. Nokia's E5 sports a look and feel similar to that of the
Nokia E72
, just with cheaper but still good quality materials. Its four-row QWERTY keyboard with its raised keys is quite comfortable to use though we liked the larger keys of the N6's wider keyboard better. Webpages and photos display well on the handset's TFT display, given its limited 2.36" size and resolution of 320 x 240 pixels. This said, we still had to use the directional keypad a lot to zoom in and out and move through pages.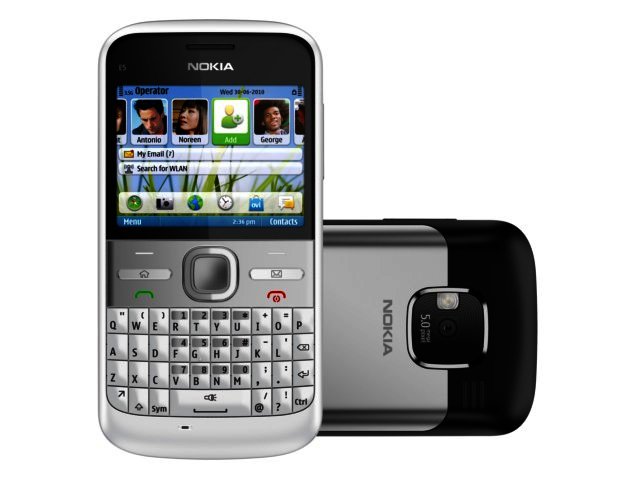 Final Word
Although Symbian Series 60 has long since passed its sell by date (we feel), having proper social networking integration does go some way as to bring it in line with more modern OS platforms. The E5 does feature all the functionality corporate users need, within a stylish package and also offers really good battery life for a smartphone.
It offers better navigational and photo capturing capabilities than the comparable Curve 3G, but having email, chat (BlackBerry Messenger), internet browsing as well as social networking being free on the BlackBerry (with BIS) more than equals the playing field. If you aren't concerned with data charges inflating your phone bill each month, then go for the Nokia E5, otherwise the BlackBerry Curve 3G 9300 should fill your entry-level smartphone vacancy quite nicely.
The recommended retail price of the E5 is R2099.
Pro
User-friendly, social networking integration, really good maps, excellent battery life, good camera.
Con
Outdated OS, memory card isn't hotswopable.

User-friendly, social networking integration, really good maps, excellent battery life, good camera.

Outdated OS, memory card isn't hotswopable, web browsing isn't the best.