As with many phone manufacturers, the move towards Android was Motorola's saving grace, and although they lost a lot of traction here in SA, the new RAZR has ample reasons to turn their fortunes around.
The RAZR is extremely thin, and apart from the slight bump at the top of the phone, its 7.1 mm thick body is significantly thinner than the Samsung Galaxy S II's 8.5 mm. That is if 1.4 mm matters to you. Having said that, the XT910 is both longer and wider than the S II, and it's specifically the extra width that bothers when holding it.
Despite its wafer-thin design we never felt that it might split in two when dealt a blow, while Motorola reinforced the back with Kevlar fibre. The phone is actually protected in two other ways too – Gorilla Glass allows for a scratch resistant screen, while the phone received a splash-proof coating, even for the circuit boards inside.
Stream your PC
So apart from sliding into even the tightest hipster jeans, the Android 2.3.5 running RAZR brings with it another excellent feature – MotoCast. With this you can select folders on your PC which you can remotely access via your phone. Sitting in the office wanting to listen to a track on your home PC? Not a problem, since MotoCast shows you all the music on your home PC, allowing you to stream, or download, it to the phone.
MotoCast is pretty much a hassle free process to set up, with the main deal requiring a Motorola username and password and then selecting the folders you want shared. We were very surprised that this was basically it – soon we streaming movies, music and pics on our device, with the option to download too. A special word of warning is needed though; you go through data faster than matrics through beer on special at Margate, so make sure you are connected to a Wi-Fi network. Your PC also needs be connected to the net.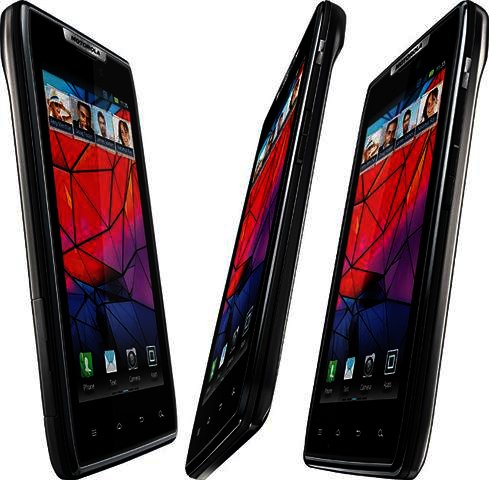 A pack of RAZRs being merry
Screen and performance
Apart from its slim body and MotoCast, the RAZR further boasts a gorgeous 4.3" screen (540 x 960 pixels, 256 ppi) that was a pleasure to watch movies on. Due to the width (68.9 mm) of the device there's quite a large bezel (7.5 mm) round the screen which distracts somewhat from its otherwise good looks.
Motorola did a sterling job with keeping the RAZR up to speed in regards to performance. Its dual-core 1.2 GHz Cortex-A9 showed its worth during benchmarking, where the RAZR moved up the Android smartphone ranks to claim third place behind the
LG Optimus 3D
and the Samsung Galaxy S II (not including the
Galaxy Note
). It scored an impressive 3000 (S II – 3990) on the Smartbench 2011 productivity index, while its 2553 on the gaming index actually tops the S II's 2210 (Optimus 3D – 2857).
Interface and Smart Action
Motorola's interface does not offer much in the way of HTC's excellent Sense UI and here what you see is pretty much what you get. Luckily everything runs very smoothly, and if you're not happy with what's on offer there are always home replacement apps, such as ADWLauncher, available to spruce things up.

It's thin, but you won't be able to cut yourself.
On the RAZR you'll also find the proprietary Smart Actions app, with which you can customise your phone's settings. So for example you can set the location of your office and once there certain settings will trigger. These might include customised ring volume, ring tones and even the type of wallpaper on display. It also suggested certain battery saving actions that kick in once a low battery level is reached. Although quite impressive, we did not use Smart Actions at all, simply because we did not have the need for these types of changes.
Camera and storage
The camera was hassle-free to use and the eight megapixel images where of good quality, although not on the
iPhone 4S
's standard. Like the cream of the high-end phones, it is capable of 1080i HD-ready video, while also equipped with a microHDMI port (but no cable) if you want to display images on an HD screen.
If you are planning on recording a lot of HD video, storage space should initially not be a concern, seeing that the RAZR comes with a generous 16 GB of internal storage space, with a microSD card slot also available. Not surprisingly Motorola does not include one in the box.
A final nice little touch is the way the screen switches off much like an old television when you lock the screen.
Your photos will never look as nice as this one.
Conclusion
A slim body, an excellent screen and enough features to leave any gadget geek grinning, lifts the Motorola RAZR to one of our top three current smartphones along with the iPhone 4S and Samsung Galaxy S II. R6999. MicroSIM card needed.
Pros
Very thin; Motocast is brilliant, good performance, nice loudspeaker.
Cons
Very wide with a thick bezel, Motorola's interface not the greatest.
Do you remember the original?
The year is 2004. SA is awarded the 2010 FIFA World Cup, Million Dollar Baby is crowned king at the Oscars and Outkast's Hey Ya! rules the airwaves. It's also the year that the super-thin RAZR sees the light of day. With a sexy super-thin clamshell body, it won the hearts and pockets of many, luring them away from the then big player – Nokia. With a body only 14 mm thick and weighing 99 g, the RAZR range eventually sold over 130 million units over a four year period.

Very thin Motocast is brilliant, good performance, nice loudspeaker.

Very wide with a thick bezel, Motorolas interface not the greatest.