A jack of all trades, the FonePad 7 from Asus is a solid performing 7" tablet that any cost-savvy user would be happy to carry.
Asus' FonePad 7 may be a small 7" tablet, but it also carries the unique distinction of both making and receiving phone calls to give it an edge over its more lavish and high end competitors. Compatible with 3G and 4G/LTE bands, there is very little that the FonePad 7 cannot handle, with its wallet pleasing price tag only sweetening the deal.
Tablet with benefits
It's no secret that smartphone are getting bigger, albeit slimmer and lighter, by the day. This is why the Asus FonePad 7 poses such an interesting proposition for small tablet users who want the added benefit that a GSM device delivers. Armed with a 7" IPS LCD display (800x1280) that commands an above average 216 ppi pixel density, the FonePad 7 will certainly prove a reliable resource while browsing the web or viewing online content.
Hailing from Taiwan, Asus has as many of its Asian competitors, favoured a plastic heavy design. This means that it weighs in a relatively light 328 g and proves easy to cradle in one hand, as it measures 12 cm wide. The one downside that all that plastic brings, is a propensity to produce a fair amount of heat while taking on some heavy duty multitasking.
Crowd pleaser
Sticking with its multitasking capability, the FonePad 7 performs well across the board, and tested strongly while handling complex graphics. In terms of internal hardware, Asus has fitted an Intel Atom dual-core processor, which clocks at a respectable 1.6 GHz. The Intel chipset is supported by 1 GB of RAM and features Android's Jelly Bean OS (4.2), with the ability to upgrade to KitKat (4.4.2). The user interface is well thought out and responsive, with navigation and switching between apps proving more than adequate. Added to this is Wi-Fi and Bluetooth 3.0 to take care of one's connectivity needs.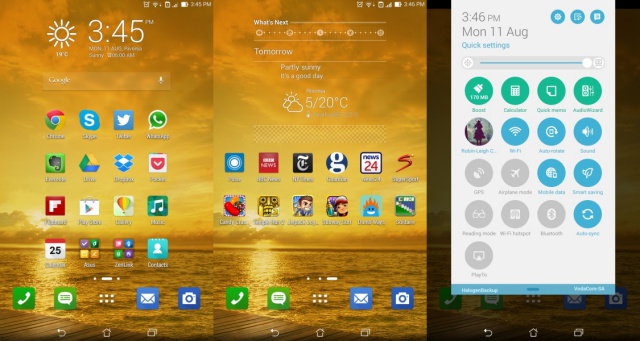 If there is one area the FonePad falls shorts, its modest 5 MP camera which struggles noticeably in low light conditions, as well as in-zoom. This is not a deal breaker, but may prove important when compared to the slightly higher end cameras touted on larger phablets.
Lying neatly on the cusp of phablet and tablet, the FonePad 7 from Asus proved quite impressive given its R2 500 price tag and should prove a welcome aid to any small tablet user looking to get as much bang for their buck as possible.

Solid screen quality; Handles multitasking well

Back cover gets hot under heavy use; Battery life a little low